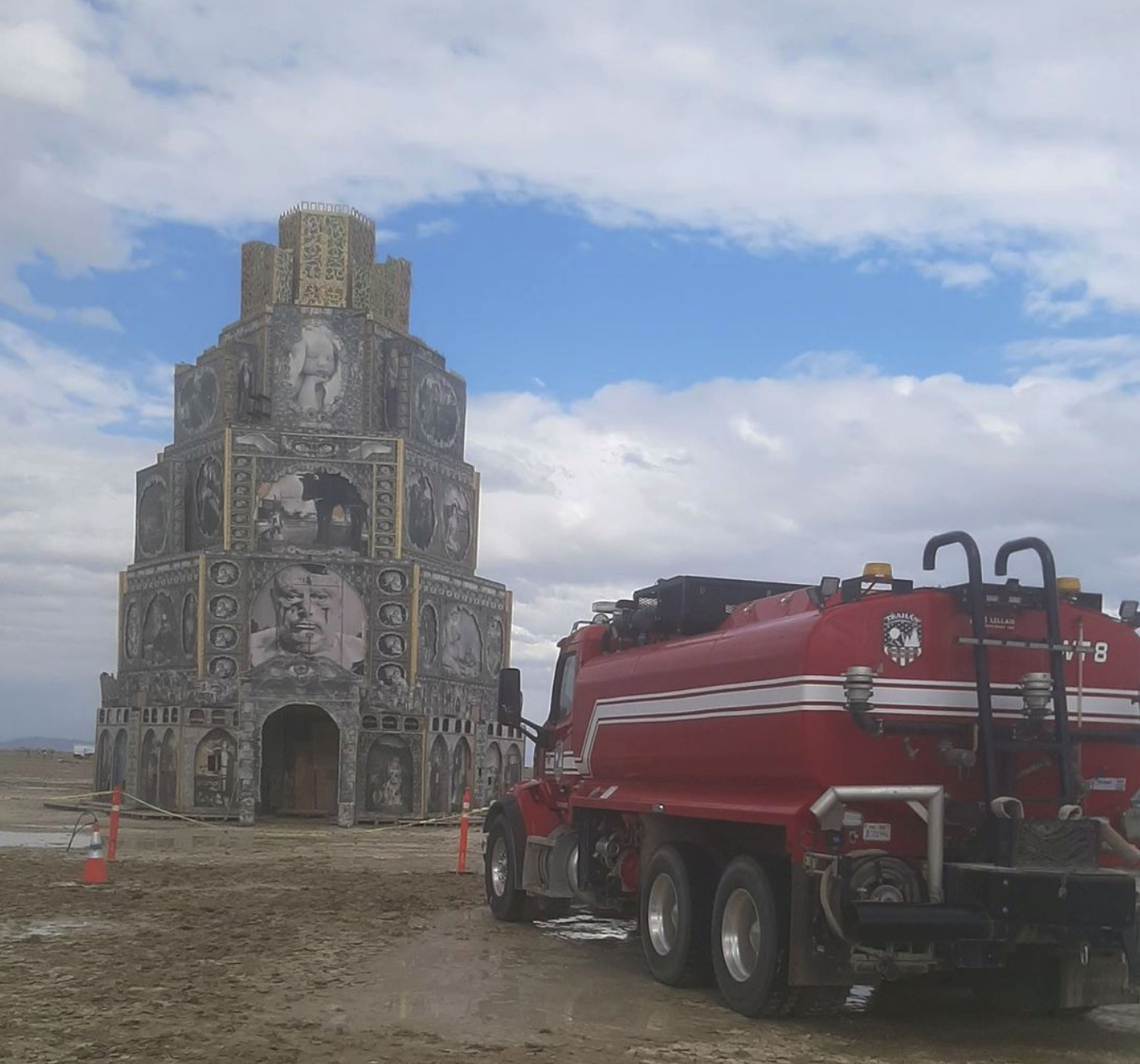 Yes, Mr. Snyder got it right in writing that the 60-foot tower of Babel installed at the recent pagan, hedonistic week-long Burning Man festival in the Black Rock Desert in Pershing County, Nevada was blasphemous.
Why can people today only seem to understand, relate, to illustrations and examples given to them from modern films or stories? Fictitious things. Especially when the main audience for the material is conservative folks, many professing to be Christian folks?
What takes place, what is taking place in our society is NOT a "Mad Max" the movie installment. It is REALITY. It is sinful, turned from God, given over to their reprobate, unrighteous, wicked, and evil minds having been given over to those minds by God in His knowing they are so lost as to never come into the Light, the Way, the Truth from their darkness, from their BEING darkness.
We do not need to trivialize — and that is exactly what we do when we do this —  or feel compelled to turn to pop culture in order to relate to people. To convey the right message to people. If we ourselves can only see, hear, understand, and relate to all that is unfolding by using pop culture illustrations it is long overdue that we pause and seriously examine ourselves. As to why that is.
Let's stop dumbing down spiritual matters. The actual factual events of the world and having to pass them off with movie or worldly illustrations in order to believe they can be understood. Are we Cretans? Impeccies? Idiots? Are we that weak of mind and understanding, so illiterate in the Word of God that Biblical examples and Biblical illustrations are shunned and it's only examples given that don't truly fit. Adding to the distractions, the confusion, and the false teachings.
Wise up! Discern up! Spiritual in the ways of God and His Word up!
And less and less of the Mad Max, film, fictitious dung. How about facing reality and confronting the affairs, the events, and the history unfolding before us in realistic Biblical ways for a change?
I've had to sit and listen to so-called men of God, who proclaim they received a Divine calling to preach the Word stand on pulpits, and resort to lowering the Word and preaching, illustrations given to speaking of movie after movie after movie. Mentioning Transformers, and all manner of fantasy films in their sermons.
Is not the Word of God sufficient? Are there not examples enough of every degenerative, human nature possible shown for us to know and learn from?
Yes, illustrations are helpful. There is nothing wrong in using an illustration outside of Scripture in a sermon, in an article — but do so truly relating in context. Not taking people further from the truth. Further from God. Talking down to folks that need to be lifted up in the Word for we are all too often brought down by examples given from this world — and to be strengthened, taught, lifted up in the truth, in reality, in the Word of God instead!
Picky? We're in the state of spiritual and Christian decline we are from turning to and adopting the ways and words of the world over those of the Word of God. No, not being picky enough.
Haven't we allowed, embraced, permitted, adopted, and approved of more than enough eroding and worldly things in our lives, in our faith, in how we fashion ourselves? Why permit, allow, embrace, and approve of more? Never saying halt! Let us turn to the Lord, let us turn to His Word for our guidance, our examples, our illustrations, and instruction!
Read on…
Ken Pullen, Wednesday, September 13th, 2023
Now We Know Why It Was Not A Good Idea To Put Up A "Chapel Of Babel" At Burning Man…
September 3, 2023
By Michael Snyder
Reprinted from The End of the American Dream
If you put up a blasphemous 60 foot tower and call it "the Chapel of Babel", you should probably brace yourself for some consequences.  Every year, the Burning Man festival pushes the envelope farther and farther.  It really is the perfect "Mad Max" festival for our rapidly degenerating "Max Max" society.  This year, more than 70,000 people made the trek out into the desert, and that included hordes of celebrities and social media influencers.  At Burning Man, clothing is optional, weirdness is encouraged, and there is very little sexual restraint.  In fact, "the Orgy Dome" at Burning Man has become world famous for the activities that happen there.
You would think that all of that would be enough, but each year organizers try to take things to another level.
This year, they actually allowed artist Michael Garlington to put up a 60 foot tall tower known as "the Chapel of Babel".  The following comes from his official website…
​From the irresistible imagination of Michael Garlington comes yet another magical creation for Burning Man 2023 – The Chapel of Babel. The Chapel is a re-occurring dream, years in the mind, reaching its manifestation. A hexagonal wooden structure will be clad with Garlington's signature black-and-white photographs of various sizes creating stunning visuals throughout the structure. The human element in the portraiture, animals, flowers, insects, and leaves, will convey that we all belong here and will hold room for everyone in all versions and reiterations of their expression.
The hexagonal structure was covered with all sorts of bizarre decorations, and at the very top he put "a spire of stained glass"…
His Chapel of Babel, cloaked in thousands of photos taken over the last 35 years, is a striking sight — a black and white feast featuring cutout images of birds and reptiles, portraits, images of actors Susan Sarandon and Willem Dafoe donning ornate photo paper costumes, constructed and photographed by Garlington.

The top of the tower is capped with a spire of stained glass — actually plastic — that will fill the sculpture with light. There's a main chamber anchored by a massive color photograph of Garlington's father, which he calls the Wizard of Pa.
Did he really think that this was a good idea?
And did the organizers of Burning Man really think that this was a good idea?
They had to realize that they were just asking for trouble.
And trouble certainly arrived.
Starting on Friday, tremendous amounts of rain hammered the festival, and it turned the entire celebration into a massive quagmire…
About six inches of rain is believed to have fallen on Friday at the festival site, located about 110 miles north of Reno, the National Weather Service in Reno said.

Another three inches of rain is expected from late Saturday into Sunday and conditions are not expected to improve enough to allow vehicles to enter the playa,' the U.S. Bureau of Land Management explained.
It got so bad that people literally couldn't get out.
For now, the 70,000 people that are there are being advised to "shelter in place"…
Burning Man attendees are still struggling to escape from Black Rock City as around 70,000 remain stuck on muddy camp grounds following two days of heavy rainfall and one reported death.

Attendees of the countercultural music and arts festival were first advised to "shelter in place" and conserve food and water on Friday, according to notices from organizers. All inbound and outbound traffic was halted and will remain so until further notice.
More rain continues to fall, and so it may be a long time before everyone can go home.
At this point, conditions are so muddy that attendees are being told not to even ride their bikes…
"Do not ride your bike. Do not push your bike around," a broadcaster for Burning Man Information Radio is heard saying in another video posted to TikTok. "Remain where you are. Secure structures and belongings in your camp. Don't operate generators or other electrically-powered instruments that have been standing in water. Cover or secure anything electrical. Check on your camp-mates and neighbors to make sure they're okay and help them as needed, and take advantage of a moment of calm to connect with camp-mates and hunker down."
Whenever large numbers of people are gathered in one area and things get a bit crazy, some of those people are going to start becoming desperate.
There have already been reports of thefts, and one woman posted a video to Instagram in which she "described Lord of the Flies-like conditions"…
Meanwhile, many attendees took to social media to share their experiences while stranded at the festival. One festival-goer named Christine Lee posted a video to her Instagram story and described Lord of the Flies-like conditions.

"In some ways, it's been fun and some ways it's been scary. The ways it's been scary, a lot of people that are in tents and in yurts are completely flooded. A lot of people have run out of food and water, and some people are stealing things, because that's what happens when things get weird. There's a little bit of this Lord of the Flies vibe, if you remember that book, where things might just get really weird. So we're okay today, but I think it might get worse," she said.
Eventually conditions will dry out and all of those people will be able to travel home.
But do you think that they will have learned anything?
There are things that happen at Burning Man that are so sick and so twisted that I cannot even mention them in this article.
Of course the truth is that our entire society has become extremely sick and extremely twisted.
And if we stay on the road that we are currently on, our entire society will experience very painful consequences.
So I don't mean to just single out the Burning Man festival.
Ultimately, the Burning Man festival is simply a microcosm of our society as a whole, and hopefully we will reverse course while we still have the opportunity to do so.