Are We Seeing The End Times "Peace Accord With Many" Beginning To Take Shape?
Details of Saudi Arabia's plan to divide the Holy Land
September 10, 2023
By Michael Snyder
Reprinted from The End of the American Dream
One of the most important international agreements in modern history is being secretly negotiated behind the scenes, and once it is publicly announced it could fundamentally change the geography of the Middle East.  I wrote about this last week, but I have learned more since that time.  As part of a blockbuster deal to normalize relations between Saudi Arabia and Israel, the Saudis want to achieve some sort of a diplomatic breakthrough for the Palestinians.  That won't be an independent Palestinian state, because Benjamin Netanyahu would never accept such an outcome.  But the Saudis have floated another plan that might be acceptable to Netanyahu's government, and it would result in a historic division of the Holy Land.
As I discussed the other day, the United States is the mediator for these negotiations, and it is being reported that the Biden administration wants to get an agreement finalized "before the end of the first quarter of next year".
Joe Biden is quite concerned about his legacy, and he knows that there is no guarantee that he will win in 2024.
The Saudis are also quite motivated to get a deal done, because they realize that a deal may not be possible once a Republican enters the White House.
So the clock is ticking, and even though the "major elements of a potential normalization agreement" have been hashed out, we are being told there is still much work to be done…
White House National Security Adviser Jake Sullivan said Thursday that the US, Israel and Saudi Arabia have a general idea of the major elements of a potential normalization agreement between Jerusalem and Riyadh, but there is still much more work to do before a deal can be signed.
"Many of the elements of a pathway to normalization are now on the table. We don't have a framework, we don't have the terms ready to be signed. There is still work to do," Sullivan told reporters aboard Air Force One, as U.S. President Joe Biden made his way to India in order to attend the Group of 20 Summit in New Delhi this weekend.
So that makes it sound like negotiations are fairly advanced at this stage.
According to Axios, the Biden administration has made it abundantly clear to the Israelis that there will be no agreement at all unless they are willing "to make significant concessions to the Palestinians"…
The Biden administration told the Israeli government last week that it would have to make significant concessions to the Palestinians as part of any possible mega-deal with Saudi Arabia that includes normalization between the kingdom and Israel, four U.S. officials and a source briefed on the issue told Axios.
So what would "significant concessions" look like?
We know that there will be no independent Palestinian state while Netanyahu is in charge.
But would Netanyahu support merging the Palestinians into the nation of Jordan?
Supposedly this is a plan that is favored by the Saudis.
On June 8th, 2022 an article that was authored by a very close confidant of Mohammed Bin Salman named Ali Shihabi set forth the details of this plan.
According to Shihabi, this new entity "would include present-day Jordan, Gaza, and the West Bank"…
This proposed enlarged kingdom would include present-day Jordan, Gaza, and the West Bank (areas populated by Palestinians attached in a contiguous manner and physically connected to Jordan, i.e., not broken up into islands). Israeli arguments as to the need to retain the Jordan Valley become moot since the valley will now be controlled by a Jordanian government with a reliable record of maintaining peace with Israel. The convenient argument that Israel has no "peace partner" will now also be eliminated.
Shihabi seems to think that Israel would agree to this if the Palestinians were to relinquish all claims to the city of Jerusalem…
Jerusalem, despite the fact that neither Arabs nor Muslims have a hope of dislodging Israel from it, is, given its symbolism, a key bargaining chip in Palestinian hands. The formal relinquishment of any claims to Jerusalem (with an appropriate arrangement for the holy places) can be an important concession used to secure the foregoing terms. The Palestinians, after all, are the only party who can do this and, hence, completely legitimize Israel in the eyes of the region and the world.
And Shihabi also envisions a democratic vote in which the agreement would be ratified by both the Jordanians and the Palestinians…
Such a "deal" would need to be ratified by some form of collective decision of the Jordanians and of the Palestinians, defined here as those who are residents of the occupied territories and those that are stateless in the diaspora. Anybody with no skin in the game has no business deciding here, and this means other Arabs or Muslims, or even Palestinians who are comfortably settled in other countries with full citizenship.

While "rejectionists" will likely resort to violence, the fight to crush these groups will be immeasurably strengthened by the support of the Palestinian masses, who will have voted in favor of this solution. Should the Palestinians vote against this solution then they would have collectively agreed, at best, to continue to bear the heavy burden of occupation and statelessness with all its consequences for the indefinite future.
Interestingly, this framework has also been discussed by the Israelis in recent months.
In fact, it was floated in an editorial that was published in the Times of Israel on June 4th of this year…
Gaza and the West Bank should be demilitarized and reincorporated as part of Jordan, perhaps the West Bank first and Gaza sometime later.
In that editorial, the article that Ali Shihabi wrote in which this plan was originally proposed was specifically referenced…
As suggested elsewhere, Jordan will change its name to reflect this territorial union (the name "Hashemite Kingdom of Palestine" has lately been suggested in an article published in the Saudi Royal Family-owned news outlet "Al-Arabiya News", last June 8, 2022), and an internationally recognized border between Israel and the Hashemite Kingdom of Palestine will be established to recognize the new reality.
That doesn't mean that this is what is going to happen.
During the course of negotiations, so many things can change.
So we will have to wait and see what the final result of the negotiations will be.
The same editorial that I just mentioned above also calls for an "international aid program" that would be similar to the Marshall plan…
An international aid program – similar to the Marshall Plan for Europe after World War II – should be established, as part of the solution to the Arab-Israeli conflict, to develop the economy of Jordan and integrate the Palestinians in the expanded Hashemite Kingdom of Palestine.
A big enough pile of money could go a long way toward convincing the Palestinian people to accept such a deal.
And we do know that the Palestinians and the Jordanians have already been developing much closer ties.  Here is just one example…
The Minister of Justice, Ahmad Al-Ziadat, representing the Hashemite Kingdom of Jordan, and his Palestinian counterpart, Mohammed Al-Shalaldeh, representing the State of Palestine, signed a memorandum of understanding in the field of legal cooperation between the two countries. The signing took place in the presence of the Secretary-General of Judicial Affairs, Judge Saad Al-Louzi, the Secretary-General of Administrative and Financial Affairs, Khaloud Al-Abadi, and several directors of the ministry's departments.

The memorandum included various areas of cooperation, including the exchange of experiences in legal regulations and legislation, providing training opportunities for legal experts and researchers, sharing experiences regarding alternatives to imprisonment and detention, automation and digitization of procedures, human rights, and facilitating access to justice.
Ultimately, it wouldn't be much of a stretch for the Palestinians to consider themselves citizens of Jordan.
Before the war in 1967, those that lived in the West Bank were Jordanian citizens.
Once again, I must stress that we do not know if any of this will actually happen.
But negotiations are happening behind the scenes at a furious pace.
Just last week, Palestinian authorities were supposed to talk with both Saudi officials and U.S. officials…
Officials from the Palestinian Authority (PA) held talks in Riyadh with Saudi counterparts on Wednesday.

They were also due to see U.S. officials.
If all of the parties can agree to a deal, I would expect it to be announced during the first half of 2024.
Of course, 2024 is already shaping up to be a historic year for so many other reasons.
The Saudi plan to divide the Holy Land may be part of the final deal, or it may end up on the cutting room floor.
But if this normalization agreement between Saudi Arabia and Israel does divide up the Holy Land, that is going to have enormous implications for all of us.
So let us keep watching these developments very carefully, because once the Holy Land is formally divided nothing will ever be the same again.
RELATED…
Is There A Secret Plan To Merge Jordan, Gaza And The West Bank As Part Of A Normalization Agreement Between Israel And Saudi Arabia?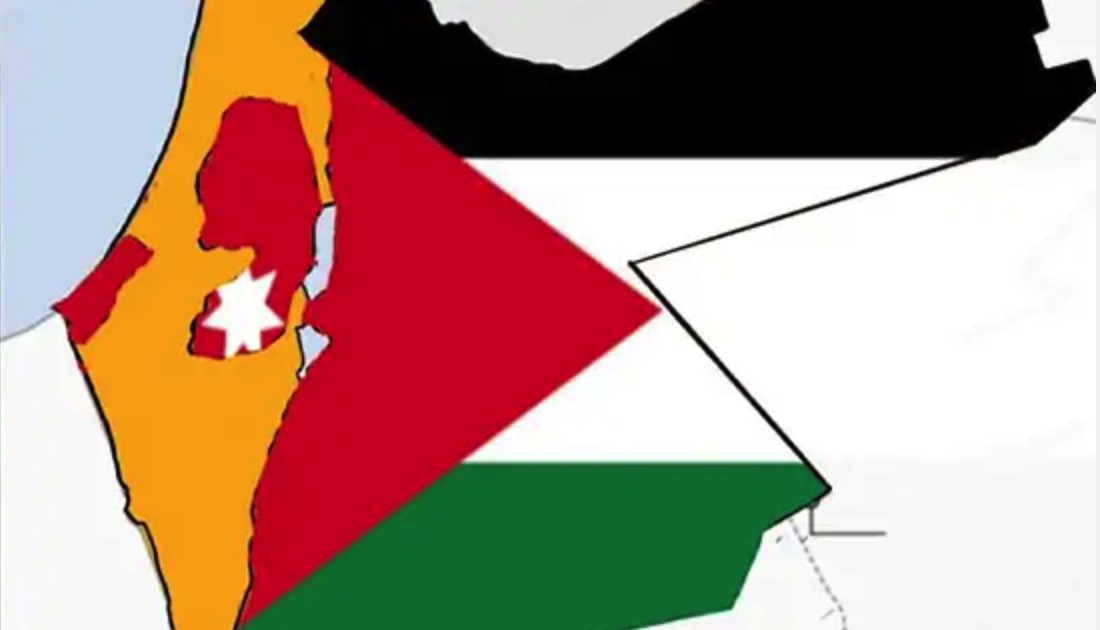 September 7, 2023
By Michael Snyder
Reprinted from The End of the American Dream
Negotiations that are intended to lead to the normalization of relations between Israel and Saudi Arabia have begun, but they aren't the only parties that must agree to a potential deal.  These negotiations are being conducted very quietly, because they are touching on issues that are extremely sensitive.  As you will see below, we are not likely to learn much about the exact details of the deal that is being formulated until it is finalized.  The Biden administration is brokering these peace negotiations, and one thing we do know is that there will be no normalization of relations unless Israel is willing to make major concessions regarding the Palestinians.  Benjamin Netanyahu is unlikely to agree to recognize a full-blown independent Palestinian state, but another plan is being floated that could potentially be acceptable to all of the parties.
This plan was initially conceived by a close confidant of Mohammed Bin Salman named Ali Shihabi.
According to the plan, Jordan, Gaza and the West Bank would be merged into a single unit known as "The Hashemite Kingdom of Palestine"…
One topic for discussion will assuredly involve the implementation of the Saudi-based Hashemite Kingdom of Palestine solution published in Al Arabiya News on 8 June 2022. Its author – Ali Shihabi – is a confidant of Saudi Crown Prince and Prime Minister – Mohammed Bin Salman (MBS) and also a member of MBS's advisory board on Neom – a US$500 billion megacity being built in north-western Saudi Arabia covering an area equal to the size of Israel.

Shihabi's plan calls for the merger of Jordan, Gaza and part of Judea and Samaria (West Bank) into one territorial entity to be called "The Hashemite Kingdom of Palestine"
The Netanyahu government has always been deeply concerned about the security risks that an independent Palestinian state would pose, but putting the Palestinians under the umbrella of Jordan would potentially mitigate those security risks.
And it is important to note that this plan has not been publicly rejected by Jordan, the PLO or Hamas since it was first published…
Shihabi's plan has not been rejected by King Abdullah (Jordan), Mahmoud Abbas (PLO) Ismail Haniyeh (Hamas) or MBS in the seven months since its publication.
Needless to say, I am 100 percent against this insidious plan.
But it doesn't matter what I think.
What matters is what the parties think, and right now they appear to be optimistic that a deal can be achieved.
Just last month, Israeli Prime Minister Benjamin Netanyahu boldly declared that we are "about to witness a pivot of history"…
Saudi Arabia is a leader of the Arab and Islamic world. It has never formally recognised Israel since the creation of the state in 1948.

Israeli Prime Minister Benjamin Netanyahu talked up the possibility last month, claiming: "We're about to witness a pivot of history."
That doesn't sound like a man that is about to make a relatively minor deal.
Rather, that sounds like a man that is thinking about his legacy.
And we are not likely to know all of the details of any potential agreement in advance.
In recent years, Netanyahu has become a big proponent of secret negotiations.  He made this quite clear during an interview with Al Arabiya TV last December…
Israel's Prime Minister Netanyahu made that perfectly clear in his 50 minute interview on Saudi Government-controlled Al Arabiya TV on 15 December:

"You know, I'm sort of a champion of a slight twist in what Woodrow Wilson said in the Versailles Peace Conference. He said he believed in open covenants, openly arrived at. I believe in open covenants, secretly arrived at or discreetly arrived at. There we will have to have discussions about all the questions that you asked today and see how we can advance this. If you try to sort it out in advance you get stuck. That's what happens.
I am entirely convinced that a deal is coming, and when it is finally unveiled it will shock the world.
For now, the Palestinians are taking a cautious approach to any potential deal, and they have made a list of some of the things that they would like to see included…
Transferring parts of the West Bank currently under full Israeli control (known as Area C under the 1990s Oslo peace accords) to the governance of the Palestinian Authority
A "complete cessation" of Israeli settlement growth in the West Bank
Resuming Saudi financial support to the PA, which slowed from 2016 and stopped completely three years ago, to the tune of around $200m (£160m) per year
Re-opening the U.S. consulate in Jerusalem – the diplomatic mission to the Palestinians – that was shut down by President Donald Trump
Resuming U.S.-brokered negotiations between Israel and the Palestinians from where they stopped under then-Secretary of State John Kerry in 2014.
And the Palestinians are also promising "to avoid embarrassing Saudi Arabia" during these negotiations…
U.S. diplomats have obtained assurances from Palestinian officials that they will neither publicly reject nor undermine the White House-promoted normalization talks between Saudi Arabia and Israel.

A diplomat from the U.S. State Department told The Media Line that the Palestinian Authority has pledged not to publicly criticize any potential normalization deal with Israel, to avoid embarrassing Saudi Arabia.

An American official, speaking on condition of anonymity due to the sensitive nature of the subject, indicated that the Biden Administration was working closely with Saudi Arabia. They aim to develop a financial and political package intended to placate the Palestinians and prevent a response similar to that generated by the 2020 Abraham Accords, which established diplomatic ties between Israel, the United Arab Emirates, and Bahrain.
The Saudis are very eager to reach a deal within the next year, because they know a deal may not be possible if Joe Biden does not win the 2024 presidential election in the United States.
And obviously the Biden administration is motivated to move things along quickly too, because their days may be limited.
But if the land of Israel is formally divided in 2024, that is going to have enormous implications for all of us.
I have been warning that this was coming, but for a long time it appeared that any sort of an agreement between the Israelis and the Palestinians would be impossible.
Unfortunately, this new plan to merge Jordan, Gaza and the West Bank into a single entity called "The Hashemite Kingdom of Palestine" may provide the basis for a major breakthrough.
It won't be easy, but if a way can be found to satisfy the Israelis, the Palestinians, the Saudis and the Biden administration, 2024 could potentially be a year when the unthinkable becomes reality.