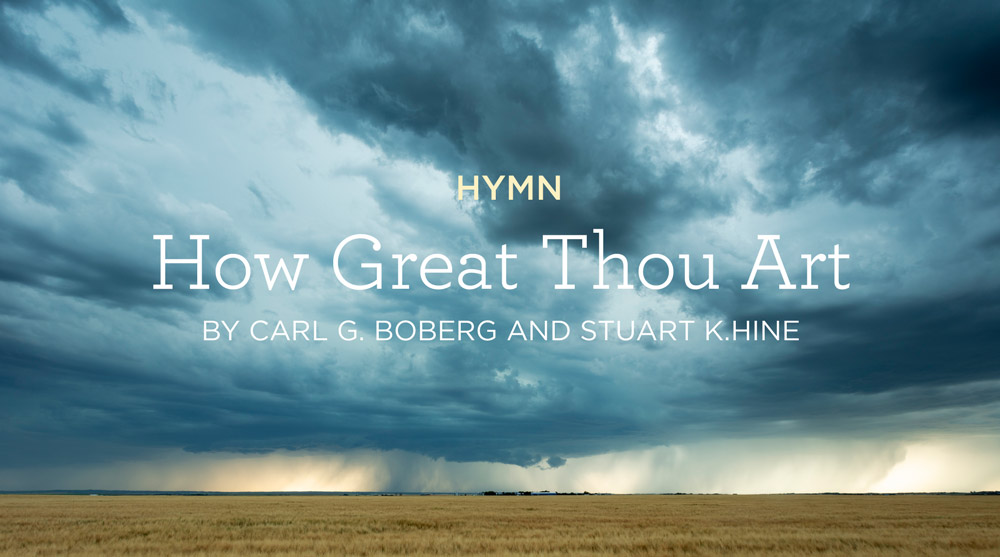 Author: Carl Gustav Boberg; Translator: Stuart K. Hine (1949)
Tune: HOW GREAT THOU ART
Published in 112 hymnals
O Lord my God, when I in awesome wonder
Consider all the worlds thy hands have made,
I see the stars, I hear the rolling thunder,
Thy power throughout the universe displayed:
Refrain
Then sings my soul, my Savior God, to thee:
How great thou art! How great thou art!
Then sings my soul, my Savior God, to thee:
How great thou art! How great thou art!
When through the woods and forest glades I wander
And hear the birds sing sweetly in the trees,
When I look down from lofty mountain grandeur,
And hear the brook and feel the gentle breeze:
Refrain
And when I think that God, his Son not sparing,
Sent him to die, I scarce can take it in,
That on the cross, my burden gladly bearing,
He bled and died to take away my sin.
Refrain
When Christ shall come with shout of acclamation
And take me home, what joy shall fill my heart!
Then I shall bow in humble adoration,
And there proclaim, "My God, how great thou art!"
Short Name: Carl Gustav Boberg
Full Name: Boberg, Carl Gustaf, 1859-1940
Birth Year: 1859
Death Year: 1940
Boberg, Carl Gustaf. (Mönsterås, Sweden, August 16, 1859–January 7, 1940, Kalmar). Swedish Covenant. Bible school at Kristinehamn. Editor of Sanningsvittnet 1890-1916, organ of the Evangelical National Foundation. Member of the Swedish Parliament, 1912-1931. Popular speaker and appreciated writer. Published several collections of poetry and a number of hymns. Member of committee responsible for first two hymnals of the Swedish Covenant. Author of "Jesus, Jesus, O det ordet" ("Jesus, Jesus, Name Most Precious"); "Min själ berömmer Gud med fröjd" (My Soul Now Magnifies the Lord"); "O store Gud" ("O Mighty God"). The text now known as "How Great Thou Art" is an English translation of a Russian version based on an earlier German translation of "O store Gud."
Short Name: Stuart K. Hine
Full Name: Hine, Stuart K., 1899-1989
Birth Year: 1899
Death Year: 1989
Stuart K. Hine was born in 1899 in Great Britain. In much of Stuart's earlier years he and his wife were missionaries in the Western Ukraine of Russia, where they evangelized as Christian workers and singers. In 1931, Stuart K. Hine and his wife returned to Britain and conducted gospel campaigns throughout Great Britain. During those years, Stuart published many song books and wrote many of his beloved gospel songs. Stuart retired from the active ministry but continued to publish his song books and his music and contributed the majority of his income to various missionary endeavors around the world…Stuart K. Hine's most popular composition is "How Great Thou Art," which is recognized in many polls as the number one Hymn in America. Among his other compositions are "Can There Be One," "O Savior Mine?", "Faith Is The Bridge," and "What Can Cleanse My heart?" Mr. Hine died in 1989.
–www.gmahalloffame.org/site/stuart-k-hine/