The United Kingdom is in great turmoil. The United Kingdom is not very united these days. Similar in part to the great divisions within the United States. In Great Britain though this is a turning point. Violence and lawlessness could breakout and cause chaos and anarchy. As in the United States, those of certain worldly ideologies will resort to whatever means to achieve their goal when they feel they were cheated — willing to remove the rights of those they oppose even under threat of life and limb. The hypocrisy and utter blindness of those desiring to keep Great Britain chained to the wiles and whims of Brussels is astounding.
They threaten and now embrace and embark on violence towards those who disagree with them.
All the while decrying the demise of democracy and constitutional law — which they will have no qualms acting outside the law, embracing lawlessness, even within Parliament among their Members of Parliament.
Even though in democratic elections the voice and will of the people was to have Great Britain remove themselves from the European Union. Now those who oppose this are threatening all manner of lawlessness to rebel due to the outcome that did not go their way. Like spoiled children throwing a tantrum.
I stand with those who voted in majority, democratically, to remove the United Kingdom from answering to Brussels, Belgium and the other members of the European Union and for Great Britain to be Great Britain once again. A free and independent people and nation. No longer bowing to and answering to the very misguided and dictatorial EU.
This is a very precarious time in England, Scotland, Wales and Ireland and each of us, thus coming together corporately, need to pray daily for the guidance of the U.K. leaders to place their trust in God and to take the path they ought to take.
I believe that to be breaking away from the EU.
I do not know if that is the will, plan and desire of God our Father and Jesus the Lord, but I cannot come to terms in believing God our Father and Jesus our Lord want this once great nation to remain enslaved to Brussels and the clearly vile and misguided, dare we say openly evil European Union? Yes, we can declare such if we have knowledge of their beliefs, practices and history.
Pray daily this week and into the weeks to come that God's will be done among and within the people and nation of Great Britain and Europe.
Hopefully there are none reading this who contend, "Well, that's over in Europe, what happens there doesn't affect me here! Why should I pray for them, or think about or pay attention to what's happening in England!?"
If that did come to mind? Pause. Think deeply on such thinking. Turn to the Bible. Read the Bible. BELIEVE the Bible. Turn to God. Turn to Jesus. The nation and people of Great Britain need our prayers for the power of the Spirit of God to enter them and work in them. These are creations of God. Made for His pleasure and purpose. Just as you and I. Let us pray fervently, humbly, boldly and faithfully for this nation and its people. I implore every person. Because what happens there? Does impact what happens here. What happens to you, me, those you know, those I know — and tens of millions, hundreds of millions of people none of us know but matter to God our Father.
Ken Pullen
ACP — A Crooked Path
Sunday, September 1st, 2019
Brexit: Gove won't commit to abide by law to block no deal
Reprinted from: BBC News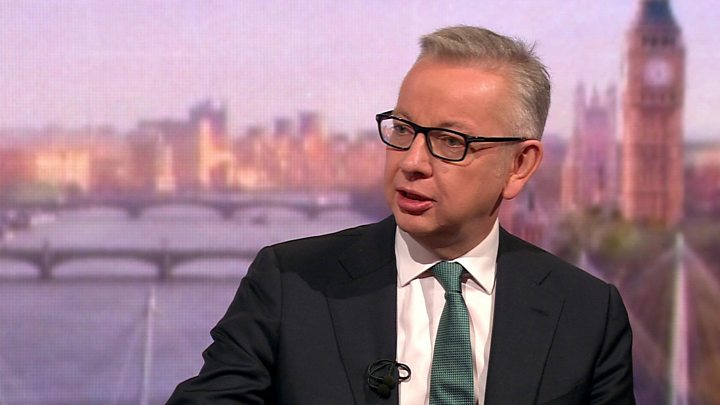 Tory minister Michael Gove has refused to say whether the government would abide by legislation designed to stop the UK leaving the EU without a deal.
Shadow Brexit secretary Sir Keir Starmer told the BBC MPs would introduce a bill seeking to do that when Parliament returns this week.
But asked if the government would abide by this if it succeeded, Mr Gove said: "Let's see what the legislation says."
Sir Keir described Mr Gove's comments as "breathtaking".
Cabinet minister Mr Gove also said "some" food prices "may go up" and "other prices will come down" in the event of a no-deal Brexit.
Meanwhile, the EU's lead Brexit negotiator has rejected Boris Johnson's demands for the controversial Irish backstop to be scrapped.
The UK is due to leave the EU on 31 October, with or without a deal.
The prime minister says he is willing to leave without one rather than miss the deadline, which has prompted a number of opposition MPs to unite to try and block a possible no deal.
Sir Keir told the BBC's Andrew Marr Show: "The legislation is intended to ensure we don't leave without a deal, that will require an extension.
"The length of the extension is secondary, frankly. We have simply got to stop us leaving without a deal."
Labour's shadow chancellor John McDonnell told Sky's Sophy Ridge on Sunday that plans to block a no-deal Brexit will be published on Tuesday.
He said the "ultimate goal this week" was to "ensure Parliament can have a final say".
But when asked if the government would abide by legislation preventing a no-deal Brexit, Mr Gove, the Chancellor of the Duchy of Lancaster, told the BBC's Andrew Marr Show: "Let's see what the legislation says.
"You're asking me about a pig in a poke.
"And I will wait to see what legislation the opposition may try to bring forward."
Sir Keir responded on Twitter, saying Mr Gove's response was "breathtaking", adding: "No government is above the law."
---
What could happen next week in Parliament?
Any new law has to pass through all stages of both Houses of Parliament. This would usually take weeks, but it could be done in as little as three days this week.
However, the bill could be challenged by the government and fall at any stage. It could fail to achieve enough support from either MPs or peers in votes held in the Houses.
Tuesday: MPs return to the Commons after their summer recess. Opposition MPs are expected to put forward legislation to stop no deal under "SO24" or Standing Order 24 – the rule that allows MPs to ask for a debate on a "specific and important matter that should have urgent consideration". This would be the bill's first reading – its formal introduction to the House.
Wednesday: In theory, the bill would then be debated and could potentially pass through all further stages in the Commons. However, the bill must pass through a series of votes and receive backing from more than half of MPs in order to pass on to the next stage. Boris Johnson's first PMQs as prime minister also takes place.
Thursday: If MPs passed the bill, it could then reach the House of Lords by Thursday, but consideration of the bill could spill into Monday. It will be debated and voted on. The House is not due to sit on Friday.
Monday, 9 September: If the bill passes these hurdles it could gain Royal Assent, which formally makes it law.
This could be a tight timetable as there are as few as four sitting days before Parliament is suspended. This is due to happen between Monday, 9 September, and Thursday, 12 September, under plans announced by the prime minister.
Boris Johnson says he asked for the suspension in order to hold a Queen's Speech – which sets out a list of laws the government hopes to get approved by Parliament – on 14 October.
Another hurdle for any bill could come in the House of Lords. Although opponents to no deal have a large majority, peers wanting to block a piece of legislation could talk and talk until there is no time left.
---
However, opposition parties and those who are against a no-deal Brexit are split on their aims.
Liberal Democrat MP Layla Moran said her party's aim this week was to achieve an extension to Article 50 – the process by which the UK leaves the EU – and then a further referendum.
"We stand by our Stop Brexit stance but we do that via a People's Vote and that's step one," she told Sky's Sophy Ridge on Sunday.
Although Sir Keir suggested an Article 50 extension will be needed under the legislation plan, Labour has been clear that it wants a general election.
And while former justice secretary David Gauke wants to avoid no deal, he has said he "doesn't want to do anything to facilitate a Jeremy Corbyn government".
"Indeed, one of my worries about a no-deal Brexit is it will create the chaos in which Jeremy Corbyn could win a general election," the Conservative Party MP told Sky's Sophy Ridge on Sunday.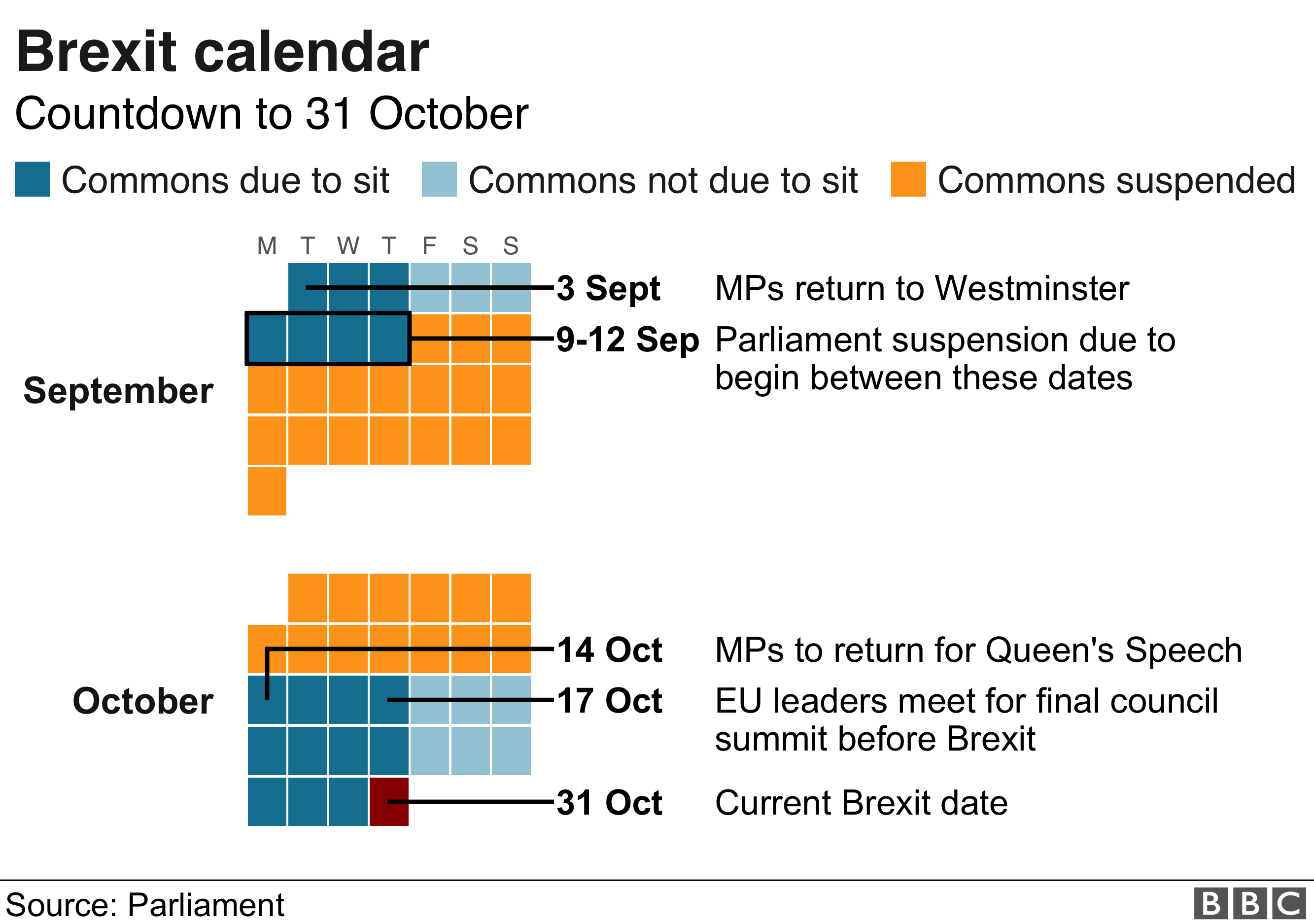 However, Mr Gauke said he is minded to put the national interest first if he were forced to choose between disobeying the party whip in a vote to prevent a no-deal Brexit.
Referring to reports that Tories who oppose a no-deal option could lose the party whip – which means they would effectively be expelled from the party – he said: "Sometimes there is a point where you have to judge between your own personal interests and the national interest.
"And the national interest has to come first. But I hope it doesn't come to that."
Mr Gauke said he will meet the prime minister on Monday to hear what his plan is to deliver a Brexit deal.
'No food shortage'
Pressed on whether there would be shortages of fresh food in a no-deal Brexit scenario, Mr Gove said: "Everyone will have the food they need."
He added: "No, there will be no shortages of fresh food."
When asked if food prices would increase, Mr Gove replied: "I think that there are a number of economic factors in play.
"Some prices may go up. Other prices will come down."
He said that freedom of movement will end "as we understand it", but added that the EU Settlement Scheme was "working well".
But trade association the BRC (British Retail Consortium) said Mr Gove's claims on potential fresh food shortages were "categorically untrue".
"The retail industry has been crystal clear in its communications with government over the past 36 months that the availability of fresh foods will be impacted as a result of checks and delays at the border," a statement said.
Meanwhile, the government's "Get Ready for Brexit" campaign and portal has been launched on its website.
Individuals or businesses can answer questions on it on topics including whether they propose to travel to the EU or export to Europe, and it then returns results which suggest how to start preparing for Brexit.