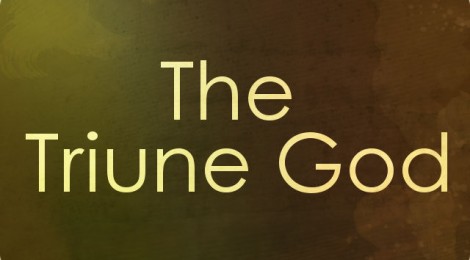 Forasmuch then as we are the offspring of God, we ought not to think that the Godhead is like unto gold, or silver, or stone, graven by art and man's device.
Acts 17:29 — King James Version Holy Scripture
"THE FOUNDATION OF ALL OUR COMMUNION WITH GOD, AND COMFORTABLE DEPENDENCE ON HIM"
By Ian Hamilton, Editor
Reprinted from: June 2019 Banner of Truth Magazine
LINK TO INFORMATION ON THE BANNER OF TRUTH MAGAZINE
How would you complete this sentence, "The foundation of all our communion with God, and comfortable dependence on Him, is…"? I suppose there is no one unique answer. Consider the following: "Which doctrine of the Trinity is the foundation of all our communion with God, and comfortable dependence on Him." This concludes the second chapter of the Savoy Declaration of 1658. The Savoy Declaration is essentially the Westminster Confession of Faith (1647) with a few amendments. It was drawn up by a gathering of representatives from Congregational churches to express their doctrinal cohesion and defend their Congregational, as distinct from Presbyterian or Episcopal, church policy. It is likely that John Owen  was the chief architect of the Declaration and he most probably penned the closing words of the second chapter. At any rate, the closing words succinctly and expressly set forth Owen's personal conviction (see vol. 2, "Of Communion with God").
It is remarkable how little prominence and thought is given to God's essential revealed identity as the One who is Three and the Three who are One. This foundational Christian truth is heartily acknowledged, eagerly confessed, but then all but put into a spiritual, intellectual, and practical cold storage. One could be excused for thinking that for many Christians the doctrine of the Holy Trinity is recondite, a mystery for scholars to ponder but a reality that has no real bearing on living the Christian life in a fallen and increasingly anti-Christ world. Nothing could be further from the truth.
In our Lord Jesus' upper room discourse (John 14-17), we find him ministering to his despondent disciples. Their  hearts are "troubled" (14:1, 27). They are bewildered by the prospect of Jesus leaving them. Their hopes and their very lives seem to be falling apart. It is against this backcloth that Jesus ministers to his disciples. How does he go about ministering encouragement and hope to these distressed believers? If you look at the landscape of John 14-17 and take in something of its fullness and breadth, you cannot but be struck by Jesus' teaching on the Trinitarian relationships of the Father, the Son and the Holy Spirit. Jesus is not indulging in abstract theology; he s ministering hope and comfort to deeply troubled Christians.
consider what Jesus tells his disciples. He tells them not only to believe in God the Father but also to believe in him (14:1). He tells them that he is the perfect incarnate revelation of the Father (14:7). He tells them that if they have seen him they have also seen the Father (14:9). He tells them that he is in the Father and that the Father is in him (14:10). He tells them that all he does are the works of his Father (14:10). He tells them that he will ask the Father and the Father will send them "another helper," the Spirit of truth, to be with them (14:16). The subsequent verses and chapters are full of the same language, full of similar Trinitarian truths. Jesus' teaching reaches something of a Trinitarian climax in 14:23, when he tells his disciples that he and his Father will come and make their home with them.
For our Saviour, the doctrine of the Trinity was not a recondite theological truth his disciples could simply acknowledge but practically ignore. Jesus is teaching them that who God is is the ground of all hope and the foundation of their communion with God and heart comfort in this life. Jesus wants his deeply troubled friends to understand that he is living out a life ordained by his Father and upheld by the Holy Spirit. His life is not at the mercy of unforeseen circumstances, or the plotting of wicked men. The drama of his life is the drama of divine, Trinitarian purpose.
Amidst the vagaries and trials of this life, God is not ever a helpless bystander. In his eternal purpose and by the present ministry of the Holy Spirit, he is executing his wise, holy and perfect will. The "Helper" has come, been sent, to support and strengthen believers in their earthly pilgrimage. All the resources, purposes and promises of the Triune God are united in preserving to the end the blood-redeemed children of God.
Everything in this life, everything in the whole creation, is governed, directed, shaped and personally overseen by the One who is three, the Three who are One. All they do, they do together in perfect, sweet harmony and agreement. They are the one source of our salvation and sanctification. They are the one object of our worship and service. They are the one goal of our hope. "From him and through him and to him are all things, to him be the glory" (Romans 11:36).
The church of Jesus Christ has no greater need today than to be reacquainted with who God is. Throughout the evangelical world Christians have an impoverished understanding of God. This is seen most markedly in the opening prayer in services of worship on the Lord's Day. It is little wonder we have such slight and limited thoughts of God when there is so little heartfelt adoration and appreciation of our Triune God in corporate services of worship. too quickly thanksgiving and intercession (for all kinds of things) become the content of the opening prayer. Do we not need our hearts and minds to be reacquainted every Lord's Day with the greatness, glory, grace, power, majesty, holiness, incomprehensibility, mercy and love of our God? I can still remember as a very young Christian being led into the very nearer presence of God as my pastor led the congregation in the opening prayer. It was thrilling, humbling, elevating, even exciting. Of course there should be intercession, thanksgiving and confession of sin in our congregational prayers; but first, let their be adoration.
Martin Luther told Erasmus the great Dutch humanist who refused to side with the cause of the Reformation, "Your God is too small." Luther was telling him that his fearfulness was due to a failure to grasp how great God is. Christian courage is not a natural, temperamental virtue, it is a grace nourished in the prayerful contemplation of the Person and character of God.
"There is something exceedingly improving to the mind in a contemplation of the Divinity. It is a subject so vast, that all our thoughts are lost in its immensity; so deep, that our pride is drowned in its infinity. Other subjects we can compass and grapple with; in them we feel a kind of self-content, and go our way with the thought, 'Behold I am wise.' But when we come to this master science, finding that our plumbline cannot sound its depth, and that our eagle eye cannot see its height, we turn away with the thought that vain man would be wise, but he is like a wild ass's colt; and with solemn exclamation, 'I am but of yesterday, and know nothing.' no subject of contemplation will tend more to humble the mind, than thoughts of God…"
C. H. Spurgeon was barely twenty years of age when he spoke these words. He understood that the most urgent need for the people to whom he was ministering was to be overwhelmed by who God is. that is still the church of Christ's greatest need. "Behold your God."
~~~~~John 14 through 17 fully printed below~~~~~
I Am the Way, and the Truth, and the Life
1"Let not your hearts be troubled. Believe in God;a believe also in me. 2In my Father's house are many rooms. If it were not so, would I have told you that I go to prepare a place for you?b 3And if I go and prepare a place for you, I will come again and will take you to myself, that where I am you may be also. 4And you know the way to where I am going."c 5Thomas said to him, "Lord, we do not know where you are going. How can we know the way?" 6Jesus said to him, "I am the way, and the truth, and the life. No one comes to the Father except through me. 7If you had known me, you would have known my Father also.d From now on you do know him and have seen him."
8Philip said to him, "Lord, show us the Father, and it is enough for us." 9Jesus said to him, "Have I been with you so long, and you still do not know me, Philip? Whoever has seen me has seen the Father. How can you say, 'Show us the Father'? 10Do you not believe that I am in the Father and the Father is in me? The words that I say to you I do not speak on my own authority, but the Father who dwells in me does his works. 11Believe me that I am in the Father and the Father is in me, or else believe on account of the works themselves.
12"Truly, truly, I say to you, whoever believes in me will also do the works that I do; and greater works than these will he do, because I am going to the Father. 13Whatever you ask in my name, this I will do, that the Father may be glorified in the Son. 14If you ask mee anything in my name, I will do it.
Jesus Promises the Holy Spirit
15"If you love me, you will keep my commandments. 16And I will ask the Father, and he will give you another Helper,f to be with you forever, 17even the Spirit of truth, whom the world cannot receive, because it neither sees him nor knows him. You know him, for he dwells with you and will beg in you.
18"I will not leave you as orphans; I will come to you. 19Yet a little while and the world will see me no more, but you will see me. Because I live, you also will live. 20In that day you will know that I am in my Father, and you in me, and I in you. 21Whoever has my commandments and keeps them, he it is who loves me. And he who loves me will be loved by my Father, and I will love him and manifest myself to him." 22Judas (not Iscariot) said to him, "Lord, how is it that you will manifest yourself to us, and not to the world?" 23Jesus answered him, "If anyone loves me, he will keep my word, and my Father will love him, and we will come to him and make our home with him. 24Whoever does not love me does not keep my words. And the word that you hear is not mine but the Father's who sent me.
25"These things I have spoken to you while I am still with you. 26But the Helper, the Holy Spirit, whom the Father will send in my name, he will teach you all things and bring to your remembrance all that I have said to you. 27Peace I leave with you; my peace I give to you. Not as the world gives do I give to you. Let not your hearts be troubled, neither let them be afraid. 28You heard me say to you, 'I am going away, and I will come to you.' If you loved me, you would have rejoiced, because I am going to the Father, for the Father is greater than I. 29And now I have told you before it takes place, so that when it does take place you may believe. 30I will no longer talk much with you, for the ruler of this world is coming. He has no claim on me, 31but I do as the Father has commanded me, so that the world may know that I love the Father. Rise, let us go from here."
---
Footnotes:
a 1 Or You believe in God
b 2 Or In my Father's house are many rooms; if it were not so, I would have told you; for I go to prepare a place for you
c 4 Some manuscripts Where I am going you know, and the way you know
d 7 Or If you know me, you will know my Father also, or If you have known me, you will know my Father also
e 14 Some manuscripts omit me
f 16 Or Advocate, or Counselor; also 14:26; 15:26; 16:7
g 17 Some manuscripts and is
John 14 — English Standard Version
I Am the True Vine
1"I am the true vine, and my Father is the vinedresser. 2Every branch in me that does not bear fruit he takes away, and every branch that does bear fruit he prunes, that it may bear more fruit. 3Already you are clean because of the word that I have spoken to you. 4Abide in me, and I in you. As the branch cannot bear fruit by itself, unless it abides in the vine, neither can you, unless you abide in me. 5I am the vine; you are the branches. Whoever abides in me and I in him, he it is that bears much fruit, for apart from me you can do nothing. 6If anyone does not abide in me he is thrown away like a branch and withers; and the branches are gathered, thrown into the fire, and burned. 7If you abide in me, and my words abide in you, ask whatever you wish, and it will be done for you. 8By this my Father is glorified, that you bear much fruit and so prove to be my disciples. 9As the Father has loved me, so have I loved you. Abide in my love. 10If you keep my commandments, you will abide in my love, just as I have kept my Father's commandments and abide in his love. 11These things I have spoken to you, that my joy may be in you, and that your joy may be full.
12"This is my commandment, that you love one another as I have loved you. 13Greater love has no one than this, that someone lay down his life for his friends. 14You are my friends if you do what I command you. 15No longer do I call you servants,a for the servant does not know what his master is doing; but I have called you friends, for all that I have heard from my Father I have made known to you. 16You did not choose me, but I chose you and appointed you that you should go and bear fruit and that your fruit should abide, so that whatever you ask the Father in my name, he may give it to you. 17These things I command you, so that you will love one another.
The Hatred of the World
18"If the world hates you, know that it has hated me before it hated you. 19If you were of the world, the world would love you as its own; but because you are not of the world, but I chose you out of the world, therefore the world hates you. 20Remember the word that I said to you: 'A servant is not greater than his master.' If they persecuted me, they will also persecute you. If they kept my word, they will also keep yours. 21But all these things they will do to you on account of my name, because they do not know him who sent me. 22If I had not come and spoken to them, they would not have been guilty of sin,b but now they have no excuse for their sin. 23Whoever hates me hates my Father also. 24If I had not done among them the works that no one else did, they would not be guilty of sin, but now they have seen and hated both me and my Father. 25But the word that is written in their Law must be fulfilled: 'They hated me without a cause.'
26"But when the Helper comes, whom I will send to you from the Father, the Spirit of truth, who proceeds from the Father, he will bear witness about me. 27And you also will bear witness, because you have been with me from the beginning.
---
Footnotes:
a 15 Or bondservants, or slaves (for the contextual rendering of the Greek word doulos, see Preface); likewise for servant later in this verse and in verse 20
b 22 Greek they would not have sin; also verse 24
John 15 — English Standard Version
1"I have said all these things to you to keep you from falling away. 2They will put you out of the synagogues. Indeed, the hour is coming when whoever kills you will think he is offering service to God. 3And they will do these things because they have not known the Father, nor me. 4But I have said these things to you, that when their hour comes you may remember that I told them to you.
The Work of the Holy Spirit
"I did not say these things to you from the beginning, because I was with you. 5But now I am going to him who sent me, and none of you asks me, 'Where are you going?' 6But because I have said these things to you, sorrow has filled your heart. 7Nevertheless, I tell you the truth: it is to your advantage that I go away, for if I do not go away, the Helper will not come to you. But if I go, I will send him to you. 8And when he comes, he will convict the world concerning sin and righteousness and judgment: 9concerning sin, because they do not believe in me; 10concerning righteousness, because I go to the Father, and you will see me no longer; 11concerning judgment, because the ruler of this world is judged.
12"I still have many things to say to you, but you cannot bear them now. 13When the Spirit of truth comes, he will guide you into all the truth, for he will not speak on his own authority, but whatever he hears he will speak, and he will declare to you the things that are to come. 14He will glorify me, for he will take what is mine and declare it to you. 15All that the Father has is mine; therefore I said that he will take what is mine and declare it to you.
Your Sorrow Will Turn into Joy
16"A little while, and you will see me no longer; and again a little while, and you will see me." 17So some of his disciples said to one another, "What is this that he says to us, 'A little while, and you will not see me, and again a little while, and you will see me'; and, 'because I am going to the Father'?" 18So they were saying, "What does he mean by 'a little while'? We do not know what he is talking about." 19Jesus knew that they wanted to ask him, so he said to them, "Is this what you are asking yourselves, what I meant by saying, 'A little while and you will not see me, and again a little while and you will see me'? 20Truly, truly, I say to you, you will weep and lament, but the world will rejoice. You will be sorrowful, but your sorrow will turn into joy. 21When a woman is giving birth, she has sorrow because her hour has come, but when she has delivered the baby, she no longer remembers the anguish, for joy that a human being has been born into the world. 22So also you have sorrow now, but I will see you again, and your hearts will rejoice, and no one will take your joy from you. 23In that day you will ask nothing of me. Truly, truly, I say to you, whatever you ask of the Father in my name, he will give it to you. 24Until now you have asked nothing in my name. Ask, and you will receive, that your joy may be full.
I Have Overcome the World
25"I have said these things to you in figures of speech. The hour is coming when I will no longer speak to you in figures of speech but will tell you plainly about the Father. 26In that day you will ask in my name, and I do not say to you that I will ask the Father on your behalf; 27for the Father himself loves you, because you have loved me and have believed that I came from God.a 28I came from the Father and have come into the world, and now I am leaving the world and going to the Father."
29His disciples said, "Ah, now you are speaking plainly and not using figurative speech! 30Now we know that you know all things and do not need anyone to question you; this is why we believe that you came from God." 31Jesus answered them, "Do you now believe? 32Behold, the hour is coming, indeed it has come, when you will be scattered, each to his own home, and will leave me alone. Yet I am not alone, for the Father is with me. 33I have said these things to you, that in me you may have peace. In the world you will have tribulation. But take heart; I have overcome the world."
---
Footnotes:
a 27 Some manuscripts from the Father
John 16 — English Standard Version
The High Priestly Prayer
1When Jesus had spoken these words, he lifted up his eyes to heaven, and said, "Father, the hour has come; glorify your Son that the Son may glorify you, 2since you have given him authority over all flesh, to give eternal life to all whom you have given him. 3And this is eternal life, that they know you, the only true God, and Jesus Christ whom you have sent. 4I glorified you on earth, having accomplished the work that you gave me to do. 5And now, Father, glorify me in your own presence with the glory that I had with you before the world existed.
6"I have manifested your name to the people whom you gave me out of the world. Yours they were, and you gave them to me, and they have kept your word. 7Now they know that everything that you have given me is from you. 8For I have given them the words that you gave me, and they have received them and have come to know in truth that I came from you; and they have believed that you sent me. 9I am praying for them. I am not praying for the world but for those whom you have given me, for they are yours. 10All mine are yours, and yours are mine, and I am glorified in them. 11And I am no longer in the world, but they are in the world, and I am coming to you. Holy Father, keep them in your name, which you have given me, that they may be one, even as we are one. 12While I was with them, I kept them in your name, which you have given me. I have guarded them, and not one of them has been lost except the son of destruction, that the Scripture might be fulfilled. 13But now I am coming to you, and these things I speak in the world, that they may have my joy fulfilled in themselves. 14I have given them your word, and the world has hated them because they are not of the world, just as I am not of the world. 15I do not ask that you take them out of the world, but that you keep them from the evil one.a 16They are not of the world, just as I am not of the world. 17Sanctify themb in the truth; your word is truth. 18As you sent me into the world, so I have sent them into the world. 19And for their sake I consecrate myself,c that they also may be sanctified in truth.
20"I do not ask for these only, but also for those who will believe in me through their word, 21that they may all be one, just as you, Father, are in me, and I in you, that they also may be in us, so that the world may believe that you have sent me. 22The glory that you have given me I have given to them, that they may be one even as we are one, 23I in them and you in me, that they may become perfectly one, so that the world may know that you sent me and loved them even as you loved me. 24Father, I desire that they also, whom you have given me, may be with me where I am, to see my glory that you have given me because you loved me before the foundation of the world. 25O righteous Father, even though the world does not know you, I know you, and these know that you have sent me. 26I made known to them your name, and I will continue to make it known, that the love with which you have loved me may be in them, and I in them."
---
Footnotes:
a 15 Or from evil
b 17 Greek Set them apart (for holy service to God)
c 19 Or I sanctify myself; or I set myself apart (for holy service to God)
d 19 Greek may be set apart (for holy service to God)
John 17 — English Standard Version