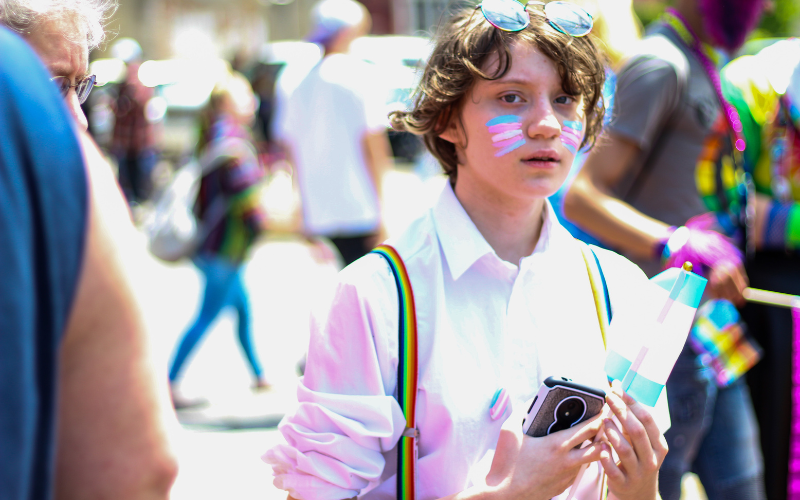 It should not have ever come to this. Do you imagine in your most bizarre dreams [nightmares] that the Founders, or even folks that were around 40, 50 years ago that no longer are would have thought it would ever come to this in America?
Having to legislate in order to stop the sexual experimentation and mutilation of young people in America brought about by the people being given over to their wicked, wicked, reprobate, and sinful minds.
Don't believe the time is short for not only America but the world?
Bell-bottom jeans, long hair on men, tie-dyed clothing, love beads, and smoking marijuana were trends, and fads among young people.
Not the desire to change their genders. Which is impossible. No matter who may think or say what. Or even do what they will with drugs, hormones, and mutilating surgeries.
This is not a fad. This is evil being revealed. Bold, brazen, in your face — and laughing — EVIL.
Nothing less.
Do not be deceived.
And while an attempt to legislate this is somewhat noble, what would certainly be more effective would be for parents to cease their rebellion against God, their love of the world, and the harmful parenting beliefs that have been in practice over the past 60, 70 years and stop worrying about their offspring being their friends and buddies and the parents form a real family. Founded in the word of God. Living according to the Word of God. Teaching their children well.
Not according to the world.
According to the Word of God!
It begins in the home. In the heart. In the families.
Stop allowing children to rule and the evil adults indoctrinating them to rule and prevail.
Stop being so compliant to the evil that is abounding.
Sitting back and denying, ignoring what has been taking place these past 40 or so years has now become something massive and growing. Like a fissure in the earth in a long, shallow 10.0 earthquake. A tsunami growing in height and speed devouring everything in its path.
Now what to do?
Finally, wake up. Finally, speak up. Finally teach the children well and right in the ways of the Lord.
But first, the adults, the parents need to learn, be taught, and believe in the ways of the Lord.
Build a good foundation and the world will not be able to come, prevail, and destroy.
Be lax, complicit, accommodating of the sin and evil, and well, look around. Welcome to America circa 2023, the Western world circa 2023…
Read on. More in the Word of God than here!
Do more than read. Believe. Apply. Live it. Teach it!
Ken Pullen, A CROOKED PATH, Friday, May 19th, 2023
RELATED: Civitas: One in ten teenage pupils want to 'change gender' – The Christian Institute
Tell Congress to Protect Children from Gender Experimentation
Thursday, May 18, 2023
By Tim Wildmon
Reprinted from The Stand
On Monday, U.S. Senator Roger Marshall (R-KS), who is a physician, introduced two pieces of legislation that would protect children and taxpayers from transgender surgeries. The two bills are titled the Protecting Children from Experimentation Act of 2023 and the End Taxpayer Funding of Gender Experimentation Act of 2023, respectively. The first bill would make it illegal for doctors to perform "gender transition procedures" on minors. The law would be punishable with prison time if violated. The second bill would ban federal funds from being used for transgender surgeries.
Tell Congress to protect children from gender experimentation.
"Doctors must be prohibited from performing or assisting in child mutilation procedures," Senator Marshall told Daily Caller, a media outlet, before introducing the legislation. "Enough is enough. These procedures can cause severe and irreversible damage to children's bodies and have long-term detrimental health risks. We must protect our kids and make sure American taxpayers aren't footing the bill for these dangerous procedures."
U.S. Representative Doug LaMalfa (R-CA) has introduced two versions of this legislation in the House.
"Across the country, vulnerable children are being exposed to radical gender transition ideology and pressured into going through invasive and irreversible medical procedures. Minors should not be making these permanent decisions as minors. Adults should not be pushing minor children and teens into irreversible decisions either. Let kids be kids and wait until adulthood to make a choice they likely wish they hadn't as a child. Adults and the medical field shouldn't be allowed to coerce this 'woke' agenda onto them when they should be their protectors. Adults need to realize that their coercion is abuse, and should face appropriate consequences," LaMalfa told the Daily Caller. "Both the Protecting Children from Experimentation Act and the End Taxpayer Funding of Gender Experimentation Act would protect children and taxpayers from paying the high price of these unethical medical interventions," LaMalfa added.
These bills are vital to the health and safety of children in our country. Contact your members of Congress today and tell them to co-sponsor these important bills!

RELATED:
Civitas: One in ten teenage pupils want to 'change gender' – The Christian Institute
Alistair Begg talks to the Christian Institute on lesbian, homosexual, bisexual, and transgender issues, gentleness, and "conversion therapy" 
Last of the last days: Tituss Burgess Knows That God is Transgender
 
4-year-olds told to embrace "wolf in sheep's clothing" transgender indoctrination book
 
Why Your "Christian" Friends Have Become Lesbian, Homosexual, Bisexual, and Transgender Allies
 
The Only Surprise Is that Parents Are Just Now Learning About Lesbian, Homosexual, Bisexual, Transgender, and Queer+ Curricula in Their Children's Schools