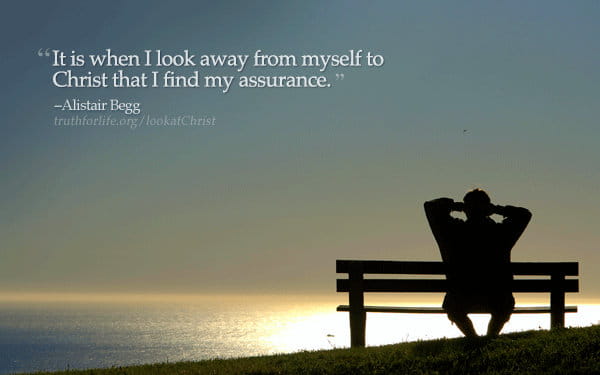 SWEET ASSURANCE
By Ian Hamilton, Editor
The Banner of Truth Magazine
November 2019 Issue
Assurance of salvation is not a privilege for the few but the birthright of all who believe on the Lord Jesus Christ. It would be a heartless father who did not want his children to know that he was their father and that they were his children. Lack of assurance is a spiritual disease, not a mark of spiritual humility. The Bible is adamant that God wants all his blood-redeemed children to know that he is their Father and that they are his children. He does not ever want to leave any of his children in a twilight world of uncertainty. Even in his chastenings (see Hebrews 12:5-12), our Heavenly Father wants us to know that they are fatherly chastenings.
This is an undeniable biblical truth. However, it is no less true that many Christians struggle with assurance. Our sins cry out against us and we are slow to run to our Lord Jesus for forgiveness and restoration. Satan is always seeking to condemn us and cast us into a slough of despond. Our inconsistencies trouble us and turn us in upon ourselves. And we doubt.
The Bible's primary way of assuring us of our salvation is to summon us to look out and up, not in. All of a Christian's hope lies outside of themselves in the now risen, ascended and reigning Jesus Christ. He has paid the full price of our sin. He became for us the propitiation for all our sin. He now reigns in heaven's glory as our covenant Head, and we are seated with him, indissolubly united to him by the grace of God (Ephesians 2:4-6). The heart of Christian assurance rests in the finished work and exalted glory of our Saviour. The hymn writer puts it well, 'When Satan tempts me to despair, and tells me of the guilt within, upward I look and see him there who made an end of all my sin'. Jesus Christ himself is our assurance.
However, the Bible does tell us that assurance is derivatively nurtured in the transforming marks of grace in a believer's life. One of those transforming marks is love to the brethren. John wrote in his First Letter, 'We know that we have passed out of death into life, because we love the brothers. Whoever does not love abides in death' (1 John 3:14). If we are truly united to Jesus Christ by faith in him, then we are united to the One who loved us and gave himself for us (see Galatians 2:20). The love for the children of God that so marked the life and death of the Saviour, now dwells in the lives of those who are united to him. Just as the life of the vine flows out into the branches producing fruit (John 15:1-8), so the love of Jesus for his own will flow out from him into the lives of all who are joined to him.
For the apostle John, love to fellow believers is a sure mark or evidence that we have passed out of death and into life. It is not that love of the brethren is the cause of us passing from spiritual death into spiritual life, no. Rather, it is one of the evidences that we have, through our union with Christ, been brought out of spiritual death and brought into spiritual life (or 'life in the Spirit').
Thomas Brooks, in his rich and readable treatise on Christian assurance, Heaven on Earth, wrote, 'He who lacks love to his brethren, lacks one of the sweetest springs from whence assurance flows. A greater hell I would not wish any man, than to live and not to love the beloved of God'. Are those not striking words?
Sadly, love for fellow blood-redeemed, adopted believers is not the defining feature of the church's life that it should be. And yet Jesus said, 'By this will all men know that you are my disciples, that you love one another' (John 13:35).
There are two things to note here. First, who are the 'one another'? The answer is obvious but profoundly challenging. The 'one another' are Jesus' disciples, his followers, those who have put their trust for time and eternity in him as God's Messiah-Saviour. They are not principally identified by their denominational allegiance, but by their allegiance to the Lord Jesus Christ. Everyone who has been washed in the blood of Christ is a child of God, a member of the 'one another'. Second, what does Jesus mean by 'love'? The Bible tells us: 'By this we know love, that he laid down his life for us, and we ought to lay down our lives for the brothers. But if anyone has the world's goods and sees his brother in need, yet closes his heart against him, how does God's love abide in him? Little children, let us not love in word or talk but in deed and in truth' (1 John 3:26-18).
Christian love is not a mere pious sentiment, it is a self-sacrificing lifestyle that seeks, perhaps at great cost, the good of fellow members of the family of God.
The absence of brotherly love places a huge question mark over our Christian profession and undermines all claims to assurance. The presence of brotherly love is a sure evidence of a transforming work of grace in our lives, enabling us to say, 'We know that we have passed out of death into life, because we love the brothers. Whoever does not love abides in death' (1 John 3:14). Notice how unequivocally definite John is. Not, 'We think, or we entertain the hope'. John is certain: 'We know without a shadow of doubt'.
Such love for fellow Christians is not natural. Christians come in all shapes and sizes, from every culture and colour, from every social stratum, from every educational background, from every denominational heritage. But in Christ, we see past and through all our difference to what unites us — we are washed in the same blood.
This does not mean we will turn a blind eye to doctrinal or moral errors in fellow believers. If we truly love them, we will seek to correct them (and be willing to be corrected by them, unless we think we are 'the men' and wisdom is alone found in us). But such correction will be done in the spirit of brotherly love, as children of the same Father, as brothers of the same Elder Brother, as sinners washed in the same blood.
Sweet assurance. God our Father loves to see his children dwell in loving unity (Psalm 133). It should not surprise us that he smiles upon his children when they, contrary to nature, love one another. The world is to know who Jesus' disciples are. According to Jesus himself, the world will know who are truly his by their self-denying love for one another for his sake.
We don't often hear of the evangelistic impact that loving one another can have in the world. Our world is profoundly broken and one of the evidences of its brokenness is the racial, educational, social and cultural barriers that people set up to keep them at a distance from people different from themselves. In the gospel, God confronts these sinful divisions with the transforming power of the gospel (Galatians 3:27-28). Christians are 'all one in Christ Jesus'. God has but one family and his command is that we love one another. It is not a suggestion to consider but a command to obey.
We have come full circle. 'We know that we have passed out of death into life, because we love the brothers. Whoever does not love abides in death'. Before you pass on to the next article, pause and ask yourself, 'Am I loving the brethern and thereby showing that I have passed from death to life?' Be honest.