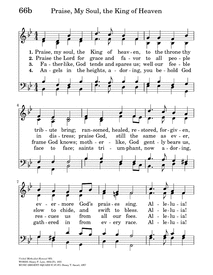 Henry Francis Lyte
Praise, my soul, the King of heaven
Author: Henry Francis Lyte (1834)
Tune: LAUDA ANIMA (Goss)
Opening Hymns
Published in 467 hymnals
Printable scores: PDF, MusicXML
Audio files: MIDI
1 Praise, my soul, the King of heaven;
to his feet your tribute bring.
Ransomed, healed, restored, forgiven,
evermore his praises sing.
Alleluia, alleluia!
Praise the everlasting King!
2 Praise him for his grace and favor
to his people in distress.
Praise him, still the same as ever,
slow to chide, and swift to bless.
Alleluia, alleluia!
Glorious in his faithfulness!
3 Fatherlike he tends and spares us;
well our feeble frame he knows.
In his hand he gently bears us,
rescues us from all our foes.
Alleluia, alleluia!
Widely yet his mercy flows!
4 Angels, help us to adore him;
you behold him face to face.
Sun and moon, bow down before him,
dwellers all in time and space.
Alleluia, alleluia!
Praise with us the God of grace!
Psalter Hymnal, (Gray)
Short Name: Henry Francis Lyte
Full Name: Lyte, Henry Francis, 1793-1847
Birth Year: 1793
Death Year: 1847
Lyte, Henry Francis, M.A., son of Captain Thomas Lyte, was born at Ednam, near Kelso, June 1, 1793, and educated at Portora (the Royal School of Enniskillen), and at Trinity College, Dublin, of which he was a Scholar, and where he graduated in 1814. During his University course he distinguished himself by gaining the English prize poem on three occasions. At one time he had intended studying Medicine; but this he abandoned for Theology, and took Holy Orders in 1815, his first curacy being in the neighbourhood of Wexford. In 1817, he removed to Marazion, in Cornwall. There, in 1818, he underwent a great spiritual change, which shaped and influenced the whole of his after life, the immediate cause being the illness and death of a brother clergyman. Lyte says of him:—
"He died happy under the belief that though he had deeply erred, there was One whose death and sufferings would atone for his delinquencies, and be accepted for all that he had incurred;"
and concerning himself he adds:—
"I was greatly affected by the whole matter, and brought to look at life and its issue with a different eye than before; and I began to study my Bible, and preach in another manner than I had previously done."
From Marazion he removed, in 1819, to Lymington, where he composed his Tales on the Lord's Prayer in verse (pub. in 1826); and in 1823 he was appointed Perpetual Curate of Lower Brixham, Devon. That appointment he held until his death, on Nov. 20, 1847. His Poems of Henry Vaughan, with a Memoir, were published in 1846.
TO LEARN MORE OF Henry Francis Lyte JUST CLICK THE LINK