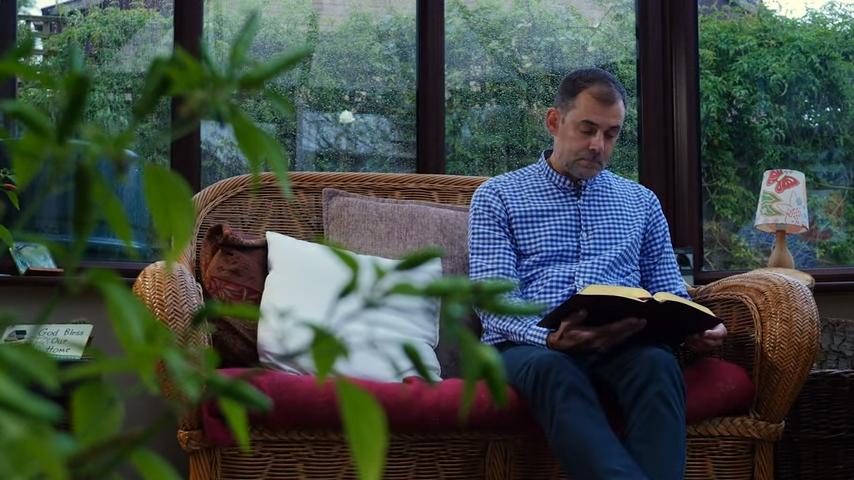 Keith Waters, 53, a pastor at New Connexions church in Ely, England
Woe unto them that call evil good, and good evil; that put darkness for light, and light for darkness; that put bitter for sweet, and sweet for bitter!
Isaiah 5:20 — King James Version
The majority of people in the times in which we live will vehemently disagree, argue, rage and want to silence folks like me, like Keith Waters of Ely, England, like the small minority standing firm for Biblical truths, morals and the genuine Christian walk of life — but what we are witnessing worldwide, and especially in the West, throughout the U.K. and rest of Europe, all across America and other Western nations — is fully exposed, full blown fascism. No different than how every other fascist movement took root from seed and grew to choking proportions. We are now living in the time of homosexual fascism.
And the majority of heterosexuals in high places, in schools, government, business, every institution, so-called Christian churches and denominations, in the military services — within every aspect of life now have fallen in lockstep, goose-stepping along supporting the end of free speech, the end of religious freedom when it pertains to authentic Christianity in support of the militant fascist homosexual movement.
Make no mistake. This is EXACTLY what is taking place.
Nothing to do with equality, tolerance, rights, healthcare or any of the rubbish people were fed to garner sympathy and make people feel guilty if they didn't give homosexuals and sexual perverts and deviants what they wanted. All supposedly in the name of love.
It has all been a charade folks. A guise. All along it has been a fascist movement to remove free speech, remove religious liberty for Bible-believing, Bible-preaching, Bible-teaching genuine Christians.
Period.
What to do? Pray humbly, fervently, continually for all those in schools, governments, business, churches who are walking in darkness and pray they come out of that darkness and into the Light of truth and salvation in Jesus Christ. All we can truly do is pray. Pray big. Pray spiritually in faith.
We are not to be as they are. We are to be as Christ is.
We are to always stand for the truth of God's word and do so in love — not love as defined and narrowly known by the world, not emotion and worldly thinking of love — but as Jesus loved. Which does not mean tolerating sin, turning ones back on sin, lies, corruption, perversions and immorality against God and God's Word.
Do not be deceived. Accepting of sin and immorality is not love. Tolerating sin and abominations is not love. Permitting the corruptible to erode the incorruptible is not being "Christian." Do not be confused. Everything anyone needs to know is clearly, plainly laid out for one and all within the inerrant, infallible living Word of God.
Each person either serves God, Jesus and the Holy Spirit and bears good fruit…
or they serve the devil and this world and bear bad fruit…
and you shall know them by their fruits…
and also know those producing bad fruit? Poisonous fruits, deadly fruits? Those will be hewn off and cast into the lake of fire for eternity. Go on, mock, laugh, demand people like me be silenced, or worse as now the fascist homosexual movement openly announces it wants to kill those who oppose them.
Sound familiar?
And you still refuse to accept and acknowledge this homosexual movement is not fascism?
Really?
Well, then, please read on…
Ken Pullen
ACP — A Crooked Path
Thursday, December 5th, 2019
Pastor Hounded Out of Job at U.K. Primary School Over Tweet Stating Christians Shouldn't Support Pride Events (Video) 
Reprinted from: Christian News Network
ELY — A pastor in England says that he was hounded out of his caretaker job at a primary school over a tweet in which he stated that Christians shouldn't support or participate in pride events and that such festivities are inappropriate for children.
Keith Waters, 53, a pastor at New Connexions church in Ely, posted a status on June 1 similar to that written by U.S. Catholic leader Thomas Tobin, but changing out the word "Catholics" with "Christians."
"A reminder that Christians should not support or attend lesbian, homosexual, bisexual, transgender and queer 'Pride Month' events held in June. They promote a culture and encourage activities that are contrary to Christian faith and morals. They are especially harmful for children," he wrote.
However, soon after publishing the statement, Waters received a tweet from a journalist who accused him of attacking homosexuals. The next day, a reporter arrived at his church while he was preparing for the Sunday service and attempted to pressure Waters to apologize.
The matter was then published in the Cambridge Evening News, which stirred up public animosity against the pastor.
According to Christian Concern, funeral directors arrived at Waters' door, advising his wife that they were there to "arrange his funeral." He was also contacted by real estate agents, who stated that they had been informed that he would be leaving the area "in a hurry."
A false rumor was additionally spread that Waters was a child molester. City council members called for the pastor to be investigated for "hate."
Fearing for his safety and that of his family, Waters deleted the post. Nonetheless, he was soon told by Isle of Ely Primary School —where he was employed — that he was being placed under investigation as it had received complaints.
One complainant alleged that Waters had called for "violence against people who support the Ely Pride Festival," and a teacher contended that Waters must be disciplined as his tweet could be considered "extremist" under the law.
Being advised that he had brought the school into "disrepute," and warned by the headteacher that he had violated the school's code of conduct, Waters realized that he could no longer serve both as a pastor and a caretaker at the primary school. He consequently resigned and has now decided to take the matter to court.
"Anyone who believes in freedom of religion and expression should be very concerned about my story," he said in a statement. "This was an attack, not just against my Christian beliefs, but against anyone who dares to question these matters in public. The biggest concern should be that a story like mine is becoming normal."
Waters says that his comments were only directed toward Christians, and were specifically in regard to photos from pride events that exemplify that the nudity and sexuality on display therein is inappropriate for children.
"You don't have to look very far. … Google pride events and you will come up with photographs of people who are naked, people who are engaged in sexual acts," he said in a video recorded for Christian Concern, in which he provided examples of photos from the Manchester Pride Parade.
"Children should never be exposed to nudity or sexual acts, whether that's at gay pride or anywhere else," Waters stated. "I am determined to fight for the freedom to say that, and believe that no one should lose or be forced out of their job for holding and expressing legitimate views."