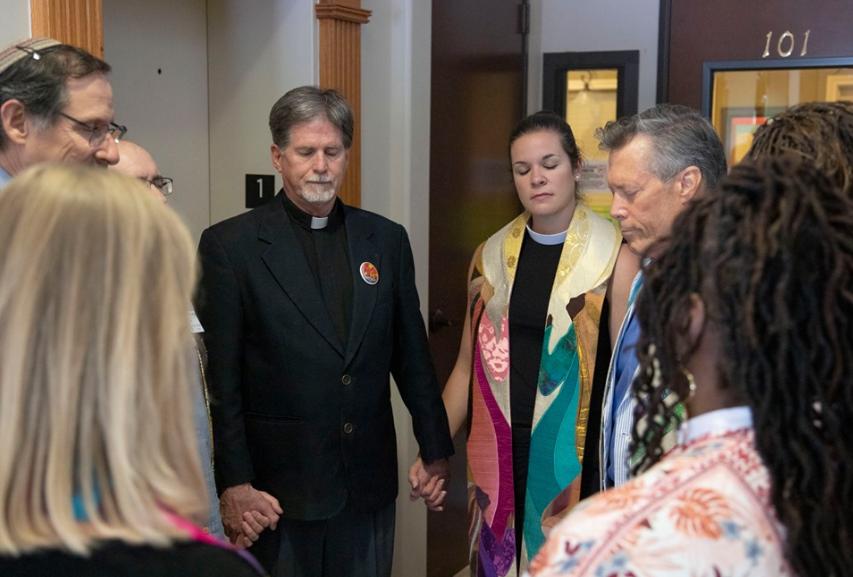 Photo Credit: Just Texas/Facebook
Interfaith Clergy 'Bless' Texas Abortion Facility, 'Infuse Space With Energy' for Abortive Mothers
Reprinted from: Christian News Network
AUSTIN, Texas — A small interfaith "blessing" ceremony was conducted at a Texas abortion facility on Tuesday to ask for "safety, healing and peace" for women who have abortions there, as well as the staff members who help provide them.
According to reports, the ceremony at Whole Woman's Health involved 10 clergy members who walked through the facility, presenting prayers, rituals, poetry and music. The event was the effort of  the Texas Freedom Network and the Religious Coalition for Reproductive Choice.
"As people of faith, it's not that we think we're bringing God to this place; we believe God is already present in that space," Amelia Fulbright of Labyrinth Progressive Student Ministry told the Huffington Post. "But it's to ask for prayers of safety, healing and peace, to infuse the space with an energy that is life-giving for women, a lot of whom are in an anxious time."
Katey Zeh, the interim director of the Religious Coalition for Reproductive Choice and a Baptist Minister, wrote about the ceremony for Religion News Service, asserting that "[r]eligious people can be pro-choice, not in spite of their faith but because of it."
She noted that members of Presbyterian (USA), Episcopalian, Unitarian, United Church of Christ and Disciples of Christ assemblies are among those who "affirm [those] considering all options," including abortion.
"Because our prophetic teachings emphasize caring for our neighbors, progressive faith communities are called to respond to pregnant people with compassion and affirmation. We know that making reproductive decisions can be hard work spiritually and emotionally, yet we believe God accepts the decisions of conscience each person makes," Zeh claimed.
Zeh also opined that for those who have left "organized religion in part because of harsh teachings about sex and sexuality," the ceremony "reflects that spirituality and reproductive freedom can coexist."
As previously reported, the Religious Coalition for Reproductive Choice has held "blessing" ceremonies at abortion facilities for years, including in 2015 when it sought to "bless" PreTerm in Cleveland, Ohio. The outlet Thinkprogress reported that the group hoped its efforts would protect the facility from "preachy protesters, as well as encourage the strength and bravery of those providing and relying on its services."
Whole Woman's Health, which has locations in Austin, Fort Worth, San Antonio and McAllen, had offered free abortions to those affected by Hurricane Harvey in 2017.
The Austin site had been fined $17,430 in 2011 for mislabeling boxes containing the remains of aborted babies, which were then collected by the medical waste company Stericycle and autoclaved before being dumped in a municipal solid waste landfill with household and commercial trash.
While the Religious Coalition for Reproductive Choice represent those religious entities who support abortion "rights," throughout America's history, abortion has been condemned in the pulpit.
In his 1869 sermon entitled "Ante-Natal Infanticide," E. Frank Howe, the pastor of the Congregational Church of Terre Haute, Indiana, said, "[I]t makes no matter that the victim cannot stretch out its hands in defense … It matters not that it … can utter no cry of pain or reproach. The sacred gift of human life is taken — is deliberately taken, and this constitutes the crime, and that crime is murder."
He lamented that "men and women place their own ease and pleasure above God's law" and that "public opinion is so corrupted there is no voice of reproach," forthrightly declaring, "Put what face upon it the community will, disguise it under whatever name you please, you can make no more or less of it than simple murder."