What A Friend We Have In Jesus
Artist: Christ Rice
Complete lyrics, brief history, and biography provided below the video
The hymn was written by: Joseph M. Scriven (1855)
Link to video by Chris Rice — What A Friend We Have In Jesus
What A Friend We Have In Jesus
Written by Joseph M. Scriven
What a friend we have in Jesus,
All our sins and griefs to bear!
What a privilege to carry
Everything to God in prayer!
Oh, what peace we often forfeit,
Oh, what needless pain we bear,
All because we do not carry
Everything to God in prayer!
Have we trials and temptations?
Is there trouble anywhere?
We should never be discouraged—
Take it to the Lord in prayer.
Can we find a friend so faithful,
Who will all our sorrows share?
Jesus knows our every weakness;
Take it to the Lord in prayer.
Are we weak and heavy-laden,
Cumbered with a load of care?
Precious Savior, still our refuge—
Take it to the Lord in prayer.
Do thy friends despise, forsake thee?
Take it to the Lord in prayer!
In His arms He'll take and shield thee,
Thou wilt find a solace there.
Blessed Savior, Thou hast promised
Thou wilt all our burdens bear;
May we ever, Lord, be bringing
All to Thee in earnest prayer.
Soon in glory bright, unclouded,
There will be no need for prayer—
Rapture, praise, and endless worship
Will be our sweet portion there.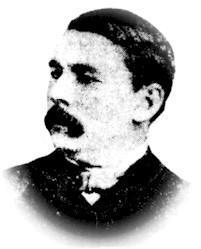 Short Name:
Joseph Medlicott Scriven
Full Name:
Scriven, Joseph Medlicott, 1819-1886
Joseph M. Scriven (b. Seapatrick, County Down, Ireland, 1819; d. Bewdley, Rice Lake, ON, Canada, 1886), an Irish immigrant to Canada, wrote this text near Port Hope, Ontario, in 1855. Because his life was filled with grief and trials, Scriven often needed the solace of the Lord as described in his famous hymn.
Educated at Trinity College, Dublin, Ireland, he enrolled in a military college to prepare for an army career. However, poor health forced him to give up that ambition. Soon after came a second blow—his fiancée died in a drowning accident on the eve of their wedding in 1844. Later that year he moved to Ontario, where he taught school in Woodstock and Brantford. His plans for marriage were dashed again when his new bride-to-be died after a short illness in 1855. Following this calamity Scriven seldom had a regular income, and he was forced to live in the homes of others. He also experienced mistrust from neighbors who did not appreciate his eccentricities or his work with the underprivileged. A member of the Plymouth Brethren, he tried to live according to the Sermon on the Mount as literally as possible, giving and sharing all he had and often doing menial tasks for the poor and physically disabled. Because Scriven suffered from depression, no one knew if his death by drowning in Rice Lake was suicide or an accident.
Bert Polman
================
Scriven, Joseph. Mr. Sankey, in his My Life and Sacred Songs, 1906, p. 279, says that Scriven was b. in Dublin in 1820, was a graduate of Trinity College, Dublin, and went to Canada when he was 25, and died there at Port Hope, on Lake Ontario, in 1886. His hymn:—
What a Friend we have in Jesus. [Jesus our Friend] was, according to Mr. Sankey, discovered to be his in the following manner: "A neighbour, sitting up with him in his illness, happened upon a manuscript of 'What a Friend we have in Jesus.' Reading it with great delight, and questioning Mr. Scriven about it, he said he had composed it for his mother, to comfort her in a time of special sorrow, not intending any one else should see it." We find the hymn in H. 1… Hastings's Social Hymns, Original and Selected, 1865, No. 242; and his Song of Pilgrimage, 1886, No. 1291, where it is attributed to "Joseph Scriven, cir. 1855." It is found in many modern collections.
–John Julian, Dictionary of Hymnology, New Supplement (1907)