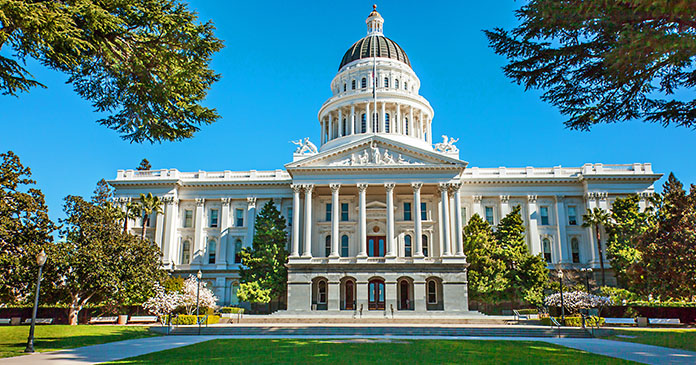 If the following news coming out of California does not convict your heart and mind we are living in the Biblical times of Romans 1 (King James Version) where God has given the people over to "reprobate minds" to serve unrighteousness because it's all they crave, lust after and desire turning from God, mocking God, denying God, spitting on God, His Son, Jesus Christ the Lord, Saviour and King — and working to REMOVE Christianity, or pervert and corrupt it, to muddy it to such a degree it becomes a STATE DIRECTED CHURCH preaching only that which the STATE SANCTIONS and no longer preaches, teaches the inerrant Living Word of God I do not know what will convict your heart and mind!
The TRUTH of God's Word, the Holy Bible and its truths are not responsible for the suicides, actions, practices of those living sin-filled lives as practicing unrepentant homosexuals, lesbians, bisexual or transgender individuals. Their aberrant, against God and nature ways, their sexual immorality, their alcohol and drug use, their lusts, THEIR GUILT and KNOWING RIGHT FROM WRONG and not acknowledging such, not repenting, not turning from their sin and turning to God, turning to Jesus, turning to the healing, true Living Word of God — they listening to the Evil One whispering in their ears and hearts, their listening to the world, their listening to and falling prey to the lies and wiles of Satan and their weakness, THEIR WILLFUL CHOOSING TO LIVE AS THEY ARE, AS THEY DID led them to the consequences and actions taken.
God did not do it to them
Jesus did not do it to them.
The Holy Spirit did not do it to them.
The Holy Bible did not do it to them.
The truth contained in Scripture did not do it to them.
Genuine disciples of Jesus, authentic Christians did not do it to them.
The devil did it to them.
The world and its teachings and ways did it to them.
Because they did not repent, they instead chose to serve themselves, their lusts, and he who has dominion on this earth for a season rather than serving the Lord and repenting, overcoming their fleshly lusts and committing their lives to God and Jesus, rather than sadly, foolishly taking their own lives imagining they could do so without consequences which is a lie.
They did it to themselves refusing to move, to take one serious repentant step towards God, Jesus or the truth of the Holy Bible thus blaming God, blaming Jesus, blaming the Bible and blaming Christians in these times of no one taking responsibility, accusing and placing blame for their actions, weakness and sinful actions.
Let each of us pray for our lost and sinful leaders. Not only those in Washington, D.C. — let us learn to pray for those in leadership wherever they may be, at any and every level, that their hearts and spirits be pierced by the power of the Spirit of God to repent, turn from this evil, to come out of the darkness and to cease listening to and doing the bidding of the devil. Pray for our leaders across this land to allow themselves to be led by God Almighty.
If only our leaders were as this example. We need more such as the leader mentioned in the article in the link and far less, far, FAR less of what it is we do have here in this once God-fearing, Bible reading, Bible believing Christian nation now run amok, now dominated by those given over to reprobate minds.
The world is broken.
America is broken.
Yet legislators in legislatures imagine themselves gods now making the lawless lawful, the immoral moral in their eyes while they now openly blame God, blame Jesus, blame the Holy Bible, blame Bible-centered genuine Christianity for these suicides — imagining a new resolution, in the hope of making new law will somehow remove God, remove the Bible, remove Jesus, remove history, remove the truth, remove the guilt, remove the sin and alter what is and what is real!
What vanity. What foolishness. What unrighteousness and sin!
And we each need to pray. Pray big and bold! Pray as never before! With more frequency, more passion, fervor, humility and more faith than ever before!
Ken Pullen
ACP — A Crooked Path
Wednesday, September 18th, 2019
California Legislature Passes Resolution Blaming 'Religious Groups' for Homosexual; Transgender Suicides
By Editor
Reprinted from: Christian News Network
Image above was not part of original article published by Christian News Network.
The California legislature continues to take more steps to counter Christianity, and religion in general, with is recent passage of ACR 99. The resolution — which is a direct affront on the Biblical teachings pertaining to sexuality and the need for men to repent, believe the gospel and follow Christ — blames "religious groups" for the "disproportionately high rates" of suicide among homosexuals and so-called transgenders.
The resolution enrolled on September 12, which is entitled, "ACR 99, Low. Civil rights: lesbian, homosexual, bisexual, transgender, or queer people," formally declares that homosexuality and transgenderism are "part of natural variations that occur in sexual orientation and gender identity."
ACR 99 formalizes the official position of the state legislature in condemning the counseling of individuals to change from living homosexual or transgender lifestyles, citing that such actions have resulted in suicides apart from declaring that such lifestyles are "natural variations."
"The stigma associated with being lesbian, homosexual, bisexual, transgender and queer often created by groups in society, including therapists and religious groups, has caused disproportionately high rates of suicide, attempted suicide, depression, rejection, and isolation amongst lesbian, homosexual, bisexual, transgender, queer and questioning individuals," the resolution states.
The formal declaration calls upon pastors, religious workers and others to denounce what it considers anti-lesbian, homosexual, bisexual, transgender and queer "stigma" and work toward acceptance and affirmation of those living outside of the Biblical parameters of sexuality.
"That in addressing the stigma often associated with persons who identify as lesbian, homosexual, bisexual, transgender and queer, we call on the people of California–especially its counselors, pastors, religious workers, educators, and legislators–and the institutions of California with great moral influence–especially its churches, universities, colleges, and other schools, counseling centers, activist groups, and religious centers–to model equitable treatment of all people of the state," the resolution reads.
Read full resolution here.
The Bible teaches in Romans 3:23 that "all have sinned, and come short of the glory of God," and in 1 Corinthians 6:9-10 the Scripture states that homosexuals, among others, "will not inherit the kingdom of God," but in verse 11 offers hope that through repentance and faith in Christ they can be saved.
"And such were some of you: but ye are washed, but ye are sanctified, but ye are justified in the name of the Lord Jesus, and by the Spirit of our God," 1 Corinthians 6:11 declares.
The principal assembly members who co-authored the resolution include: Sabrina Cervantes, Susan Talamantes Eggman and Todd Gloria, along with the principal senator co-authors: Toni G. Atkins, James Thomas Beall Jr., Cathleen Galgiani, Lena Gonzalez, Mike McGuire, Richard Pan, Anthony Portantino, Henry Stern, Tom Umberg, Bob Wieckowski and Scott Wiener. All are elected Democrats.
The resolution passed California's Senate with a 29-7 vote on September 4, and the state Assembly with a 61-11 vote on September 9.