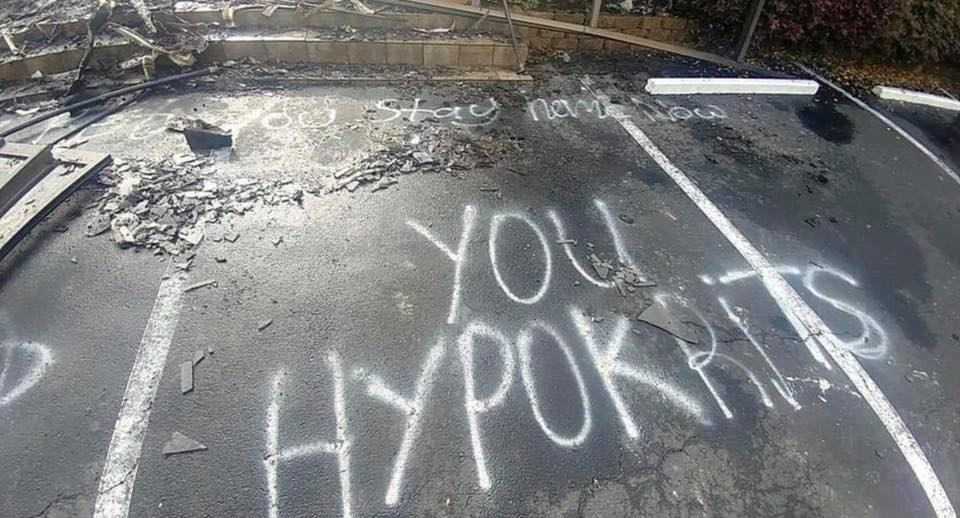 'Bet You Stay Home Now': Arsonist Burns Pentecostal Building to Ground, Spray-Paints Message in Parking Lot
May 21, 2020
By Editor
Reprinted from: Christian News Network / Article first appeared in Newsweek
A church in Mississippi that burned down in what authorities say was an arson attack had previously defied the city's stay-at-home order and was suing officials over lockdown measures.
The First Pentecostal Church of Holly Springs on Highway 178 was destroyed in a fire in the early hours on Wednesday, WMC reported.
According to the station, investigators found evidence that the fire was intentionally set, including graffiti in the church parking lot that said: "Bet you stay home now you hypokrits (sic)."
Jerry Waldrop, who has been the church's pastor for more than 30 years, told the WMC that the church has "no enemies that we know of."
He said: "We don't know anyone that we even think could be capable of doing something like this."
Last month, the church filed a federal lawsuit against Holly Springs challenging the city's stay-at-home order.
The Daily Journal reported that police ordered church members to disperse during Easter Sunday services on April 12 and then again during a Bible study session on April 22.
WMC reported the lawsuit argued Waldrop was holding outdoor services where possible but would move them indoors and practice social distancing when the weather was bad.
The church sought a temporary restraining order and permanent injunction so the city couldn't prevent services from taking place.
Stephen Crampton, senior counsel at the Thomas More Society, a nonprofit law firm representing the church in the lawsuit, said the church's members had been grieving "their inability to gather as a congregation" since the city's order forced the church's closure.
"The Thomas More Society is saddened by the news that a fire destroyed First Pentecostal Church of Holly Springs," he said. "To hear that the authorities are treating this as arson is distressing and we pray that the perpetrators of this terrible event will be brought to justice."
He added: "Our most sincere prayers are with the people of this church and their pastor. They have been grieving the inability to gather as a congregation since the COVID-19 pandemic stay home orders forced the closure of their church home and now they must grieve the loss of this spiritual home, their place of worship."
According to WMC, Holly Springs City Attorney Shirley Byers said the church was issued a citation for violating the city's emergency order because up to 40 people were inside the church on April 10 and were not social distancing.