What happens in other people's lives in America while we go about freely every single day: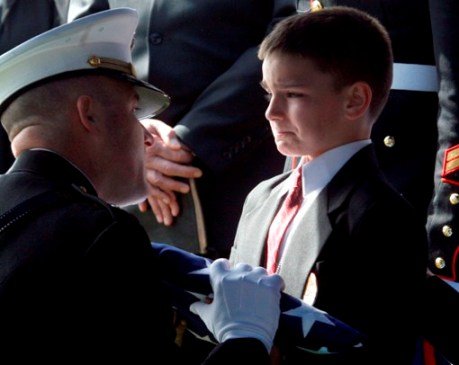 Passengers Weep When Soldier's Casket is Removed from Plane (VIDEO)
Saturday, February 18, 2017
Reprinted from: IJR — Independent Journal Review
Every year, people worldwide spend February 14 celebrating the people they love.
They flock to Hallmark to purchase cards with hearts stamped across the front, give out oversized boxes of chocolates and treat their "special someone" to a romantic dinner for two.
However this Valentine's Day, passengers waiting to de-plane at Raleigh-Durham International Airport learned the tragic truth of love and sacrifice that families of United States service members face.
After arriving at the airport, Lisa West Williams captured the moment a casket draped with an American flag was unloaded from the plane:
Her caption read:
"It was an honor to fly home with this PATRIOT! God bless his wife and family. There was not a dry eye around me."
As Green Beret Warrant Officer Shawn Thomas made his final journey home, his wife T.J. stepped off the plane to greet him one last time. The video recorded a passenger on the aircraft saying:
"I should have brought tissues … What you're looking at is another angel coming home."
His wife, dressed all in black, rests her hands on top of the casket for a private moment with her husband before her family joins her. The video of the intimate, tragic moment was backed by the soundtrack of sobs coming from inside the airplane cabin.
With her family's support, T.J. walked away, to be replaced by seven Green Berets who marched in formation as they transported Thomas's coffin from the plane to a hearse.
After the somber ceremony was finished, the captain thanked passengers for their patience. In response, one woman can be heard saying:
"We appreciate what God's children did for us."
According to the Army Times, Thomas was on deployment with the 1st Battalion, 3rd Special Forces Group in Niger.
His mission there was to train the local population to counter the spread of terrorist groups. Thomas reportedly died in an accident.
Thomas's honors include two Bronze Stars and four Good Conduct Medals. He was posthumously awarded a Meritorious Service Medal and Army Commendation Medal for his service, as reported by Fox5.
ABC 11 wrote that his wife said this was his eighth deployment. Warrant Officer Shawn Thomas was buried in Arlington National Cemetery and is survived by his wife and four children.
The video has over 7 million views, and Fox News reported that Thomas' wife T.J. thanked Williams for capturing the moment.