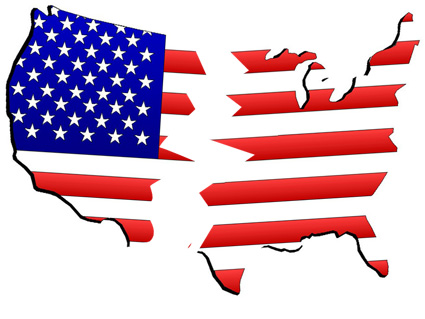 Rev. Graham: 'We Are a Broken Nation,' The 'Only Hope For This Nation Is God' (VIDEO)
February 4, 2016
Reprinted from: CNSNews.com
Rev. Franklin Graham. (BGEA)
America is "in trouble" and the solution is not in the Democratic Party or the Republican Party, said Rev. Franklin Graham, who added that "the only hope for this nation is God," and if people "turn from their sins" and turn back to God, He "will help us fix the problems that we face."
Franklin Graham, son of world-renowned evangelist Billy Graham,  made his remarks on CNN's New Day, where he was asked by host Chris Cuomo on Wednesday about the 2016 presidential race.
"Our country is in trouble and I can tell you right now, I have zero hope in the Democratic Party and I have zero hope in the Republican Party," said Rev. Graham.  "The only hope for this nation is God."
"And if we'll turn our attention back to God, I believe God will help us fix the problems that we face," he said.  "But Chris, we have no individual that can turn this thing around. Only God can do it."
As for the various political candidates, Rev. Graham said,  "There are some good guys out there that have some great ideas for this country, to move this country forward. But those good ideas aren't going to go anywhere without the hand of Almighty God."
"And yes, I do believe in the Divine Hand," said the reverend, who oversees the Billy Graham Evangelistic Association.  "I believe that God has blessed this nation, that His hand has been on this nation."
"But we have taken God out of our country," he said.  "We have taken him out of politics, we have taken him out of schools, out of the education system and we are a broken nation."
America's many problems are "not going to get fixed by politics," he said.  "It's only going to be fixed if the American people turn from their sins and put their faith and trust in almighty God."
Reverend Graham then said he hopes people will look at the candidates and how they live their faith – "Do they stand for biblical principles?"
Host Chris Cuomo asked, "So reverend, if a candidate says, look, I have my own Christian beliefs but this is a secular society under our Constitution and let's look at same-sex marriage – the Supreme Court has said what the law of the land is respecting the equal protection of same-sex couples to get married, and I must support the law.  Would I get your vote?"
Rev. Graham answered, "Well, first of all Chris, you talk about us being a secular government, a secular society — that's only taken place in the last few years. Our nation was founded on biblical principles. Our Founding Fathers recognized God. All you have to do is go through Washington and look at all of our monuments with the inscriptions and references to Almighty God."
(AP photo.) 
Cuomo then interjected,  "Understood, reverend. But we know that the Christian faith is not the rule for all. That's the point. Under the Constitution, you don't see God mentioned until the signature page. That's why I'm asking you about respecting the law of the land even if it fights your religious belief."
Rev. Graham responded,   "First of all, I respect the law of the land that has been approved by the Constitution and by the correct process. I don't think the judges in Washington can just make law. That's not what they do, but that's what they've done as relates to same-sex marriage."
"In almost every case where same-sex marriage was put to a vote – here in North Carolina, California, other places – it was voted down by the people, and it was judges who overturned the will of the people," said Rev. Graham.  "So I don't necessarily take that as the law of the land. I think we need a nationwide referendum on this, and let's see what the people say."
Franklin Graham, 63, is married and has five children.  In addition to running the Billy Graham Evangelistic Association, he also oversees the international Christian relief group Samaritan's Purse.  Rev. Graham regularly preaches in the United States and overseas.