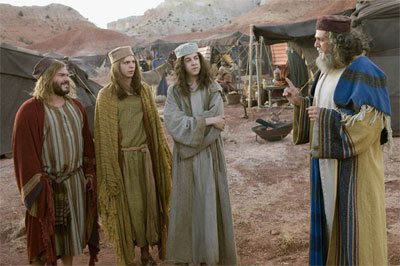 Image brought up on Google images when putting in a search for "People in Biblical times."
Can You Imagine Living In Biblical Times?
by Ken Pullen & with great help from a dear sister (this work would not come close to this eloquent quality without her input — and I am very thankful she took time from her busy schedule to help me)
ACP
Thursday, January 21st, 2016
Can you imagine living in Biblical times?
What's that? You find it difficult seeing our present day technology, information delivery systems, modern-day values and can't imagine what it must have been like to actually live in Biblical times?
Pause and contemplate the following sentence:
You are living in Biblical times as you read this. Right this moment is a piece of time within Biblical times.
Yet we in the present live and act as if we are on the outside, observing something long past, treating Biblical times like some archaeological discovery, or finding some ancient artifact in a museum, or reading a book on ancient history.
And we fail to grasp what really is and what we are — citizens within the very word of God. In specific chapters, verses, passages.
The prophets wrote of this time. Isaiah, Ezekiel, Daniel, Zechariah, John the Revelator and others in the Bible had visions of this time.
And you were in those visions as you are in the written words from Genesis through Revelation.
Yes, you.
Do you remember what God said in Isaiah?
"Remember the former things of old: for I am God, and there is none else; I am God, and there is none like me, Declaring the end from the beginning, and from ancient times the things that are not yet done, saying, My counsel shall stand, and I will do all my pleasure:" Isaiah 46:9,10
What about Christ? Do you remember what He said?
"For verily I say unto you, That many prophets and righteous men have desired to see those things which ye see, and have not seen them; and to hear those things which ye hear, and have not heard them." Matthew 13:17
The prophets wanted to see this time, this very moment, because the Word of God is truly living and active, and right now is Biblical time.
One of the Adversary's greatest weapons is to inflict doubt in your mind, in your heart so subtly — just a whisper in the heart and soul — about how separated and distant you, in the present day, are from the Scriptural events of the constant timeline of Biblical history past, present and future.
We view the past, if we view it at all, as something dusty and blurry and having an abstract otherworldly nature that does not pertain to us. We tend to imagine only our time as the truly living time.
Do a search on Google, on Bing, on Yahoo, on any search engine you might use for "People living in Biblical times" and see what appears.
You will not see anything such as this:
Yet everyone in that photo, and everyone now looking at that photo, and everyone who isn't even aware this website exists, and those who deny the existence of God, and mock the Bible — all live in Biblical times.
And we fail to understand that each person on this earth right now is living in a distinct and Divinely-appointed place in Biblical times. So why, then, is it that so many professed Christians fail to live their lives accordingly?
The prophets still live literally and through God's word. Jesus is still alive, risen from the dead. Jesus Christ is the Word who was with God and was God:
"In the beginning was the Word, and the Word was with God, and the Word was God. The same was in the beginning with God." John 1:1,2
Consider this — When you hold a Bible in your hands, you are holding Christ in your hands because Christ is the Word of God.
How does that feel to you?
And when you read the Bible, you are face to face, one on one, with His perfect love for you.
How do you handle that?

The Bible — Biblical times — always were. Always are. Always will be. For eternity. Biblical times never end. Yet so many live and act as if Biblical times ended around 100 A.D.

And I address this message specifically to all professed Christians. We are the greatest offenders of this attitude and outlook.

Why is that?

Are we not disciples, living disciples now of Jesus Christ just as the 12 were when He was among us in the flesh? Only now, He provided the Comforter, the Holy Ghost, the Holy Spirit — which is part of Himself, yet a third distinct personality of the One True God.

We read this.

We have people in pulpits, at least a few remaining, preaching this.

We say this among ourselves.

Yet we fail to live it and implement it and realize just how much we're living in Biblical times.

This is the root of many of our failures, ills, and not reaching what we could and should attain as true disciples of Jesus Christ the Lord. We miss the mark. We miss the point. We fall short.

And this throws the hellgate of apostasy wide open to the wolves in sheep's clothing, to all manner of distractions, abominations, sins, and our turning from God.

We could not make Satan any happier by our refusal to understand the times we live in and how we ought to live, think, and act accordingly.
We talked about the Word of God, and upon His return, before curtain goes down for good, we will be reminded one last time:
"And I saw heaven opened, and behold a white horse; and he that sat upon him was called Faithful and True, and in righteousness he doth judge and make war. His eyes were as a flame of fire, and on his head were many crowns; and he had a name written, that no man knew, but he himself. And he was clothed with a vesture dipped in blood: and his name is called The Word of God." Revelation 19:11,13
Other than the actual creation and the time the Lord, Jesus Christ walked this earth in the flesh, these are the greatest of Biblical times — for this is the coming of the end, and the end leading to the beginning!