In This Edition:
Jonathan Cahn: 'Follow Baal and go to hell'
ADMINISTRATOR'S NOTE: Words of Caution
The Harbinger-A Matter of Critical Discernment
Israelis Who Hate Israel – and the Christians Who Fund Them
The Great Falling Away: Christians Leaving The Faith In Droves
'The Time Is Coming That Whoever Kills You Will Think That He Is Offering A Service To God'
19 Statistics About Abortion That Every American Should Know
The Number Of Volcanoes Erupting Right Now Is Greater Than The 20th Century's YEARLY Average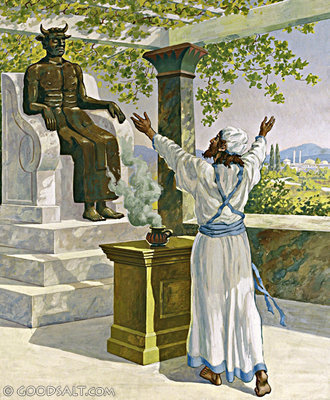 Worshipping the idol and false god Baal
Jonathan Cahn: 'Follow Baal and go to hell'
By Bob Unruh
Reprinted from WND
Thursday, April 30th, 2015
Rabbi Jonathan Cahn, author of the New York Times bestseller, "The Harbinger" and the inspiration behind the "Isaiah 9:10 Judgment" movie, on Wednesday smacked down the Supreme Court's assumption that it has the authority to redefine marriage.
Cahn's comments followed by only about 24 hours the hearing in the august courtroom where the justices heard arguments on whether the U.S. government would mandate recognition of homosexual "marriage" across the country.
Or not.
Ancient Baal worship
"The justices of the Supreme Court took up their seats [in a hearing] on whether they should strike down the biblical and historic definition of marriage," he said. "That the event should even take place is a sign this is America of [George] Washington's warning … a nation at war against its own foundation."
Washington's warning was the smiles of heaven can never be expected on a nation "that disregards the eternal rules of order and right which heaven itself hath ordained."
He noted the Supreme Court opens sessions with the words, "God save the United States and this honorable court."
"If this court should overrule the word of God and strike down the eternal rules of order and right that heaven itself ordained, how then will God save it?" he asked. "Justices, can you judge the ways of God? There is another court and there another judge, where all men and all judges will give account.
"If a nation's high court should pass judgment on the Almighty, should you then be surprised God will pass judgment on the court and that nation? We are doing that which Israel did on the altars of Baal," he said.
"We are exchanging our light for darkness."
The comments came at the 2015 "Washington: A Man of Prayer"service at the U.S. Capitol, an event that was livestreamed online and can be watched by signing up with WND.
The service is an effort by Rev. Dan Cummins to return prayer to the Capitol building, where generations of Washingtonians worshiped God under an open-doors policy.
"Washington: A Man of Prayer" commemorates the events of April 30, 1789, when, after being sworn in at Federal Hall, President Washington, accompanied by Congress, proceeded to St. Paul's Chapel where they "offered dedicatory prayers to God in divine services on America's behalf."
Honorary hosts for this year's event were Sen. James Lankford, R-Okla, and Rep. Randy Forbes, R-Va.
See the entire Washington: Man of Prayer event at the Capitol last night.
Many members of Congress participated, but when Cahn took the speaker's podium the warnings were loud and clear.
He said America's biblical foundation was affirmed throughout history and the nation came into existence "solely for the glory and purposes of God."
"No historian can rewrite that. No president can expunge that," he warned. "If a thousand angels swore on a thousand Bibles that this was not the case, it would in no way alter the fact. … America was brought into existence for the will and purposes of God."
He explained ancient Israel turned away from God.
"They drove God out of the government. They worshiped idols and served other gods. They celebrated immorality and they persecuted righteousness. The blessings of God were removed and replaced with judgments," he said.
Now, he said, "America has made the same mistakes."
He cited the deaths of 55 million through abortion.
"What we were warned never to do we now have done," he thundered.
Moving to directly confront President Obama, whose pro-abortion and pro-homosexual agenda has been unparalleled in American history, he questioned what happens when a leader places his left hand on the Bible to assume to highest office in the land but with his right hand "enacts laws that violate the laws of God."
"Mr. President, when you address the House, look up above the senators and the representatives, above the Supreme Court justices, you'll see a face, the only full visage in that wall. It is the face of Moses. … It would say this, 'No man can overrule the laws of God. No judgment of man can stand against the judgment of God'."
America, he warned, is faced with a critical decision, "Choose you this day whom you will serve … if the Lord be God, then follow Him. If Baal, then follow him and go to hell."
Believers, he said, will "not bow down our knees to Baal," the politically correct or anything other than God.
"Jesus the Messiah," he said, "is the only answer, the only chance that America has that it might once again shine with the presence of the living God … and not go to hell."
Cummins, a longtime pastor, first obtained permission from House Speaker John Boehner, R-Ohio, to use the hall in May 2012, the first time a private citizen had been allowed to hold a prayer service there in more than 120 years.
See the entire Washington: Man of Prayer event at the Capitol last night.
Historically, as many as 2,000 people were in attendance for worship services in the Capitol after President Thomas Jefferson approved the events.Services were held in the chamber where the House of Representatives met from 1807 to 1857, now called Statuary Hall.
Cummins, recalling Washington's first inauguration, said "the world saw more than just the inauguration of the president of a new nation; it witnessed a watershed moment in history when the ideals penned in ink on parchment at Philadelphia's Continental Congress would preserve what sword and patriots' blood had inscribed on the field of battle."
Cummins is founding pastor of Bridlewood Church in Bullard, Texas, and the director of church relations for Renewing American Leadership in Washington, D.C.
Pastor Sergio De La More, founder of Cornerstone Church of San Diego, who spoke at the prayer event in 2013, said it's important to understand America's foundation.
"I am certain the framework of our country, built not on economic status, race, or political standing, but rather on the foundation of faith and prayer, still stands as a monument of strength for all people everywhere. We, as a multi-ethnic nation have a rare and historical opportunity to unify ourselves as one church and rally to represent one culture-kingdom culture."
Kenda Bartlett, executive director of Concerned Women for America in Washington, said, "Over 32 years ago Mrs. Beverly LaHaye, wife of Dr. Tim LaHaye, and a small group of Christian women gathered around a kitchen table to answer God's calling to start a women's public policy organization dedicated to putting faith and prayer back into the public square.
"Today that organization is Concerned Women for America (CWA), the nation's largest public policy women's organization with over 500,000 members. So we know first-hand the huge impact a small gathering of believers can make when God is at the center of their work. Likewise, CWA was honored be among the small group of Christian leaders and organizations to gather in Statuary Hall for the first annual 'Washington: A Man of Prayer' event observing George Washington's inauguration address, which boldly called 'We the People' to a time of prayer."
ADMINISTRATOR'S NOTE: Words of Caution
The above news article from WND regarding Rabbi and author Jonathan Cahn is included to inform and warn true believers, scoffers, doubters, and the lukewarm as to what has been, is, and will come. America has been on the fast track road to decline and ruin now for a little over 50 years. No one seems to really care. Most embrace the path this once greatest of nations has taken — legalizing the murder of the unborn by the millions, seeking nothing but personal pleasure in the forms of sexual permissiveness, sexual depravity, sexual abnormality, gluttony, alcohol abuse, drug abuse, escalating violence with no origin in critical objective thought or logic, increasing greed, increasing isolation and self-worship, earth worship, embracing and elevating paganism and everything having to do with paganism, a total breakdown of ethics, morals, reason, rational thought, any sense which might have still existed — truth and the telling of it and acknowledging of it.
America is almost dead. And gone.
America is on the precipice of anarchy and collapse. I once, many years ago, heard an elder of a very conservative and fundamental church speak in dismay and almost despair because he voiced the question — "Where is America in the Bible?"
America is so weakened, so in the throes and under the lying spell of evil, so in decline, collapse, ruin and sin it has merely been absorbed into every other Baal, Babylonian based, Roman following nation which will be utterly destroyed by the hand and just justice and judgment of Almighty God!
America is right now a seething cesspool of evil and sin which has only increased exponentially in these areas and is racing headlong to its utter demise.
The laws have become lawlessness. There are no morals. There are no ethics. There is no turning to and believing and following God among those in power, those seeking power, or those who will wrest and seize power.
All this said — do not become so easily swayed and sucked into every book and every prominent national or internationally recognized rabbi, writer, minister, pastor, preacher, so-called man of God.
For almost all in these days, in this last sentence of the last paragraph on the last page of the history of the world as it has been known — most all are false teachers, false prophets and are not telling people the truth, the whole truth, and nothing but the truth as contained in the inerrant word of God.
Most become wealthy and famous in their so-called pursuit to "enlighten" when what they do best is lighten the bank accounts and wallets of those so easily sucked in to what it is they are selling.
I would write point blank right here — AVOID ALL NOVELS AND WRITINGS OF SO-CALLED Christians, pastors, rabbi's predicting the events to come. AVOID ALL SO-CALLED Christian novels.
What is wrong with turning to and relying upon the Holy Bible solely as your source of guidance, information, instruction in your life?
Do not be among those with the itching ears turning to fables and being misled by the thongs of nothing but false teachers covering the land like swells and hoards of locusts stripping and defiling everything in their pathway.
Seek the Lord and His ways and His instruction — His will. And all of that is found in one place and only one place — the Scriptures. The Holy Bible. The inerrant living active word of God!
Seek the Lord our God and do not fall prey to the wolves in sheep's clothing.
Do not permit the truth, the faith to be even eroded so much as .000000001%.
Do not permit or allow any erosion of the truth of the word of God.
Do not permit any corruption or perversion of the faith and the truth of Scripture to enter into your heart, your mind — your life.
Always and only turn to God and His living inerrant word!
The Harbinger-A Matter of Critical Discernment
Reprinted from The Berean Call
The Harbinger is a novel that is becoming very popular among both Christians and non-Christians, even reaching the top of the New York Times best-seller list at this writing. What makes it worthy of review, like other books that we have addressed, is that it offers an important opportunity for believers to exercise critical discernment. In this case, author Jonathan Cahn believes that he has discovered prophetic signs from God that are found in the Old Testament and directly apply to the United States, referring in particular to the events surrounding the terrorist attacks of September 11, 2001. Because The Harbinger ( TH ) is a fictional novel with a large dose of nonfiction added (Scripture), this critique involves two aspects: 1) a personal, subjective opinion, and 2) a more objective consideration of the author's application of Scripture in his novel.
Whenever we read a fictional story or see a movie, our evaluation is almost always subjective, e.g., what we like or don't like about it. As the untutored art critic might say, "I don't know anything about art, but I know what I like!" Even an art aficionado with some expertise rarely gets beyond the subjective, although he has a great deal more criteria than the everyday art lover for evaluating a work of art. In the end, it's still just his opinion.
In my opinion, The Harbinger is a poor script. I say "script" because it reads more like a script than like a novel, lacking nearly all of the elements that go into making a first-rate work of fiction. It tries to fit into the genre of National Treasure and The Da Vinci Code but fails miserably in my view—and I'm hardly an admirer of The Da Vinci Code. The redundancy throughout the book borders on being insufferable. If it were eliminated, TH could easily have been reduced to half its size. In addition, the dialog is repetitious, yet little if any insight into the story's characters is provided, with the result that we don't get to know them any better than we would a stranger whom we might sit next to on a three-minute subway ride.
Good fiction has drama. TH reads like a nine-part seminar, ending with a two-chapter tract. I actually liked some aspects of the last two chapters (though I thought I'd never get there as I struggled through the previous ones). If there had been a clear gospel presentation, these chapters might have the basis for a good tract—but definitely not for a good fictional story. Again, these are simply my opinions. I have little doubt that some will disagree, especially those who are fans of the book.
On the other hand, although TH is a fictional account that invites subjective criticism, it makes numerous claims regarding actual signs or harbingers from God—which it attempts to justify by supporting them with Scriptures. God's Word, however, is not fiction. That subjects TH to factual evaluation, because the Bible is God's objective truth. Therefore, we can challenge Cahn's claims objectively by searching the Scriptures to see if they indeed are true (Acts:17:11 — These were more noble than those in Thessalonica, in that they received the word with all readiness of mind, and searched the scriptures daily, whether those things were so.). As Isaiah wrote, "To the law and to the testimony: if they speak not according to [God's] word, it is because there is no light in them" (Isaiah:8:20 — To the law and to the testimony: if they speak not according to this word, it is because there is no light in them.). Jesus reinforced Isaiah's exhortation in His prayer for believers to His Father: "Sanctify [meaning 'set them apart']…through thy truth: thy word is truth" (John:17:17 — Sanctify them through thy truth: thy word is truth.).
The clarion call of The Harbinger , which seems to be quite sincere and is one with which all Christians might agree, is that the American people must repent of their evil ways and turn to God in truth. Amen to that! The major problem, however, is the way that the fictional story attempts to encourage such repentance. It declares that God has sent signs—nine harbingers—to the United States as a wake-up call that the country might take heed, repent, and thus ward off His impending judgment. If Cahn is mistaken about the harbingers and multitudes believe what he asserts, then he has led them astray. That is a serious issue and would identify him as a false teacher. Teaching God's people wrongly carries a "greater condemnation" (James:3:1 — My brethren, be not many masters, knowing that we shall receive the greater condemnation.).
The main characters in the story are a journalist and a mysterious prophet. The central contemporary event related to the harbingers is the September 11, 2001, attack on the World Trade Center in New York City. As the fictional story unfolds, it is revealed that the harbingers of warning and judgment are directly related to a prophecy found in the Book of Isaiah. Here is where the major thesis of the book fails the Prophet Isaiah's own challenge of Isaiah:8:20To the law and to the testimony: if they speak not according to this word, it is because there is no light in them.: the author, Jonathan Cahn, has spoken "not according to [God's] word" but has misapplied the scriptures in an attempt to support his own ideas throughout The Harbinger.
Cahn gleans nearly all of his correlations connecting America with a prophecy made to Israel from one verse—Isaiah:9:10 — The bricks are fallen down, but we will build with hewn stones: the sycomores are cut down, but we will change them into cedars.. To begin with, this verse applies only to the tribes of the Northern Kingdom of Israel, who, along with the Southern Kingdom of Judah, comprise God's covenant people. All the way through TH , the United States is presented implicitly as a nation in covenant with God. No, God has only one covenant nation—the nation of Israel. This is a critical error of the book. Although that may be overlooked by someone eager to recognize the U.S. in Isaiah's prophecy, one must read the entire context, which begins with verse 8 and runs through verse 21 of chapter 9.
Cahn flip-flops between God's judgment and God's warning, giving the latter more emphasis as he promotes the idea that if the U.S. will heed the warning and repent of its evil ways and turn back to God, restoration and blessing will follow. Although that principle is true for every individual who turns to Him, Cahn picked the wrong passage of Scripture as a hopeful warning for America. In fact, the entire context of Isaiah:9:8-21
[8] The Lord sent a word into Jacob, and it hath lighted upon Israel.

[9] And all the people shall know, even Ephraim and the inhabitant of Samaria, that say in the pride and stoutness of heart,

[10] The bricks are fallen down, but we will build with hewn stones: the sycomores are cut down, but we will change them into cedars.

[11] Therefore the LORD shall set up the adversaries of Rezin against him, and join his enemies together;

[12] The Syrians before, and the Philistines behind; and they shall devour Israel with open mouth. For all this his anger is not turned away, but his hand is stretched out still.

[13] For the people turneth not unto him that smiteth them, neither do they seek the LORD of hosts.

[14] Therefore the LORD will cut off from Israel head and tail, branch and rush, in one day.

[15] The ancient and honourable, he is the head; and the prophet that teacheth lies, he is the tail.

[16] For the leaders of this people cause them to err; and they that are led of them are destroyed.

[17] Therefore the LORD shall have no joy in their young men, neither shall have mercy on their fatherless and widows: for every one is an hypocrite and an evildoer, and every mouth speaketh folly. For all this his anger is not turned away, but his hand is stretched out still.

[18] For wickedness burneth as the fire: it shall devour the briers and thorns, and shall kindle in the thickets of the forest, and they shall mount up like the lifting up of smoke.

[19] Through the wrath of the LORD of hosts is the land darkened, and the people shall be as the fuel of the fire: no man shall spare his brother.

[20] And he shall snatch on the right hand, and be hungry; and he shall eat on the left hand, and they shall not be satisfied: they shall eat every man the flesh of his own arm:

[21] Manasseh, Ephraim; and Ephraim, Manasseh: and they together shall be against Judah. For all this his anger is not turned away, but his hand is stretched out still is a prophecy of judgment of the most devastating kind. God declares that He will send Israel's enemies to "devour" them (v. 12), destroying her corrupt leaders and lying prophets (vv. 15-16), and "for all this," His anger would not subside, and in His wrath He would not show them mercy. The carnage would result in civil wars among the tribes of Israel—brother against brother—with utter destruction, starvation, cannibalism (vv. 19-20), and finally captivity by her enemy. Even so, "For all this his anger is not turned away, but his hand is stretched out [against Israel] still" (v. 21). No "warning" is even hinted at in these verses.
Cahn's isolation of (Isaiah:9:10 — The bricks are fallen down, but we will build with hewn stones: the sycomores are cut down, but we will change them into cedars. and his symbolic interpretation of that verse to make it fit the September 11, 2001, jihadist attack on the U.S. is preposterous. (It's also very odd that nowhere in the book is Islam or the term "Muslim" mentioned.) Nevertheless, as tragic as 9/11 was, what reasonably discerning person would see this as comparable to Isaiah's account of God's judgment on the Northern Kingdom of Israel? Furthermore, even a cursory review of American history will bring to mind far more devastating events than 9/11, from Washington, D.C. being burned and sacked in the War of 1812, to the Civil War, to Pearl Harbor, to the debacle in Vietnam, etc. Ignoring such events, Cahn zeroes in on the devastation of "Ground Zero" as verification that God has removed His "hedge of protection" from the United States. How Cahn decides what events of contemporary history God is using for His very specific purposes is troubling. Are they Cahn's own prophetic insights or just his speculations? If the former, he is on very tenuous ground.
For many, selectivity on Cahn's part creates some of the most compelling assertions in the novel. Again and again, as G. Richard Fisher of Personal Freedom Outreach has noted, "Cahn is playing on the old mistake of saying [that] similarity means identity." The nine harbingers are selectively (and erroneously) taken from Scripture and are then given life by the comparison to similar things surrounding 9/11, which are then identified with Isaiah:9:10The bricks are fallen down, but we will build with hewn stones: the sycomores are cut down, but we will change them into cedars.. That's the faulty method. Fisher explains, "Similarity is not identity. A $100 bill is similar to monopoly money, which is paper, has numbers on it, and is referred to as money." To attempt to tie them together beyond that similarity, like paying a bill with monopoly money, will have embarrassing consequences at least.
Isaiah:9:10 — The bricks are fallen down, but we will build with hewn stones: the sycomores are cut down, but we will change them into cedars. cannot be identified with America and 9/11, and that's all one has to understand in order to reject Cahn's book. Yet, for those enamored with The Harbinger and still not convinced of its serious biblical problems, consider a few of the harbingers themselves (there's not enough space here to evaluate all of them). The sycamore and cedar trees are mentioned in Isaiah:9:10The bricks are fallen down, but we will build with hewn stones: the sycomores are cut down, but we will change them into cedars.: "The bricks are fallen down, but we will build with hewn stones: the sycamores are cut down, but we will change them into cedars." The passage uses sycamores as a metaphor for weaker trees being replaced by stronger, taller cedars in an act of arrogant defiance by the Israelites, who will not submit to God. Cahn points to a singular sycamore and what he refers to as a type of cedar tree (actually a Norway Spruce) that replaced it at Ground Zero as harbingers connected to Isaiah:9:10 — The bricks are fallen down, but we will build with hewn stones: the sycomores are cut down, but we will change them into cedars.. Although there is a similarity , it takes a great deal of subjective wrangling by Cahn in his attempt to make it match Isaiah's prophecy. The context does not allow Cahn's claims.
Another harbinger of warning to America is referred to as "The Tower." Cahn seems hard pressed to make a biblical connection to a tower other than a vague reference that the main character makes when he's asked how he would know what the Tower of Babel looked like. He replies, "I don't, but I've seen pictures of it." That inane statement aside, Babel was not a Jewish tower. Nevertheless, Cahn finds a Jewish tower that he believes fits. But he had to go to the Septuagint, the translation of the Hebrew Scriptures into Greek, for help. Isaiah:9:10 — The bricks are fallen down, but we will build with hewn stones: the sycomores are cut down, but we will change them into cedars. in the Greek is translated thus: "The bricks are fallen down, but come, let us hew stones, and cut down sycamores and cedars, and let us build for ourselves a tower." So, he has his "tower," but not without an inherent problem for "harbingers six and seven." Those harbingers are dependent upon a cedar replacing a sycamore tree. The Greek translation says "sycamores and cedars" are "cut down"; the Hebrew says that sycamores (plural) will be changed with cedars (plural). It would seem that Cahn can't have both his "Septuagint" tower and his "Hebrew" replacement cedar (singular). They contradict one another. [For further explanation, refer to the TBC Extra page in this issue.]
There are numerous other problems with the harbingers, even though they are constructed subjectively and selectively by Cahn. Granted, the author does raise an intriguing date phenomenon related to the economic misfortunes connected with 9/11 when he attempts to link the Jewish shemitah , the Torah law of letting the land lie fallow and the forgiving of debts in the seventh year of a seven-year cycle, as a warning to the U.S. No matter what one conjectures regarding the significance of a stock market crash occurring on the first day of shemitah, the shemitah itself has no bearing on anyone or anything other than the nation of Israel. It has never applied to the Gentile nations, either in actual practice or figuratively in Scripture. To superimpose a connection with America is just that—a superimposition.
Another imposition from Cahn's imagination is his suggestion that the inauguration of George Washington in New York City was a "consecration" of America to God similar to Solomon's consecration of the Temple in Jerusalem. To even compare the two verges on blasphemy, especially because history reveals that much Masonic ritual was involved, as well as the "works-salvation" doctrine of Masonry contained in Washington's speech. It was more suitable to the god of the Masonic Lodge, the Great Architect of the Universe, than to the God of Abraham, Isaac, and Jacob—the God of the Bible.
Part of the dilemma in criticizing The Harbinger is that if the foundational error in it is not acknowledged (that America has some sort of covenant with God, and that there is a direct biblical correlation between Israel and the U.S. in the events of 9/11 and following), that opens the door for the acceptance of the book's many fallacious ideas. This creates a perception of "credibility" simply by entering into a dispute over them. Even so, because most of them are so obviously wrong, pointing any one of them out to someone enthralled with the book may still be helpful. Some of these things are addressed in other parts of this newsletter and will be touched on in our future issues as questions arise.
One final thought—we all know the saying, "You shouldn't judge a book by its cover," and that's a reasonable statement. But I like to check out book covers to see who's endorsing them. That's hardly a failsafe practice, but it can put me on "discernment alert" if it raises red flags. In the case of The Harbinger , a big red flag went up regarding the publisher. Though the cover says "Front Line," it's actually an imprint title of Charisma Media/Charisma House Book Group, the publisher of Charisma magazine. For those not familiar with Charisma , there is no other publication that has supported and promoted more of the unbiblical Word/Faith teachers, the "wealth and health" preachers, the Kingdom/Dominionists, the Apostles and Prophets of the New Apostolic Reformation, the so-called spirit revivals of the Toronto Airport Vineyard, the Brownsville Revival, the Lakeland Revivals, the Latter Rain/Manifest Sons of God, and so forth. There is some irony in the fact that in chapter 9 of Isaiah, TH's key biblical chapter, God brings down His judgment upon Israel because of "lying prophets." Charisma has over the years featured many who fit that description. That doesn't automatically throw TH into a bin of rotten apples, but it should at least cause one to examine its fruit very carefully. Jesus said, "A corrupt tree [cannot] bring forth good fruit" and "by their fruits ye shall know them."
These are days of rampant and beguiling apostasy. We need, therefore, to test all things by the Scriptures so that we do not "slip" away from God's truth (Hebrews:2:1Therefore we ought to give the more earnest heed to the things which we have heard, lest at any time we should let them slip.). We also need to pray for and encourage our brothers and sisters in Christ that we all might be biblically discerning regarding the latest agenda, movement, trend, or popular book that is adversely influencing multitudes in the body of Christ.       TheBereanCall
Israelis Who Hate Israel – and the Christians Who Fund Them
Reprinted from NewsMax & United With Israel
April 28th, 2015
By: Yitzhak Santis/JNS.org.
Zochrot, a radical anti-Zionist group, appears to have an agenda equivalent to calling for the abolishment of Israel as the nation-state of the Jewish people – and receives generous funding from Christian aid organizations.
While most Israelis celebrated 67 years of independence last week, a fringe Israeli non-governmental organization (NGO) hopes this year will be the last for the Jewish state. Zochrot, a tiny radical anti-Zionist group, was established with the aim of "rais[ing] public awareness of the Palestinian Nakba ("Catastrophe" in Arabic)" and "recognizing and materializing the right of return," an agenda equivalent to calling for the abolishment of Israel as the nation-state of the Jewish people. With no local support base or constituency, Zochrot operates only through generous funding from a coterie of foreign Christian aid organizations.
Using church funds, Zochrot promotes a "de-Zionized Palestine," meaning free of Jews. The group's founder, Eitan Bronstein, advocates for Jews to abandon Israel en masse. He dreams of a time "when the refugees return, Jews will become a minority in the country… There may be Jews, most of them of European origin, who won't be able to adjust to a non-Zionist reality, and prefer to use their other passport to move elsewhere."
Last month, together with Palestinian NGO BADIL, Zochrot embarked on a speaking tour across the U.S. to promote the "historical overview of the Nakba and the Right of Return." Several years ago, BADIL awarded a prize to a blatantly antisemitic cartoon, featuring a grotesque caricature of a Jewish man standing over a dead Arab child and holding a pitchfork in the shape of a menorah dripping with blood. BADIL's anti-Semitic history apparently does not concern Zochrot or its funders.
Last year, Zochrot commemorated Israel Independence Day by launching a smartphone app called "iNakba" to delegitimize the Jewish state. The app, an interactive map and photos of Palestinian Arab villages from pre-1948, was featured by The New York Times, proving the real influence of a small fringe group armed with millions of shekels of foreign funds. A year before, in 2013, Zochrot hosted a costly Tel Aviv conference titled "From Truth to Redress: Realizing the Return of Palestinian Refugees."
These activities would ordinarily be out of reach for a group its size. But, due to the largesse of nine European Christian aid agencies, Zochrot does not lack resources. Foreign funding for 2014 and first quarter of 2015 totals NIS 2,892,665 (about $740,000). Of that, some NIS 2,726,917—about 93 percent—comes from the Christian charities.
These charities, both Catholic and Protestant, receive funding grants from their respective governments, mostly European. The charities are Bischoefliches Misereor (Germany), Broederlijk Delen (Belgium), Christian Aid (U.K.), Finn Church Aid (Finland), HEKS-EPER (Switzerland), ICCO (Netherlands), Trócaire (Ireland), the Mennonite Central Committee (Canada), and the United Church of Canada (Canada).
That these Christian groups support the abolishment of Jewish Israel is deeply troubling. The modern Zionist movement emerged in response to 19th-century anti-Semitic pogroms often caused by the anti-Jewish incitement of Christian clergy. Israel was subsequently established in the immediate aftermath of the Holocaust, the road to which was pave by centuries of anti-Semitic Christian teachings.
Following the Holocaust, a number of the world's leading Christian theologians began a comprehensive reconsideration of Christianity's attitudes toward Jews and Judaism. They undertook a process of renouncing and reformulating centuries of Christian teachings that led to anti-Jewish violence over the centuries.
Yet in the last two decades, some churches have partnered with anti-Israel activists to reverse these theological reforms, by introducing a "Palestinian liberation theology"—a fusion of Palestinian nationalism and Christian theology. This ideology seeks to undermine Jewish claims, religious or historical, to sovereignty in any and all parts of the Land of Israel.
Zochrot serves as perfect window dressing for this theological onslaught on the right of the Jewish people to sovereign equality. Without its Christian backers, Zochrot and its pernicious agenda would cease to exist.
By: Yitzhak Santis/JNS.org.

The Great Falling Away: Christians Leaving The Faith In Droves
April 29, 2015 | By  MATTHEW SPEISER
Reprinted from Prophecy News Watch
An extensive study done by the Pew Research Center has yielded some fascinating information regarding the trajectory of world religions over the next four decades.
As of 2010, Christianity was the dominant world religion with roughly 2.2 billion adherents and Muslims were second with about 1.6 billion adherents. If current demographic trends continue however, Islam is expected to catch up to Christianity midway through the 21st century.
Furthermore, people are leaving Christianity in droves. About 106 million Christians are expected to switch affiliation from 2010 to 2050 while only about 40 million people are expected to enter Christianity.
The religiously unaffiliated (athiests, agnostics) are expected to see the largest net gains from switching, adding more than 61 million followers.
Christians are expected to see the largest net losses from religious switching.
In North America, the fastest growing religious groups are Muslims and followers of "other religions" (an umbrella category that includes Baha'is, Jains, Sikhs, Taoists and many smaller faiths). Christianity is expected to decline from 78 percent of the overall population in 2010 to 66 percent in 2050.
Here's what the dominant religious groups in the U.S. are by county:

Unaffiliated religions are expected to rise over that same time from 16 percent of the population to 26 percent. By 2050, the United States will have more Muslims (2.1 percent of pop.) than Jews (1.4 percent).
In South America and the Caribbean, Christianity will see a slight dip over the next four decades, from 90 percent in 2010 t0 89 percent in 2050. Over that same time the religiously unaffiliated population will add 45 million followers increasing from 8 percent of the population in 2010 to 9 percent in 2050.
If the current trends continue beyond 2050 – which is a big if considering unforeseen events that can happen over a 40 year span (war, famine, innovation etc.) – then by the year 2070 the world's population of Muslims would roughly equal that of Christians.

Here are other chief findings from the report:

1. Islam will grow faster than any other religion over the next 40 years.
2. The number of Muslims will equal the number of Christians around the world by 2050.
3. Atheists, agnostics and other people who do not affiliate with any religion – though increasing in countries such as the United States and France – will make up a declining share of the world's total population.
4. The global Buddhist population will be about the same size it was in 2010, while the Hindu and Jewish populations will be larger than they are today.
5. In Europe, Muslims will make up 10% of the overall population.
6. India will retain a Hindu majority but also will have the largest Muslim population of any country in the world, surpassing Indonesia.
7. In the United States, Christians will decline from more than three-quarters of the population in 2010 to two-thirds in 2050, and Judaism will no longer be the largest non-Christian religion. Muslims will be more numerous in the U.S. than people who identify as Jewish on the basis of religion.
8. Four out of every 10 Christians in the world will live in sub-Saharan Africa.
'The Time Is Coming That Whoever Kills You Will Think That He Is Offering A Service To God'
19 April 2015
By Michael Snyder
Reprinted from The End of The American Dream
How do you deal with psychotic religious warriors that believe that they are offering a service to God by killing Christians?  Ever since 9/11, we were endlessly told about what a great threat "al-Qaeda" was, but I don't remember a single time when al-Qaeda ever marched a group of Christians out and beheaded them on camera.  ISIS appears to be an entirely different animal than al-Qaeda ever was, and it is about time that we started taking them seriously.  But the Obama administration is actually allowing Americans that went overseas to fight for ISIS to come back into the country and resume their normal lives.  To me, that is absolutely insane.  These are people that believe that they score major points with their god when they kill us.  And they especially seem to relish the opportunity to kill Christians.  Sadly, this is all part of a rising trend of Christian persecution all over the planet.  Christian churches are being burned to the ground in places such as Egypt, India and West Africa, and earlier this month we witnessed a horrific incident during which more than a hundred Christians were mercilessly gunned down in Kenya.  It is becoming increasingly dangerous to be a Christian, and it is only going to get worse in the years ahead.
You have to keep in mind that these ISIS fighters are actually convinced that they are the good guys.  They don't believe that what they are doing is evil.  When they kill Christians, they are just doing what they believe their god wants them to do…
A shocking new video appearing to show at least 30 Christians being beheaded and shot by ISIS in Libya has been released.

The 29-minute video, titled 'Until It Came To Them – Clear Evidence', shows dozens of militants holding two separate groups captive, thought to be in the south and the west of the country.

At least 16 men, described by Islamic State as the 'followers of the cross from the enemy Ethiopian Church', are lined up and shot in a desert area while 12 others are filmed being forced to walk down a beach before being beheaded.

This follows another video in February of the beheading of a group of 21 Coptic Christians on the beach in Libya, though that terrain was rockier than the one shown in the latest film.
This video that was released makes it abundantly clear what these killers are motivated by.  The following description of the audio on this latest ISIS video comes from CNN…
"All praise be to Allah, the Lord and cherisher of the world and may peace and blessings be upon the Prophet Mohammed. To the nation of the cross, we are back again on the sands, where the companions of the Prophet, peace be upon him, have stepped on before, telling you: Muslim blood that was shed under the hands of your religion is not cheap," the narrator says in Arabic on the 30-minute video.

The narrator continues, "In fact, their blood is the purest blood because there is a nation behind them (which) inherits revenge. And we swear to Allah: the one who disgraced you by our hands, you will not have safety, even in your dreams, until you embrace Islam."
Do you understand what is being said there?
They will not stop fighting until we all embrace Islam.
Not much room for negotiation there.
Meanwhile, other Islamic groups all over the planet are starting to take their cues from ISIS, and this is resulting in a rising tide of violence against Christians.
For example, recall the incident in the Mediterranean Sea the other day in which a dozen innocent Christians were tossed to their deaths…
When a rubber dinghy carrying around 100 African refugees across the Mediterranean began to sink, a Nigerian Christian prayed for his life in an innocent act that would end in the deaths of 12 fellow migrants.

One of the Muslims on board the rickety craft ordered him to stop, saying: 'Here, we only pray to Allah.'

When he refused, a violent fight ensued and 12 Christians drowned when they were thrown overboard by the Muslim refugees.
Who in the world would do such a thing?
The only reason those 12 people were killed was because they were Christians.
The following is what Reverend Franklin Graham had to say about this incident…
"The Italian police have arrested 15 Muslims for throwing 12 people overboard and watching them helplessly drown in the Mediterranean," said Rev. Graham in an Apr. 17 Facebook post.

He continued, "Why? Just because they were Christians! Because Islam has a deep and relentless hatred for people who bear the Name of Christ. These Christians were among a group of 105 people who were trying to escape war and poverty in Africa and were headed to Italy to look for work."
We saw another example of this kind of violence against Christians earlier this year in West Africa…
It took only a few hours, but it was enough time for hundreds of radical Muslims in Niger, West Africa, to destroy dozens of churches and several Christian homes. Ten people lost their lives and hundreds were injured when Muslim mobs went on the deadly rampage in early January.

Now, three months later, Christians living there are moving forward, determined to still preach the Gospel despite the dangers.
In most of these attacks around the globe, those involved do not believe that they are doing anything wrong.
Rather, most of the people involved in this violence believe that they are actually offering a service to their god.
And the tide is turning in the western world as well.  I don't know if you have noticed, but it is quite socially acceptable to make jokes about Christians and to portray them as bad guys and lunatics in movies and on television shows.  Evangelical Christians are even being labeled as "potential terrorists" in official government documents, and every trace of the Christian faith is being pushed out of public life in the United States.  I discussed how this is being done in the U.S. military in this recent article, but just about everywhere you look Christianity is being pushed into the shadows.  The disdain for the faith of our forefathers has reached a crescendo, and it is not going to be any easier to be a Christian in this country in the years ahead – that is for sure.
19 Statistics About Abortion That Every American Should Know
20 April 2015
By Michael Snyder
Reprinted from The End of The American Dream
Every single day a tragedy greater than 9/11 takes place, but hardly anyone is talking about it anymore.  On September 11th, 2001 more than 3,000 Americans lost their lives when three giant steel frame skyscrapers were brought down in New York City.  That was a great evil, but so is the fact that we purposely kill more than 3,000 of our own babies every single day in this country.  The fact that society has generally accepted the practice of abortion does not lessen the evil that we have done one bit.  Today, the United States has the highest abortion rate in the entire western world, and hardly anyone makes a fuss about it anymore.  In fact, a lot of Americans laugh about it, and some even do comedy skits about it.  We are so casual about abortion these days that one university is actually recruiting teen girls to have abortions for a "scientific study" that is being conducted.  But someday we will be judged for what we have done.  We have killed more than 56 million of our own babies, and their blood is crying out for justice.  In the end, we will reap what we have sown.  The following are 19 statistics about abortion that every American show know.  Please share these numbers with everyone that you can…
#1 In a massacre that is almost unspeakable, more than 56 million American babies have been murdered in the United States since Roe v. Wade was decided in 1973.
#2 When you total up all forms of abortion, including those caused by the abortion drug RU 486, the grand total comes to more than a million abortions performed in the United States every single year.
#3 The number of American babies killed by abortion each yearis roughly equal to the number of U.S. military deaths that have occurred in all of the wars that the United States has ever been involved in combined.
#4 Approximately 3,000 Americans lost their lives as a result of the destruction of the World Trade Center towers on 9/11.  Every single day, more than 3,000 American babies are killed by abortion.
#5About one-third of all American women will have had an abortion by the age of 45.
#6 Approximately 47 percent of the women that get an abortion each year in the United States have also had a previous abortion.
#7 It has been reported that a staggering 41 percent of all New York City pregnancies end in abortion.
#8 Approximately 78 percent of all abortions in New York City are performed on African-American and Hispanic babies.
#9 According to Pastor Clenard Childress, approximately 52 percent of all African-American pregnancies now end in abortion.
#10 Most women that get abortions in the United States claim to be Christian.  Protestant women get 42 percent of all abortions and Catholic women get 27 percent of all abortions.
#11 About 18 percent of all abortions in the United States each year are performed on teenagers.
#12 One very shocking study found that 86 percent of all abortions are done for the sake of convenience.
#13 According to the Guttmacher Institute, the average cost of a first trimester abortion at the ten week mark is $451.
#14 Many insurance companies now prefer abortion because the average cost of a vaginal birth with no complications in the United States is now over $9,000.
#15 During fiscal year 2014, Planned Parenthood snuffed the life out of 327,653 babies.
#16 Planned Parenthood specifically targets the poor.  A staggering 72 percent of Planned Parenthood's "customers" have incomes that are either equal to or beneath 150 percent of the federal poverty level.
#17 There are 30 Planned Parenthood executives that make more than $200,000 a year.  A few of them actually make more than $300,000 a year.
#18 Planned Parenthood gets more than 400 million dollars from the federal government each year.
#19 Overall, there have been well over a billion abortions performed around the world since 1980.
Every single year, both Democrats and Republicans vote to shower Planned Parenthood with hundreds of millions of dollars.
We are told that this must be done because of all the "good" the organization does.
But the truth is that this has been a despicably evil organization from the very beginning.  The founder of Planned Parenthood, Margaret Sanger, once said the following….
"The most merciful thing that a family does to one of its infant members is to kill it."
Does that sound "good" to you?
And in a 1922 book entitled "Woman, Morality, and Birth Control", Planned Parenthood Founder Margaret Sanger wrote the following…
"Birth control must lead ultimately to a cleaner race."
That is an unbelievably evil statement.  And yet this woman is constantly being showered with praise in our public schools, in the lecture halls of our colleges and universities, and even in the halls of the U.S. Congress.
Sometimes it takes a child to show us the foolishness of our ways.  I want to share with you a letter that an 11-year-old girl named Samantha sent to her state legislators.  It is written very simply, but it makes more sense than 95 percent of the stuff that is written about abortion by adults…
But you know what?
For writing such a letter, there is a good chance that Samantha will be labeled as a "potential terrorist".
Yes, this is actually true.  A Department of Homeland Security report that was released in January 2012 states that anyone that is "anti-abortion" is a potential terrorist.  And since that time, there have been other government reports that have also identified "anti-abortion" protesters as potential threats to national security.
But despite all of the posturing and all of the rhetoric, everyone knows deep down that an abortion kills a living human being.
Even Barack Obama knows this.  Just consider a comment that he made during one recent speech…
"Too many women face unnecessary difficulties on the job, like the difficulty of being paid less than a man for doing the same work," said Obama. "That's a difficulty. Or being reprimanded or fired for taking too many bathroom breaks when you're pregnant. Clearly that's a man making that decision because they don't have five pounds of kicks pressing down on their bladder."
Yes, we all know that there is a little baby in there that moves and kicks and feels pain.
But we just keep killing our precious little babies anyway.
So what does a nation that kills 56 million of its own people deserve?
What kind of judgment would fit such a crime?
The Number Of Volcanoes Erupting Right Now Is Greater Than The 20th Century's YEARLY Average
16 April 2015
By Michael Snyder
Reprinted from The End of the American Dream
Is the number of volcanic eruptions worldwide increasing?  Yes.  During the 20th century, there were a total of 3,542 volcanic eruptions globally.  That works out to approximately 35 eruptions per year.  That may sound like a lot, but according to Volcano Discovery there are 36 volcanoes erupting around the world right now.  In other words, the number of volcanoes erupting as you read this article is greater than the 20th century's yearly average.  And all of this is part of a larger trend.  In 2013, we witnessed the most volcanic eruptions worldwide that we had ever seen in a single year, and 2015 is already threatening to be another one for the record books.  All over the planet, volcanoes that have long been dormant are beginning to wake up, and this is greatly puzzling many scientists.  Fortunately, most of the eruptions in recent years have been relatively small.  But scientists tell us that if we do see a VEI 7 or a VEI 8 eruption today, the amount of energy that would be released would be somewhere in the neighborhood of a million nuclear bombs going off all at once, and such an eruption would completely literally transform our civilization almost overnight.
The last VEI 7 eruption that the world witnessed was in Indonesia in 1815.
According to the Express, that massive eruption resulted in a "year without summer" and created famine all over the globe…
The deadly eruption of Mount Tambora in Indonesia sparked what was known as the 'Year Without Summer' in 1815 as crops failed and livestock died in much of the Northern Hemisphere – causing the worst famine for hundreds of years.

However, academics have warned that the chances of a similar disaster happening in the next 85 years, which could see the Earth flung back into a "pre-civilisation state", was estimated to be as high as one in 10.

Due to dense population, an eruption which killed tens of thousands only two centuries ago would now be "cataclysmic" for today's population, the authors warned.

"Large volcanic eruptions have the potential to impact climate, anthropogenic infrastructure and resource supplies on a global scale," the panel of geologists, economists and climate scientists from the European Science Foundation have written in a new paper.
If you don't think that such a thing could happen today, you should keep in mind that global food production is just barely keeping up with global food demand.  In fact, in some years the world actually eats more food than it produces.  Global food reserves are at perilously low levels, and so a "year without summer" would be absolutely cataclysmic.
And right now, some of the biggest volcanoes in the world are starting to wake up.
For example, consider what is happening at one of the most prominent volcanoes in Iceland…
Small earthquake swarms occurred at shallow depths during the past days near the volcano. The quakes were located approx. 6-10 km south of Hekla volcano and at shallow depths around 5 km. The largest quakes were two magnitude 2.6 events at 4 km depth on Thursday (9 April). It is impossible to say whether the earthquakes are linked to volcanic activity and thus might be precursors of a new eruption, but Hekla is probably the most likely candidate volcano for the next eruption to occur on Iceland.

One of the country's most active, and the most frequently erupting volcano, Hekla has been believed to be "due" and have its magma chamber filled for several years now. Known for not giving much precursory signals (and only few earthquakes), an eruption would not be a surprise at all. Hekla volcano's last eruption was 15 years ago.
In Japan, a swarm of earthquakes around Mount Zao has authorities extremely concerned…
Fears of fresh eruption of Mount Zao, a volcano that sits on the border of the Yamagata and Miyagi prefectures, rattled Japan after the country's meteorological agency recorded 12 volcanic earthquakes on Tuesday. The seismic activity prompted warnings of a volcanic eruption, with the agency asking the public to stay safe from falling rocks in a 1.2 km radius of the volcano, The Japan Times reported.
And a massive volcano near the border between North Korea and China is showing signs of life.  If Mount Paektu were to fully erupt, scientists tell us that the energy released could potentially be equivalent to "1,000,000 nuclear weapons all going off at the same time"…
More than 1,000 years ago Mount Paektu blew its top, sending tons of rock and magma spewing into the air and blanketing the much of the region in a thick layer of ash.

"It's hard really to imagine the scale," Oppenheimer said, "but you're talking about something like 1,000,000 nuclear weapons all going off at the same time in terms of the energy involved."
If an eruption of that magnitude were to happen today, it would truly be a global event.
For instance, consider the chaos that an eruption in Iceland in 1783 caused.  The following comes from the Daily Mail…
In Iceland an estimated 20–25% of the population died in the famine and from fluorine poisoning after the fissure eruptions ceased.

Around 80% of sheep, 50% of cattle, and 50% of horses died because of dental and skeletal fluorosis from the 8 million tons of hydrogen fluoride that were released.

There is evidence that the Laki eruption also weakened African and Indian monsoon circulations, reducing precipitation over areas in Africa.

The resulting famine that afflicted Egypt in 1784 caused nearly one sixth of the country's population to die out.

In Britain the summer of 1783 was known as the 'sand summer' because of the ash fallout and an estimated 25,000 people died due to breathing problems.
The truth is that volcanoes are far, far, far more of a threat to our climate than human activity is.  All throughout history, volcanic eruptions have instantly changed the climate in a dramatic way.  The following list was compiled by Wikipedia…
Most recently, the 1991 explosion of Mount Pinatubo, a stratovolcano in the Philippines, cooled global temperatures for about 2–3 years.

In 1883, the explosion of Krakatoa (Krakatau) created volcanic winter-like conditions. The four years following the explosion were unusually cold, and the winter of 1887-1888 included powerful blizzards.  Record snowfalls were recorded worldwide.

The 1815 eruption of Mount Tambora, a stratovolcano in Indonesia, occasioned mid-summer frosts in New York State and June snowfalls in New England and Newfoundland and Labrador in what came to be known as the "Year Without a Summer" of 1816.

A paper written by Benjamin Franklin in 1783 blamed the unusually cool summer of 1783 on volcanic dust coming from Iceland, where the eruption of Laki volcano had released enormous amounts of sulfur dioxide, resulting in the death of much of the island's livestock and a catastrophic famine which killed a quarter of the Icelandic population. Northern hemisphere temperatures dropped by about 1 °C in the year following the Laki eruption.

In 1600, the Huaynaputina in Peru erupted. Tree ring studies show that 1601 was cold. Russia had its worst famine in 1601-1603. From 1600 to 1602, Switzerland, Latvia and Estonia had exceptionally cold winters. The wine harvest was late in 1601 in France, and in Peru and Germany, wine production collapsed. Peach trees bloomed late in China, and Lake Suwa in Japan froze early.
Are you starting to get the picture?
These kinds of events have happened many times before, and scientists tell us that they will happen again.
Here in the United States, people are closely watching the supervolcano that sits under Yellowstone national park.  In recent years the ground in Yellowstone has been rising, and many observers are concerned that we are witnessing the lead up to a full-blown eruption.
If a full-blown eruption of Yellowstone were to occur, all of our lives would instantly change.  The following are some facts about Yellowstone that I put together for a previous article…
#1 A full-scale eruption of Yellowstone could be up to 1,000 time more powerful than the eruption of Mount St. Helens in 1980.
#2 A full-scale eruption of Yellowstone would spew volcanic ash 25 miles up into the air.
#3 The next eruption of Yellowstone seems to be getting closer with each passing year.  Since 2004, some areas of Yellowstone National Park have risen by as much as 10 inches.
#4 There are approximately 3,000 earthquakes in the Yellowstone area every single year.
#5 In the event of a full-scale eruption of Yellowstone, virtually the entire northwest United States will be completely destroyed.
#6 A massive eruption of Yellowstone would mean that just about everything within a 100 mile radius of Yellowstone would be immediately killed.
#7 A full-scale eruption of Yellowstone could also potentially dump a layer of volcanic ash that is at least 10 feet deep up to 1,000 miles away.
#8 A full-scale eruption of Yellowstone would cover virtually the entire midwest United States with volcanic ash.  Food production in America would be almost totally wiped out.
#9 The "volcanic winter" that a massive Yellowstone eruption would cause would radically cool the planet.  Some scientists believe that global temperatures would decline by up to 20 degrees.
#10 America would never be the same again after a massive Yellowstone eruption.  Some scientists believe that a full eruption by Yellowstone would render two-thirds of the United States completely uninhabitable.
#11 Scientists tell us that it is not a matter of "if" Yellowstone will erupt but rather "when" the next inevitable eruption will take place.
Are you beginning to understand why the rise of volcanic activity all over the planet is such a big deal?
Just a single VEI 7 or VEI 8 eruption could fundamentally alter the way that we all live our lives in a single moment.
Despite all of our knowledge and all of our technology, the forces of nature are still vastly more powerful than we are, and scientists assure us that someday the United States will be directly confronted with that reality.