"A couple, after dancing all night in a fetid night club, walked out into the morning air. One sniffed and asked, "What is that I smell?" "That's fresh air!" was the reply. To the average professed Christian today, living so far below normal, New Testament Christianity would be a shock."
~Vance Havner
"The art of almost saying something is very clever. It sounds smart and will not offend anybody. It will help the speaker get ahead in this world but this world is not the right world to get ahead in. At the end of the road stands God, and God always says something. His Book does not almost state the case. We need to be saying something these days. Let us hear from men with a double resolve: "I will hear what God the Lord will speak…" (Psalm 85:8); "…what the Lord saith unto me, that will I speak" (I Kings 22:14)."
~Vance Havner
The Path Of A Good Soldier
by Pastor Paul M. Sadler
"Thou therefore, my son, be strong in the grace that is in Christ Jesus. And the things that thou hast heard of me among many witnesses, the same commit thou to faithful men, who shall be able to teach others also." — II Timothy 2:1,2
If we were to ask the average Christian to write down what they expect in a spiritual leader the list would probably read something like this: A man of God must have completed college and seminary. He should be eloquent and be able to articulate his thoughts well, enthusiastic, insightful, creative, and have a good sense of humor. In addition, he should not have too many shortcomings, and be well dressed.
Interestingly, just the opposite was true of the spiritual leaders found in the Scriptures. Most of the giants of the faith in biblical times were unlearned and ignorant men by the world's standard. The Bible is a who's who of shortcomings: Noah's drunkenness, Moses' speech impediment, David's adulterous ways, Peter's denials, Paul's repulsive appearance, etc. Nevertheless, God used these souls mightily to the pulling down of strongholds. As it has been said, "God took a handful of nobodies and made somebodies in His sight."
While we are an advocate of higher education, intellectualism is not a prerequisite to be used of the Lord. God has accomplished great things through those who merely had a willing heart. Timothy, for example, wasn't educated at the Ivy League Schools of Jerusalem, nonetheless, God chose him to carry the torch of grace after Paul's martyrdom.
Psalm 42 – Compete Jewish Bible
For the leader. A maskil of the descendants of Korach:
2 (1) Just as a deer longs for running streams,
God, I long for you.
3 (2) I am thirsty for God, for the living God!
When can I come and appear before God?
4 (3) My tears are my food, day and night,
while all day people ask me, "Where is your God?"
5 (4) I recall, as my feelings well up within me,
how I'd go with the crowd to the house of God,
with sounds of joy and praise from the throngs
observing the festival.
6 (5) My soul, why are you so downcast?
Why are you groaning inside me?
Hope in God, since I will praise him again
for the salvation that comes from his presence.
7 (6) My God, when I feel so downcast,
I remind myself of you
from the land of Yarden, from the peaks of Hermon,
from the hill Mizar.
8 (7) Deep is calling to deep
at the thunder of your waterfalls;
all your surging rapids and waves
are sweeping over me.
9 (8) By day Adonai commands his grace,
and at night his song is with me
as a prayer to the God of my life.
10 (9) I say to God my Rock,
"Why have you forgotten me?
Why must I go about mourning,
under pressure by the enemy?
11 (10) My adversaries' taunts make me feel
as if my bones were crushed,
as they ask me all day long,
'Where is your God?' "
12 (11) My soul, why are you so downcast?
Why are you groaning inside me?
Hope in God, since I will praise him again
for being my Savior and God.
Psalm 42 – King James Version
To the chief Musician, Maschil, for the sons of Korah.
1 As the hart panteth after the water brooks, so panteth my soul after thee, O God.
2 My soul thirsteth for God, for the living God: when shall I come and appear before God?
3 My tears have been my meat day and night, while they continually say unto me, Where is thy God?
4 When I remember these things, I pour out my soul in me: for I had gone with the multitude, I went with them to the house of God, with the voice of joy and praise, with a multitude that kept holyday.
5 Why art thou cast down, O my soul? and why art thou disquieted in me? hope thou in God: for I shall yet praise him for the help of his countenance.
6 O my God, my soul is cast down within me: therefore will I remember thee from the land of Jordan, and of the Hermonites, from the hill Mizar.
7 Deep calleth unto deep at the noise of thy waterspouts: all thy waves and thy billows are gone over me.
8 Yet the LORD will command his lovingkindness in the daytime, and in the night his song shall be with me, and my prayer unto the God of my life.
9 I will say unto God my rock, Why hast thou forgotten me? why go I mourning because of the oppression of the enemy?
10 As with a sword in my bones, mine enemies reproach me; while they say daily unto me, Where is thy God?
11 Why art thou cast down, O my soul? and why art thou disquieted within me? hope thou in God: for I shall yet praise him, who is the health of my countenance, and my God.
Finish with Faith
By Rabbi Yechiel Eckstein
Why, my soul, are you downcast?
Why so disturbed within me?
Put your hope in God,
for I will yet praise him,
my Savior and my God. — Psalm 42:11
With Psalm 42, we begin Book II of Psalms. It opens with a series of psalms written by the "Children of Korah." Who were these men?
According to Jewish tradition, when Korah rebelled against Moses in the desert, the land opened up and swallowed him along with his sons. Down in the ground, the sons of Korah did not immediately perish. They stood in a hopeless situation buried deep in the earth. And yet, from there hope sprung forth. They repented, turned to God, and were miraculously saved. During their time underground they composed these psalms.
The Sages explain that Psalm 42 also relates to the future destruction of the Temple in Jerusalem, as the psalmist referenced the House of God that once was. Either way, the underlying theme of this psalm is the ebb and flow of hope in the most desperate situations. It's a dance and rhythm that we all probably have experienced.
Can you relate? Have you ever been in an extremely trying situation where hope is all but gone? You resolve to have faith, maybe even proclaim it out loud. Then, a few hours later when you are tired and weary, your soul is downcast – worrying, fearful of what the future might bring. We witness this dance in Psalm 42. Throughout the psalm, the psalmist affirmed his faith, yet his soul became downcast once more. But the part that really matters is how the dance ends. Psalm 42 ends with an affirmation: "Put your hope in God, for I will yet praise him, my Savior and my God."
Though our faith may falter at times, we must finish with faith.
I am reminded of the time in 2 Chronicles 20 when the king of Judah, Jehoshaphat, was confronted by several attacking armies. The battle seemed hopeless. The enemy had already penetrated Israel and conquest seemed imminent. I'm sure the people wavered between worry and faith, but listen to what Jehoshaphat did. He gathered the people and together they prayed, "Our God, will you not judge them? For we have no power to face this vast army that is attacking us. We do not know what to do, but our eyes are on you" (v.12). He acknowledged the hopelessness of the situation but expressed his hope in God.
Friends, no matter what you may be facing today, be it a difficult conversation with a family member, a serious medical issue, or a gloomy financial outlook, we can pray like the king of Judah did. Let's say, "God, we have no power to do it on our own. We do not know what to do, but our eyes are on you." Even when our faith falters, let us return to this prayer and finish with faith.
With prayers for shalom, peace,


Rabbi Yechiel Eckstein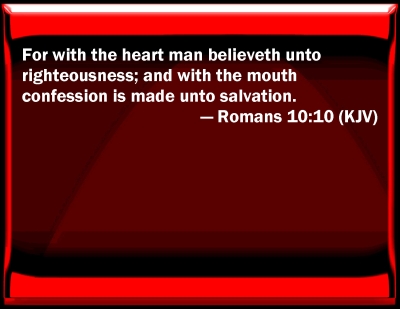 TRUST AND TELL
By Vance Havner
With the heart man believeth unto righteousness; and with the mouth confession is made unto salvation.
Romans 10:10
We do not have to pray a certain number of hours or weep a certain quantity of tears in order to be saved. Him that cometh to Jesus as best he knows how will in no wise be cast out. There are no exceptions. Faith is not a strenuous attitude of mind, a tense effort to believe. Faith is not merely refusing to doubt. The essence of saving faith is trust, stretching out relaxed on what God has said. We get out minds on ourselves, how well we stretch out, how much we relax, instead of on our support, the Word of God.
The insomniac cannot sleep, because he tries to hold up the bed. He cannot let go and let the bed hold him up. He may not be lying in a perfect position, but the bed holds him up just the same. Your faith may not be perfect, but God's promises are. You can never trust yourself, but you can always trust Christ. It is a heart-and-mouth experience. Trust Him and tell it!
The Way to Heaven
by Pastor Cornelius R. Stam
Perhaps you have heard the story of the man who inquired from a mountaineer the way to a certain destination.
The mountaineer stuttered and stammered and finally said: "You can't get there from here."
We may smile at this, but the results would be even more amusing — and sad — were we to ask the average person on the street the way to heaven.
What is the way to heaven? It is interesting to read in God's Word what many think about this. In Proverbs 14:12 we read:
"There is a way that seemeth right unto a man, but the end thereof are the ways of death."
What are some of these "ways" that "seem right" to men, leading them to hope for heaven? Joining a church? Being baptized? Doing one's best? Keeping the Ten Commandments? Loving one's neighbor as himself? These are a few of the ways that men follow, hoping to gain eternal life, but they all come under one heading: "Do good."
But what do the Scriptures say about this? In the Gospel according to John there are recorded for us seven "I ams," which the Lord Jesus Christ used in speaking of Himself.
One of these is found in John 14:6:
"I am the way, the truth and the life; no man cometh unto the Father but by Me."
This passage has a double significance, since it was not only the declaration of the Lord Jesus Christ, but at the same time a declaration of the divinely inspired Scriptures. From this verse we learn not only that Jesus is the only way to the Father, but also that He is "the truth" to be believed and trusted in. Thus we can believe the Lord Jesus when He claims to be the way to heaven.
But according to this passage He is also "the life." As we place our faith in Him as the One who died on the cross for us, we receive eternal life. "He died that we might live."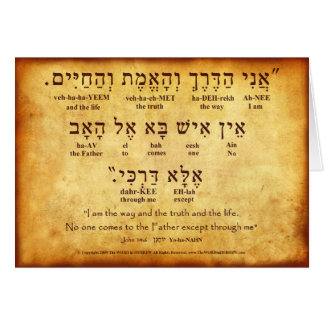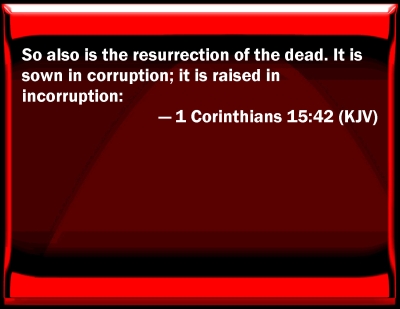 THE BEST IS YET TO BE
By Vance Havner
So also is the resurrection of the dead. It is sown in corruption: it is raised in incorruption.
I Corinthians 15:42
Aches and pains remind us that the bodies we got from old Adam are disintegrating. Some of them look very unsightly before they are laid away, and often we are acutely aware that "it is sown in corruption." But the Christian anticipates a new body "like unto his glorious body" as part of his salvation. Everything we have by the first Adam is marred and spoiled and subject to decay. But when we become sons of God by faith in the last Adam we are assured a new body incorruptible, beyond the reach of sin, disease, and death. This removes the sense of futility such as torments the aging man without hope in Christ. The best is yet to be! Lovely landscapes may wither, but a new earth looms ahead. Strong bodies may fail, but they only make way for new ones infinitely stronger. Loved ones go, but all who are in Christ are headed for a better reunion. "Christians never meet for the last time."
Cheer up, my brother! This body may never die, for Jesus may come first. But at worst it is only sown in corruption for an incorruptible harvest. We can't lose!
Little Girl, Arise
by Pastor Cornelius R. Stam
I was addressing an Assyrian audience on the raising of Jairus' twelve-year-old daughter by the Lord Jesus Christ, and using the narrative to illustrate how God, through His Word, gives resurrection life to those who are "dead in trespasses and sins."
I had as my interpreter the incomparable Bedour Hanush Afraim Kassab, but there was one point in the narrative where my audience needed no interpreter. I will explain.
It so happens that Aramaic, spoken by our Lord on earth, is almost identical to Assyrian and there is one small phrase in the story where our English Version presents the very words our Lord spoke to Jairus' daughter: "Talitha cumi," or "Little girl, arise."
Now it also happened that in our audience there was a little Assyrian girl who, like Jairus' daughter, was twelve years old. As I told of Jairus' anxiety for his dying daughter and his anguish at the news of her death, the little Assyrian girl could understand nothing; she had to wait until my words were interpreted into Assyrian. But when I got to the words "Talitha cumi" she needed no interpreter. Leaping from her chair she stood looking at me with eager, sparkling eyes, as if to say: "What do you want of me? What can I do now?"
Like Jairus' daughter, our little girl had heard and understood just those three words and had applied them to herself. So it is with those who have received "life in Christ." "Dead in trespasses and sins" (Ephesians 2:1), they paid little heed to the Word of God (I Corinthians 2:14), but one day, by the enabling power of the Holy Spirit, they did take heed and believe some simple gospel passage, like "Christ died for our sins" (I Corinthians 15:3) and, applying it to themselves, were "raised to walk in newness of life" (Romans 6:4).
Nothing would please us more than if some reader should thus apply the gospel of God's grace to himself and receive eternal life.
"Believe on the Lord Jesus Christ and THOU shalt be saved" (Acts 16:31).
Inscribed in the Book of Life
By Rabbi Yechiel Eckstein
This day I call the heavens and the earth as witnesses against you that I have set before you life and death, blessings and curses. Now choose life, so that you and your children may live. — Deuteronomy 30:19
A note to our readers: This week marks the continuation of the ten days between the start of Rosh Hashanah and ending with Yom Kippur, known as the Days of Awe or Days of Repentance. It is a time of serious introspection in preparation for Yom Kippur, the Day of Atonement, and the holiest day of the Jewish calendar. Our devotions throughout this week are tied to this biblically mandated observance.
Rosh Hashanah, which we just celebrated, is the Jewish New Year. Yom Kippur is known as the Day of Atonement. Together, these two holidays comprise the High Holy Days. On Rosh Hashanah, which is also known as the Day of Judgment, God evaluates and judges His creations. Ten days later on Yom Kippur, His judgment is sealed.
The Talmud explains that on Rosh Hashanah, God opens three books: one to list the completely righteous people; one for the completely wicked people; and one for those in the middle. The completely righteous are inscribed and sealed in the book for life. The completely wicked are inscribed and sealed for death. Those in the middle – the majority of us – have ten days in order to tip the scales in our favor.
A traditional Yom Kippur greeting is: "May you be sealed in the Book of Life." In our prayers, we beseech God: "Write us for life, King who desires life, and seal us in the Book of Life." We spend 26 hours in fasting, repentance, and prayer – all so that God might grant us another year of life. However, in a sense, our fate is really up to us. In Deuteronomy God tells us: "I have set before you life and death, blessings and curses. Now choose life, so that you and your children may live." It's up to us to choose life.
So many people are like the walking dead. They exist and breathe but they aren't really living. Some people spend their days angry, depressed, resentful, and bitter. They refuse to give life a chance; they refuse to be grateful, loving, or kind. Some folks simply waste their lives and resources on things that have no meaning or purpose at all. This is not living! This is not the kind of life that God wants for us. God wants us to choose hope, faith, obedience, and kindness. God wants us to embrace Him and those around us. How can we dare ask God to select us for the Book of Life, if we ourselves have not chosen life?
According to Jewish tradition, every night as we sleep, our souls ascend to Heaven. There, we record what we did that day and we sign our signature. We quite literally inscribe ourselves in the Book of Life, or God forbid, for the other.
Let's live our lives in a way that we can be sure to be inscribed for life. Let us write that we live each day with faith and devotion. Let us write that we do our best to make our lives count. Let us write that we choose God, choose good – and that we most certainly choose life!
With prayers for shalom, peace,


Rabbi Yechiel Eckstein
PLEASURES FOREVERMORE
By Vance Havner
O the depth of the riches both of the wisdom and knowledge of God! How unsearchable are his judgments and his ways past finding out.
Romans 11:33
Paul is overwhelmed by the magnitude of his theme. And well may any believer go into raptures over the treasure we have in Christ Jesus in whom dwells all the fullness of the Godhead bodily, by whom all things consist. Should there ever be a dull moment when every moment, any moment, affords time to know Him, the power of His resurrection and the fellowship of His sufferings? How can any preacher ever run out of sermons, with all this to ponder and preach? We shall be exploring the depths of it through all eternity. Shame on us that we take it for granted and get used to it here!
Here is a fountain that will never run dry, a treasure that can never be used up, a wealth that can never be exhausted. All other pursuits and quests and interests pale, but the riches of God in Christ Jesus will thrill us forever. Hallelujah!