In This Edition:
Iran and Germany: A 100-Year Old Love Affair
Obama's Muslim Founding Fathers (VIDEO)
Israel, Hamas and Obama's Foreign Policy
What Obama Really Wants in Gaza (VIDEO)
A Month of Islam in Europe: June 2014
Iran and Germany: A 100-Year Old Love Affair
by Amir Taheri

July 31, 2014
Reprinted from the Gatestone Institute
http://www.gatestoneinstitute.org/4556/germans-iran
According to Küntzel, German leaders have at least two other reasons for helping Iran defy the United States. The first is German resentment of defeat in the Second World War followed by foreign occupation, led by the US. The second reason is that Iran is one of the few, if not the only country, where Germans have never been looked at as "war criminals" because of Hitler.
Die Deutschen und der Iran. Geschichte und Gegenwart einer verhängnisvollen Freundschaft
(The Germans and Iran: The History and Present of a Fateful Friendship)
By Matthias Küntzel
WJS Verlag. 352 pages, Hardcover.
As the 5+1 group ends another round of negotiations with Iran, commentators assume that the four Western powers involved — the United States, Great Britain, France and Germany — are united in their determination to curtail Iranian nuclear ambitions. However, in this fascinating book, German scholar Matthias Küntzel argues that Germany's position on this issue may be closer to that of Russia rather than the United States — with Germany acting as "a shield for Iran against America," as Germany's former Foreign Minister Joshcka Fischer described his country.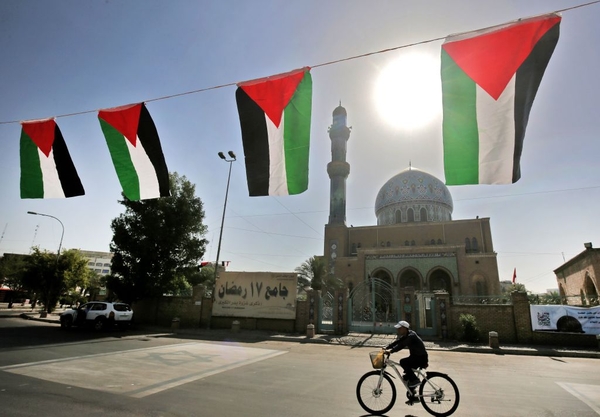 Matthias Küntzel and his book, The Germans and Iran: The History and Present of a Fateful Friendship.
The reason, according to Küntzel, is the "special relationship" that Iran and Germany have built since 1871, when Germany emerged as a nation-state. Two years after Germany was put on the map as a new country, Nassereddin Shah of Iran arrived in Berlin for a state visit of unprecedented pomp.
It is not hard to see why the two sides warmed up to each other. For over a century Iran had looked for a European power capable of counter-balancing the Russian and British empires that had nibbled at the edges of Iranian territory in pursuit of their colonial ambitions. In 1871, Germany looked like a good ally. As for Germans, they saw Iran as their sole potential ally in a Middle East dominated by Britain and Russia. The friendship was put to the test in the First World War, when Iran refused to join the anti-German axis and suffered as a consequence. With the advent of the Nazi regime, Küntzel shows, a new dimension was added to the Irano-German relationship: the myth of shared Aryan ancestry. In World War II Iran again declared its neutrality, but was invaded by Britain and Russia after refusing to sever relations with Germany.
Iranians had always regarded themselves as heirs to an Aryan identity, asserted in bas reliefs dating back to more than 2500 years ago. The Achaemenid King of Kings, Darius, describes himself as "Aryan son of an Aryan". The very name of the country, Iran, means "the land of Aryans." The idea of Germans as Aryans, however, dates back to the 19th century and the rise of nationalism in Europe. Then, writers such as Herder and Schlegel claimed that Germans were descendants of original Aryan tribes somewhere in Asia, splitting into several groups moving into India, Iran and Europe. (Much later, the Irish also claimed they were Aryans and named their newly-created republic Eire, which means land of Aryans.)
In the 1930s, Alfred Rosenberg, one of Hitler's philosophers, published "The Myth of the Twentieth Century", a book in which he claimed that the torch of Aryanism had passed from Iranians to Germans. The reason was that Iranians had been "corrupted" by Islam and mixed with "inferior races" such as Arabs, Turks, and Mongols. Thus, in 1936, when the Third Reich wanted to publish its official list of "superior" and "inferior" races, there was some debate regarding the place to be assigned to Iranians. In the end raison d'etat prevailed and Iran was declared an "Aryan nation".
However, that was not the end of story. The Iranian government demanded that the Reich recognize all citizens of Iran, including Jews, as "Aryans". That demand provoked anger among Nazi officials charged with the "elimination" of Jews.
Küntzel shows that Adolf Eichmann insisted that Iran's Jews, numbering over 60,000 at the time, be listed and rounded up by the Iranian authorities. Tehran rejected that demand and even went further by issuing visas to hundreds of German Jews who wished to leave the Reich. (The Iranian embassy in Paris did the same for hundreds of French Jews).
The "Aryan" myth was a source of major misunderstanding between Tehran and Berlin.
To Iranians, the term "Aryan" was cultural not racial; anybody who partook of Iranian culture could claim to be Aryan. One of ancient Iran's most famous queens, Esther, was Jewish. The maternal grandfather of Rustam, the mythical hero of Iran's national epic "Shahnameh" (The Book of Kings), was the Arab Zahhak. The late Ayatollah Khomeini boasted of his partially Arab ancestry by claiming to be a descendant of the Prophet Muhammad.
To Germans, however, Aryanism was a racial concept linked to blood and biology. The Nazis published supposedly scientific texts about the shape of the heads of "superior" and "inferior" races, the color of hair and eyes and the various shades of skin tan.
The misunderstanding continues even today.
In 1986, Akbar Hashemi Rafsanjani, the mullah who served as President of the Islamic Republic, wrote a letter to German Chancellor Helmut Kohl emphasizing "our common Aryan roots." Kohl's Foreign Minister Klaus Kinkel liked to speak of "our joint heritage and a 100-year alliance".
In 2009 in a letter to German Chancellor Angela Merkel, Iran's President Mahmoud Ahmadinejad claimed that the Irano-German "alliance, broken by the Allies in 1941" should be revived. Remarkably, German leaders did not bother to disown Hitler and distance themselves from the murderous myths spun by Nazis.
In the past 50 years or so, the "special relationship" between Iran and Germany has been highlighted in numerous ways. The first German industrial fair held in a foreign country after the Second World War was hosted by Tehran in 1960 with Economy Minister Ludwig Erhard leading a delegation of over 100 German businessmen. After that, all German Chancellors, starting with Konrad Adenauer, made a point of visiting Iran until the fall of the Shah. Even after the mullahs seized power, Germans pursued the special relationship through high-level visits, including that of Chancellor Gerhard Schroeder. The only time the German Federal parliament approved a law unanimously was when it enacted legislation to guarantee investments in Iran.
Some critics claim that the Germans are attached to Iran for purely economic reasons.
Küntzel shows this not to be the case. As the world's number-one exporter, Germany has little need of Iran, which represented less than half of one per cent of all German exports in 2013. Nor is Germany a major importer of oil or anything else from Iran.
According to Küntzel, German leaders have at least two other reasons for helping Iran defy the United States.
The first is German resentment of defeat in the Second World War followed by foreign occupation, led by the US. That resentment cannot be publicly expressed, if only because Germany is a member of NATO and needed US protection against Russia, an even more dangerous enemy, during the Cold War. If Iran thumbs its nose at the US, so much the better.
The second reason is that Iran is one of the few countries, if not the only one, where Germans have never been looked at as "war criminals" because of Hitler. For over 100 years, Germany has been the favorite European power of most Iranians. Germans reciprocate the sentiment by having a good opinion of Iran. Küntzel cites a number of opinion polls that show a majority of Germans regard the US and Israel, rather than Iran, as the biggest threat to world peace.
Küntzel also asserts that Germans are fed up with being constantly reminded of Hitler's crimes and beaten on the head with what Martin Walser, one of Germany's most famous writers, calls "the Holocaust cudgel." Walser says: "The motives of those holding up our disgrace stem not from a desire to keep alive the idea of the impermissibility of forgetting but rather to exploit our disgrace for their present purposes."
That the Holocaust never attracted popular attention in Iran is a relief to many Germans. "Supreme Guide" Ali Khamenei and former President Mahmoud Ahmadinejad have repeatedly asserted that Holocaust never happened. Former President Hashemi Rafsanjani has disputed the figure of six million Jews killed by Hitler, putting the number at "around 20,000". Former President Muhammad Khatami claims that "the facts of the situation have not been independently verified and established."
Finally, the Iranian nuclear dossier provides Germany with an opportunity to play in the diplomatic big leagues. In economic terms, Germany is a bigger power than Britain, France, Russia and China. And, yet, it has no place in the Security Council. The 5+1 formula creates a parallel Security Council in which Germany has a decisive say. The exercise could become a precedent for other international initiatives in which Germany is treated as a member of the "big powers club."
Küntzel cites another possible reason for Germany's attempts at helping Iran maintain its nuclear program with a minimum of modifications. In the 1990s, Germany tried to develop a clandestine nuclear program, very much like what Iran had been doing, by developing two sites closed to inspections by the International Atomic Energy Agency (IAEA). At the time, President Bill Clinton forced the Germans to shut the program by threatening them with sanctions, a similar tactic used against Iran so far without success.
With the United States in global retreat under President Barack Obama, Germany is beginning to assert its independent personality: It is in neither Western nor Eastern camps, Küntzel shows. It is at the center of a new "political pole" in Europe.
Küntzel's book is of special interest for the glimpse it offers into what many German politicians and scholars feel and think in silence.
A recent official German report states: "The Federal Republic has no evidence showing that Iran's nuclear program has a military aspect." That may explain, at least in part, Berlin's ambiguous position during the 5+1 negotiations with the Islamic Republic.
Originally written in German, Küntzel's book is also available in an excellent Persian version and is due for publication in English as well.
Obama's Muslim Founding Fathers (VIDEO)
Reprinted from FrontPageMag
In his message to Muslims on their holiday Eid al-Fitr, issued Sunday, Barack Obama asserted that "Eid also reminds us of the many achievements and contributions of Muslim Americans to building the very fabric of our nation and strengthening the core of our democracy." He did not, unfortunately, provide even a single example of these "many achievements and contributions" that Muslims have made to "building the very fabric of our nation," but he said that there were many, so they shouldn't be hard to list a few, right?You remember a few of them, don't you? Remember the Muslim signers of the Declaration of Independence? With Yahya al-Hanqoq's large signature front and center, so that the infidel King George III could read it without his spectacles? And then there was Ibrahim Clark of New Jersey and El-Bridge Gerry of Massachusetts. Remember also the Muslims who gave James Madison information about Muhammad's Constitution of Medina – which, as we all know, granted equal rights to women and religious minorities, predating such documents in the West by 1,000 years. Madison, of course, used the Medina Constitution as a model when framing the U.S. Constitution.
Then there were the Muslims who fought so valiantly during the War of 1812 and the Mexican War. And in the titanic struggles over slavery, Muslims were front and center: remember the Muslim abolitionist Senators who faced down the South in the antebellum Senate, the Senate chamber ringing with their oratory about how the Qur'an says to free slaves and so the U.S. government should, too? Remember the Muslim regiments in the Civil War (all on the Union side, of course!)? Then in the aftermath of the Civil War came the Muslim industrialists who brought us railroads, the telegraph, the telephone.
Not to be forgotten are the Muslims who also fought courageously in the Spanish-American War, World War I and World War II, and the Muslim entertainers who kept us laughing on the Vaudeville circuit and on the home front during those terrible world wars with their jokes from the Hadith.
None of this rings a bell? Not to worry. Before too long it will be taught in all the textbooks. Absurd? Maybe – but no more than Obama's statement itself. And even if they don't go so far as to Islamize John Hancock and imagine Muslim Americans fighting against slavery and defending America in world wars, public school textbooks already present a ridiculously rosy picture of Islam. A study by the American Textbook Council, an independent national research organization that evaluates the quality of textbooks, found that ten of the most widely used middle school and high school social studies textbooks "present an incomplete and confected view of Islam that misrepresents its foundations and challenges to international security."
The books present highly tendentious constructions as undisputed truth, making common cause with West-hating multiculturalists to bowdlerize the presentation of Islam, denigrate or downplay Christianity and Western civilization, and transform numerous public school textbooks into proselytizing tracts.
Meanwhile, even though the Constitution of Medina is of highly doubtful authenticity and is contradicted both by Islamic law and by Islamic traditions about Muhammad's actions, it is already becoming common for Islamic apologists to invoke it as evidence that Islam and democracy are not only compatible, but that Islam originated the idea of republican rule. Ahmadi Muslim apologist Qasim Rashid recently wrote in the Huffington Post that "when Prophet Muhammad was popularly appointed Medina's ruler, he entered into a pact with the Jewish communities of Medina. Through this pact, he granted equal political rights to non-Muslims. They were ensured complete freedom of religion and practice." Undercutting Rashid's case are the facts that Muhammad ended up exiling two of the Jewish tribes of Medina and massacring the third, and that the Qur'an mandates that Jews (and Christians) in the Islamic state, rather than enjoying "equal political rights," must "pay the jizya with willing submission and feel themselves subdued" (9:29).
But facts just get in the way of the narrative, and so the facts must go. It feels so good and multicultural to imagine Muslims at the founding of this nation, contributing to its very fabric, doesn't it? Heck, speaking of fabric, probably Betsy Ross was a Muslim. And doesn't the flag of South Carolina have a crescent moon on it?
Likewise regarding slavery – I imagine Muslim abolitionists above in pre-Civil War America above, in trying to give some substance to Barack Obama's absurd statement. In reality, of course, there were no Muslim abolitionists, or Muslims, in the antebellum United States. What's more, there were no Muslim abolitionists anywhere. Islamic apologists in the West routinely claim that Islam forbids slavery, but in fact the Qur'an takes slavery for granted, and according to Islamic tradition, Muhammad hallowed the practice by owning slaves himself. In some Muslim nations, it is still practiced, even though it is against the law (laws that initially began to be adopted in Muslim countries under Western pressure). Mauritania, for example, abolished slavery in 1981 and made it a crime in 2012, but it is still widespread — because it has Islamic sanction. Yet I myself remember being taught in high school, way back in the 1970s, that the last country to abolish slavery was Brazil, in 1889. There was no mention of Saudi Arabia's abolishing slavery in 1962, or of the persistence of the practice in some Muslim countries. And that was forty years ago, showing that whitewashing of Islam in the textbooks, now rampant, had begun even then.
So when it comes to Barack Obama's claim that Muslim Americans have made contributions to "building the very fabric of our nation and strengthening the core of our democracy," if there were no Muslim Founding Fathers scrutinizing the Constitution of Medina for material they could use in the charter document of their new nation, then they have to be invented. The textbooks have already departed from reality regarding Islam – what could possibly be the problem with a few more steps into fantasy? What difference, at this point, does it make? Yahya al-Hanqoq, grab your quill!
Israel, Hamas and Obama's Foreign Policy
Reprinted from FrontPageMag
Originally published by the Jerusalem Post. When US President Barack Obama phoned Prime Minister Binyamin Netanyahu on Sunday night, in the middle of a security cabinet meeting, he ended any remaining doubt regarding his policy toward Israel and Hamas.

Obama called Netanyahu while the premier was conferring with his senior ministers about how to proceed in Gaza. Some ministers counseled that Israel should continue to limit our forces to specific pinpoint operations aimed at destroying the tunnels of death that Hamas has dug throughout Gaza and into Israeli territory.

Others argued that the only way to truly destroy the tunnels, and keep them destroyed, is for Israel to retake control over the Gaza Strip.

No ministers were recommending that Israel end its operations in Gaza completely. The longer our soldiers fight, the more we learn about the vast dimensions of the Hamas's terror arsenal, and about the Muslim Brotherhood group's plans and strategy for using it to destabilize, demoralize and ultimately destroy Israeli society.

The IDF's discovery of Hamas's Rosh Hashana plot was the last straw for any Israeli leftists still harboring fantasies about picking up our marbles and going home. Hamas's plan to use its tunnels to send hundreds of terrorists into multiple Israeli border communities simultaneously and carry out a massacre of unprecedented scope, replete with the abduction of hostages to Gaza, was the rude awakening the Left had avoided since it pushed for Israel's 2005 withdrawal from Gaza.

In other words, in their discussion Sunday night, Netanyahu and his ministers were without illusions about the gravity of the situation and the imperative of winning – however defined.

But then the telephone rang. And Obama told Netanyahu that Israel must lose. He wants an unconditional "humanitarian" cease-fire that will lead to a permanent one.

And he wants it now.

And by the way, the eventual terms of that cease-fire must include opening Hamas-controlled Gaza's borders with Egypt and Israel and ending Israel's maritime blockade of the Gaza coast. That is, the cease-fire must allow Hamas to rebuild its arsenal of death and destruction quickly, with US political and financial support.

Until Obama made the call, there was lingering doubt among some Israelis regarding his intentions. Some thought that US Secretary of State John Kerry might have been acting of his own accord last Friday night when he tried to force Israel to accept Hamas's cease-fire terms.

But then Obama made his phone call. And all doubts were dispelled.

Kerry is just a loyal steward of Obama's foreign policy.

Obama is siding with Hamas, and its Muslim Brotherhood patrons in Qatar and Turkey, against Israel, and its Sunni Arab supporters – Egypt, Saudi Arabia, Jordan and the United Arab Emirates.

It is Obama who demands that Hamas have open borders so it can resupply, and receive billions of dollars – starting with an immediate cash injection of $47 million from US taxpayers – so it can pay North Korea for more missiles and import building materials to reconstruct its tunnels.

The fact that the US's current preference for genocidal, Jew-hating jihadists over the only liberal, pro-American, stable US ally in the Middle East is a White House position, rather than that of a rogue Secretary of State was actually exposed even before Obama's phone call.

Sunday CNN's Candy Crowley interviewed Deputy National Security Adviser Ben Rhodes. She asked him what the administration thinks Israel can do to prevent civilians from being killed in Gaza beyond what it is already doing. Rhodes replied, "I think you can always do more."

In other words, Rhodes said that no matter what precautions Israel takes to try to minimize Palestinian civilian deaths in Gaza, the administration will never be satisfied. The White House will never acknowledge that Israel is in the right, or that it is fighting a moral war against a barbaric foe. And since the administration will never be satisfied, Israel can expect to be condemned by various UN bodies, including the Security Council, because no matter what it does to try to earn the support of the administration, it will never receive such support.

The discovery that the Obama administration is entirely in Hamas's corner hit all of Israel hard. But it hit the Left the hardest. Few on the Right, which recognized Obama's hostility from the outset of his presidency, were surprised.

As for political leaders, the government cannot risk giving the administration justification for its anti-Israel policies, so senior ministers have all said nothing.

Consequently, the harshest criticisms of the administration's pro-Hamas position were heard from quarters where rarely a peep of criticism for Obama has been heard.

The Israeli Left went ballistic.

Haaretz, the far-left broadsheet that has seldom taken issue with even the harshest rejections of Israel's rights, went bananas after its reporter Barak Ravid received the details of Kerry's cease-fire agreement. As Ravid put it, Kerry's document, "might as well have been penned by Khaled Mashaal. It was everything Hamas could have hoped for."

Ravid continued, "What Kerry's draft spells for the internal Palestinian political arena is even direr: It crowns Hamas and issues Palestinian President Mahmoud Abbas with a death warrant."

And that is really the crux of the issue. The crowd at Haaretz is far more wedded to the PLO and Mahmoud Abbas than it is to the government of Israel. And the administration's support for Hamas exposed the PLO as an irrelevance.

As the paper's Amos Harel wrote the next day, Kerry's pro-Hamas behavior convinced the Egyptians and other actors that the administration is "continuing its secret love affairs with the Muslim Brotherhood in the region."

The Left understands that the administration's behavior has destroyed it.

Leftists can no longer say that Israeli territorial withdrawals will win it international support.

They can no longer say that Israel will receive US support if it places the security of Palestinian civilians above the security of its own civilians and military forces.

They can no longer say that the PLO is the answer.

The Israeli Left has been Obama's ace in the hole since he first ran for office, fresh from the pews in Jeremiah Wright's anti-Semitic church. They were the grease in the wheels that legitimized the administration's anti-Israel pressure group J Street. They were the ones who could be counted on to tell the US media and the American Jews that Netanyahu is to blame for Obama's hostility.

Yet, rather than backtrack, and try to save the Israeli Left, the administration doubled down on Monday, releasing a series of statements condemning the Israeli media's condemnations of Kerry's pro-Hamas position.

By Monday afternoon, the administration went so far as to say that by criticizing Kerry, Israel's media were endangering their country's alliance with the US.

In other words, through his actions, Obama demonstrated that his "love affairs with the Muslim Brotherhood in the region," are so central to his foreign policy calculations that he is willing to destroy the Israeli Left in order to strengthen the Brotherhood.

And this leads us to the larger point about Obama's foreign policy, which his Sunday night telephone call to Netanyahu revealed. As rattled as Israelis are over Obama's decision to support Hamas against Israel, Netanyahu made clear in his remarks Monday night that Israel has no choice but to keep fighting until we defeat this barbaric enemy.

Netanyahu didn't mention Obama, but it was obvious that he was respectfully refusing to hand Israel's head on a platter to Hamas's friend in the White House.

And while it is hard for Israel to ignore Obama, it is impossible for Americans to ignore him. He runs their foreign policy.

Americans are the ones who need to be most alarmed by what Obama's actions on behalf of Hamas reveal about the general direction of American Middle East policy under his leadership.

For the past five years, Americans from all quarters have concluded that the manifold failures of Obama's Middle East policies – from Iraq to Iran, Libya, Afghanistan, Egypt, Syria, Israel, the Palestinian Authority and beyond – owe to a combination of Obama's personal disinterest in foreign affairs and his presumed preference for withdrawal and isolationism over engagement.

Obama himself has often encouraged this perception with his endless golf games and his talk about fighting "the war at home."

Obama's open, public engagement in Hamas's war against Israel shows that the popular assessment is wrong.

Obama is as involved in the Middle East as all of his immediate predecessors were. He is personally leading US policy on every front. Kerry is not an independent actor.

The problem is that in every war, in every conflict and in every contest of wills that has occurred in the Middle East since Obama took office, he has sided with Iran and the Muslim Brotherhood, against America's allies.

Under Obama, America has switched sides.
What Obama Really Wants in Gaza (VIDEO)
Reprinted from  FrontPageMag
While Israelis are fighting and dying, families huddling in bomb shelters and soldiers going off to face death, the men and women in suits and power suits moving through the great halls of diplomacy are using them as pawns in a larger game.During the Cold War, Israel was a pawn in a larger struggle between the US and the USSR. Now it is back to being a counter in a larger game.
Israel's function within the great halls of diplomacy was always as a lever on the Arab states. It was not an end, but a means of moving them one way or another. When the Arab states drifted into the Soviet orbit, the "Special Relationship" was born. The relationship accomplished its goal once Egypt was pried out of the Soviet orbit. It has lingered on because of the emotional and cultural ties of Israel and the US.
Now Obama is using Israel as a lever to push Egypt back into the Islamist camp. Egypt's rejection of the Muslim Brotherhood broke the Arab Spring. Political Islam, which seemed to be on the ascendance, is back to being a freak show represented by terrorists and Turkey's mad mustachioed dictator.
Egypt was where Obama went to begin the Arab Spring. Egypt is still his target. Israel is just the lever.
The reason Israel was never allowed to truly win any wars was because it was being used as a lever. By being a "good lever" during the Cold War, it could damage Egypt enough that the latter would come to the negotiating table overseen by the US and move back into the Western sphere of influence.
Israel couldn't be allowed to win a big enough victory because then there would nothing to negotiate. Likewise, Israel wouldn't be allowed to keep what it won because then there would be no reason for Egypt to come to the negotiating table. Sometimes Israel would even be expected to lose, as in the Yom Kippur War, to force it to come to the negotiating table.
Swap Egypt for the PLO and that's how the disastrous peace process happened. Then swap the PLO for Hamas and that is where we are now.
Obama's initial support for Israel's war on Hamas was only to the extent necessary to bring the terrorist group to the negotiating table. And then once Hamas comes to the negotiating table, the White House will back its demands against Israel in exchange for getting the Brotherhood on board with its agenda.
Israel is just the means; the Muslim Brotherhood and political Islam are the objective. That objective may mean the end of the West, but those striding boldly through the halls of diplomacy are not worried.
The real target of the Hamas campaign wasn't Israel; it was Egypt.
Egypt's crackdown on the Muslim Brotherhood had included Hamas. That crackdown worried Hamas far more than anything that Israel was doing. Meanwhile the Muslim Brotherhood's loss of power meant a major setback for the sugar daddies of the Arab Spring; Qatar, Turkey and their Western allies.
The new alignment had placed Qatar, Turkey, Obama and the EU in one row, while Saudi Arabia, Egypt, Jordan, Israel and the PLO were in another row. The latest phase of the Gaza War between Israel and Hamas was meant to break apart that alignment.
Obama's tilt toward Iran had encouraged Sunni Muslims to throw their backing behind ISIS leading to significant gains in Iraq. Qatar and Turkey, backers of both Al Qaeda and the Muslim Brotherhood, then used ISIS to push the myth that the only counter to Al Qaeda was the Brotherhood's political Islam.
Al Qaeda and the Muslim Brotherhood, political Islam and the Jihadist bands, have always been two sides of the same coin, but the argument remains a persuasive one in the great halls of diplomacy.
Egypt had bottled up Hamas to avoid a repetition of the jailbreaks, terrorist attacks and street violence that had freed Morsi and Brotherhood leaders and later enabled Morsi to attempt a takeover of the Egyptian military.
The path to putting the Muslim Brotherhood back in power in Egypt runs through Hamas.
Hamas attacked Israel. There was enough backing for Israel's attack on Hamas to get it to the negotiating table. But once a ceasefire offer was on the table, Egypt would no longer be calling the shots. Instead the deal would come through two of Hamas' state sponsors; Qatar and Turkey.
For this to work, Obama had to keep a leash on Israel, giving it permission to fight and then pulling it back at the critical moment. Meanwhile Egypt would be surprised to learn that it was no longer setting the terms of the ceasefire based on the same old arrangement, but that its place would be filled by Qatar and Turkey. Their ceasefire terms, approved by the US, would loosen the blockade around Hamas.
Egypt had attempted to hold Hamas to the original ceasefire terms. That was not in the interests of the White House. The ceasefire negotiations had to be sabotaged with a political intervention on behalf of Hamas. And who better to conduct that political intervention than Secretary of State John Kerry?
Egypt, Israel and the PLO had not wanted Kerry to come. Israel's former ambassador to the US had said that he was not invited. But he was caught on a hot mic saying that he was going to come anyway.
UN Secretary General Ban Ki-moon was even more unwanted, but Qatar transported him to Israel.
Kerry, the UN and Hamas had all become projections of Qatari state power into Egypt and Israel.
The US and the UN pushed for an urgent and immediate ceasefire. Israel accepted the ceasefire several times, but Hamas resumed firing each time. While Israel thought that this demonstrated its peaceful intentions, what it actually did was give Hamas the power to set the terms of the ceasefire.
Once Hamas had that power, meeting its demands became the key element of ending the violence.
One of Egypt's remaining political assets had been the ability to turn off Hamas violence. Now Qatar and Turkey had demonstrated that it could no longer do that. With Qatar, Turkey and the US undermining Egypt, it could no longer pressure Hamas. Meanwhile the UN and the US were pressuring Israel to accept the Qatar/Turkey ceasefire terms favorable to Hamas and unfavorable to Egypt and Israel.
But diplomacy was never Kerry's strong suit. His blatant Qatari intervention instead alienated everyone.
Netanyahu has chosen to extend the operation against Hamas. Backing him up are poll numbers which show that the vast majority of Israelis want the job done. The PLO now suspects that Obama is about to back a Hamas coup against it. And Egypt's military has gotten a lot of recent experience watching Obama's botched diplomatic strategies blow up in his face.
The real objective of this war was to undermine Egypt. Egypt was supposed to scramble into the new alignment by developing closer ties with Hamas and cutting a deal with the Muslim Brotherhood. And if Egypt's government wouldn't cooperate, the Muslim Brotherhood might be able to tap into enough of the anti-Israel and pro-Hamas sentiment to topple the government a second time.
But if Egypt remains opposed to Hamas and Israel pushes forward with a plan to demilitarize Gaza, then the goals of those in the great halls of diplomacy who are behind this war will fail.
*
Don't miss Dr. Anna Geifman on The Glazov Gang this week discussing "Life in Israel Under Siege," "Who is Killing Palestinian Children?", and much more:


Beheadings of Infidels, Halal Sex Products and
"Muslims Don't Like Dogs"
A Month of Islam in Europe: June
2014
by Soeren Kern

July 29, 2014
Reprinted from The Gatestone Institute
http://www.gatestoneinstitute.org/4514/infidel-decapitations-halal-sex-products
The Vatican failed in an attempt to cover up the contents of a prayer by a Muslim cleric at an interfaith "Prayer for Peace" service held in the Vatican garden on June 8. Departing from a pre-approved script, the imam recited verses 284-286 of Sura 2 from the Koran, the latter part of which calls on Allah to grant Muslims victory over non-Muslims.

Danish police raided a mosque in the Vibevej district of Copenhagen after a passerby allegedly saw weapons being carried into the complex.

"We now have hundreds of jihadists and thousands of sympathizers. This naïve Cabinet's inaction is inviting an attack in the Netherlands." — Geert Wilders, Dutch Freedom Party.

Conference attendees called on the Spanish government to sponsor an official study aimed at finding ways to bring European food standards into compliance with Islamic Sharia law.
Austria accused Turkish Prime Minister Tayyip Erdogan of stirring up trouble on June 19, when he urged thousands of cheering supporters in Vienna to reject "assimilation."
Erdogan was rallying support for his candidacy ahead of Turkish presidential elections in August, and expatriate Turks have become a significant bloc of voters after changes to the electoral system now allow them to cast votes abroad.
Around 268,000 people of Turkish origin live in Austria, according to government figures, of whom nearly 115,000 are Turkish citizens.
Austrian Foreign Minister Sebastian Kurz, who had expressly warned Erdogan not to undermine efforts to integrate Turks into Austrian society, criticized the latest comments:
"These show very clearly that the Turkish premier has brought the election campaign to our country and created unrest with this. We reject this. And I can only say that respect for a host country looks clearly different."
In Graz, the second-largest city in Austria, police on June 5 arrested a 41-year-old Islamic preacher from Chechnya who is believed to be involved in efforts to send Austrians to war in the Middle East.
State prosecutor Hansjoerg Bacher said that the imam is thought to be behind the radicalization and recruitment of eight Chechens resident in Austria, four of whom have died in fighting in Syria.
In Bulgaria, the Kardjali District Court on June 16 rejected a property claim lodged by the office of the Chief Mufti, the spiritual leader of Bulgaria's Muslims, to be awarded ownership of the building housing the Regional Historical Museum. The court found that there was no basis for the claim, and ordered the representatives of the Muslim community to pay 91,062 leva ($63,000) in costs to the state.
This case was the latest in a series of lawsuits by the Chief Mufti's office, filed under the Religious Denominations Act, which allows applications by recognized religious denominations to be awarded property believed to be historically theirs.
The building was originally intended to serve as a Muslim religious school, and it was funded in part by donations from the local Muslim community in 1920s and 1930s. However, the building was never used as a madrassa. Instead, it was nationalized during Bulgaria's communist era and became a museum.
Lawyers for the Kardjali district administration argued that the Chief Mufti's office is not the heir to the local Muslim community because at the time there was no such registered legal entity.
In the southern Bulgarian town of Peshtera, residents are angry over the local mosque's powerful loudspeakers, which are blasting the Islamic call to prayer, the adhan, several times a day.
According to Radio FOCUS, the town is a model of multicultural tolerance, but residents are increasingly irritated by the adhan; the "silent discontent may escalate to petitions and protests," the radio said.
In Britain, a new television channel aimed exclusively at British Muslims, British Muslim TV (BMTV), was launched in early June. The channel, operating under the slogan "Confidently Muslim, Comfortably British," is airing on the British Sky digital platform; the programming content is being exclusively funded and made in the UK.
BMTV will compete with other channels, such as Islam Channel, one of the UK's most prominent and popular English language Muslim satellite channels; Noor TV, Peace TV and Iqra TV, all of which have a South Asian focus and are usually broadcast in Urdu or Bangladeshi; and to Shia Muslim focused channels such as Hidayat TV and Ahlebait TV.
Speaking to Al Arabiya news, the marketing director for BMTV, Wasim Akhtar, said that BMTV aims to be different from the other Muslim channels by being "inclusive of all different views and open to all different types of Muslims. So the channel isn't just about issues of faith, it's about practical Muslim life here in Britain."
In a trial at the Central Criminal Court of England and Wales [Old Bailey], a jury heard how police found 38-year-old Tahira Ahmed after she was decapitated in her west London home, allegedly by her husband, 41-year-old Naveed Ahmed. Tahira had been stabbed, had both her arms broken, and her head cut off. The couple, who have two children aged six and 12, had been married for 14 years.
Also in London, police launched an investigation into the origins of a sign telling dog owners to stay out of a park because it is "an Islamic area now" and "Muslims don't like dogs."
Meanwhile, it emerged that taxpayer money could be used to help fund a new mosque for the Muslim community in Belfast, according to Deputy First Minister Martin McGuinness. The move came after a local pastor named James McConnell denounced Islam as "Satanic" and a "doctrine spawned in hell."
McGuinness said he and First Minister Peter Robinson, who visited the Islamic Centre in south Belfast in June, "absolutely accepted" that the 4,000-strong Muslim community "is entitled to a mosque, if a proper site can be found which is suitable for them."
McGuinness said McConnell's remarks were "shameful" and could affect investments in Belfast. "This will impact, if not handled correctly by us, on our prospects of attracting foreign direct investment," McGuinness said. "The story travelled all round the world, and I think that it was very damaging."
In a bid to reverse negative stereotypes of Muslims in the UK, the Ahmadiyya Muslim Association in Devon and Cornwall in southwestern England launched an advertising campaign in June to promote "positive awareness of Islam."
The campaign involved banners displaying Muslim messages of peace on a fleet of more than 100 city buses. Under the slogan of "loyalty, freedom, equality, respect, peace" the community also launched a website: LoveForAllHatredForNone.org.
A regional president of the group, Muhammad Noman, said: "A true Muslim can never raise his voice in hatred against his fellow citizens, nor against the ruling authority or government of the time. He should remain loyal and fully abide by the laws of the land of which he is a subject."
More news about Islam in Britain during June 2014 can be found here.
In Cyprus on June 3, Turkish Cypriot mufti Talip Atalay recited a prayer at the reopening ceremony of the Taht-el kale mosque in Nicosia, which had been closed for more than 50 years. Atalay visited the mosque after an invitation from the Greek Orthodox Archbishop Chrysostomos II as part of the Religious Track of the Cyprus Peace Process promoted by the Swedish government.
In the Czech Republic, President Miloš Zeman refused to apologize for comments he made during a speech at the Israeli Embassy in Prague on May 26 at a reception to celebrate Israel's Independence Day.
Quoting several verses from the Koran that call on Muslims to kill Jews, Zeman said that Islam was to blame for the attack at the Jewish Museum in Brussels that killed four people. He also said:
"There is a term, political correctness. This term I consider to be a euphemism for political cowardice. Therefore, let me not be cowardly."
The new Secretary General of the Organization of Islamic Cooperation [OIC], Iyad Ameen Madani, condemned Zeman's speech, saying, "It is only appropriate that President Miloš Zeman apologizes to the millions of Muslims worldwide for his deeply offensive and hateful anti-Islam statements."
An OIC statement said:
"The Secretary General reiterated that Islam is a religion of peace and tolerance and that terrorism should not be equated to any race or religion; a stance upheld by all major UN texts on the subject of countering terrorism. He added that the OIC countries share a profound respect for all religions and condemn any message of hatred and intolerance."
On June 10, a spokesman for the Czech government said Zeman would not be apologizing for his statements. "President Zeman definitely does not intend to apologize. For the president would consider it blasphemy to apologize for the quotation of a sacred Islamic text."
The Gates of Vienna blog summed it up this way: "As far as I am aware, Miloš Zeman is the first Western head of state ever to tell the OIC to go jump in a lake. So this is an historic occasion."
In Denmark, the Danish Security and Intelligence Service (PET) revealed that at least 100 Danish jihadists (both male and female) have left Denmark to fight in Syria, and that at least 15 of them have been killed.
The information was made public during a June 23 seminar entitled, "Syria and the Danish Prevention Model," organized by the PET's Center for Terror Analysis (CTA). Some 100 representatives from the Danish police, civil society and the media attended the event.
According to the CTA, the majority of Danish jihadists are young Sunni Muslims (aged 16-25), including Danish converts to Islam. The CTA said most of the jihadists have links to Islamic communities in Copenhagen, Aarhus and Odense.
"Those returning from the conflict have been trained in military skills that can be used to carry out a terrorist attack in Denmark or against Danish interests abroad," CTA said. "They can also use their status to recruit new members to the group and new warriors to the conflict."
On June 14, Danish police raided a mosque in the Vibevej district of Copenhagen after a passerby allegedly saw weapons being carried into the complex. Four men were arrested during the operation.
On June 5, Denmark issued an international arrest warrant for four jihadists who were filmed shooting at effigies of six prominent Danish critics of Islam.
In the video, which was recorded in Syria and first surfaced in August 2013, the men fired their guns at effigies of former PET secret agent Morten Storm, free speech advocate Lars Hedegaard, former MP Naser Khader, the imam Ahmed Akkari, former prime minister Anders Fogh Rasmussen and cartoonist Kurt Westergaard.
Danish authorities said that under Danish anti-terror laws the shootings are illegal; they also conceded that some of the jihadists may already be dead.
Meanwhile, Denmark's largest mosque opened on June 19 in the Rovsingsgade district of Copenhagen after receiving a 150 million kroner (€20.1 million, $27.2 million) endowment from Qatar.
Not a single Danish politician of note attended the inauguration ceremony of the 6,700-square-meter (72,000-square-foot) complex, which houses a mosque, a cultural center, a television studio and a fitness center.
In Finland, the Security Intelligence Service (SUPO) on June 19 said it was investigating a suspected Finnish female jihadist who posed with weapons and published threats against Shia Muslims on Facebook.
The photo uploaded to Facebook shows a burqa-clad figure posing with an assault rifle, and brandishing what is claimed to be a suicide bomb. A comment on the page—written in Finnish—says the woman has come to Syria because "there are lots of Shias to kill."
On June 12, a spokesman for SUPO revealed that around 40 people have travelled from Finland to Syria to join Islamist groups there. He also said that around 200 individuals in Finland are believed to be at risk of radicalization.
On June 9, Finnish media reported the death of a 23-year-old jihadist from Espoo, the second-largest city in Finland, who had been fighting in Syria since December 2012. The man, of Somali background, had moved to Finland at the age of two. If the death is confirmed, he would be the third Finnish citizen to die in the fighting in Syria.
In France, Prime Minister Manuel Valls on June 3 increased the government's estimate of the number of French nationals fighting in Syria to 800, including about 30 who have died in the conflict.
Valls told BFMTV that these jihadists pose an unprecedented threat to France. "We have never before faced a challenge of this kind," Valls said. "It is without any doubt the most serious threat we face. We have to ensure the surveillance of hundreds and hundreds of French or European individuals who are today fighting in Syria."
In Iceland, the head of the Muslim Association of Iceland, Ibrahim Sverrir Agnarsson, on June 2 said that final preparations are being made for the design of the country's first mosque, set to be built on a plot of land in the Sogamýri district of Reykjavík.
The future of mosque has been in doubt since May 23, when the leader of the Progressive Party in Reykjavík, Sveinbjörg Birna Sveinbjörnsdóttir, said she wanted to reverse the city council's controversial decision to grant the plot of land to the Muslims free of charge. She now says the issue should be voted on in a public referendum. After her remarks, support for the Progressive Party in Reykjavík increased and the party secured two seats in municipal elections that were held on May 31.
The founder of the Muslim Association, Salman Tamimi, said he would file a lawsuit against individuals who left anti-mosque comments on an online article about the mosque controversy published by the newspaper Visir on June 1. Tamimi's lawyer, Helga Vala Helgadóttir, said it was important to take a stand against hate speech.
In Italy, authorities on June 17 said the Italian Navy had rescued almost 600 migrants from boats in the Strait of Sicily between Italy and Africa as part of the Mare Nostrum ["Our Sea"] search and rescue operation, launched in October 2013.
On June 9, roughly 1,300 migrants were ushered to safety at the merchant port of Taranto after being rescued at sea off the coast of Sicily.
More than 50,000 migrants crossed to Italy during the first six months of 2014, more than the total for the whole of 2013.
A jihadist from Luxembourg who died in Syria in December 2013 was claimed as a martyr for ISIS on June 17. A tweet from ISIS described a man identified as "Luxembourg national Abu Huthaifa" as the "first martyr for ISIS from the second richest country in the world."
Luxembourg Foreign Minister Jean Asselborn confirmed in May 2014 that two people from the Grand Duchy had joined militants in Syria. One of them was originally from Kosovo, and another was of North African origin. Both were killed, including Abu Huthaifa. Why ISIS was just now claiming his martyrdom remains unclear.
In the Netherlands, the Dutch intelligence service AIVD on June 30 released a new report entitled, "Transformation of Jihadism in the Netherlands," which states that about 130 Dutch jihadists have travelled to Syria, and that nearly 30 have since returned. Approximately 14 Dutch jihadists have died on the battlefield. Most of the Dutch jihadists have joined up with ISIS.
The Dutch-Turkish jihadist known as Yilmaz is one of about 130 Dutch jihadists who have travelled to Syria.
On June 21, the leader of the Dutch Freedom Party, Geert Wilders, accused the government of being "asleep" and "naïve" for failing to understand the size of the threat posed by Muslim radicals in the Netherlands. "The threat to the Netherlands is now greater than ever, even more than ten years ago with the Hofstad Group [an Islamist terrorist organization of mostly young Dutch Muslims of mainly North African ancestry], Wilders said. "We now have hundreds of jihadists and thousands of sympathizers. This naïve Cabinet's inaction is inviting an attack in the Netherlands."
Foreign Affairs Minister Frans Timmermans on June 16 told the Dutch Parliament that the government was taking "various measures," both in terms of criminal law and administrative law, to prevent Dutch nationals joining up with groups such as ISIS.
Also on June 16, the newspaper Volkskrant reported that AIVD had given the Turkish government the names of more than 100 young men and women who Dutch authorities believe may be planning on going to Syria. The paper said Turkey has agreed to detain and deport them if they attempt to cross the Turkish border en route to Syria.
On June 19, Abdoe Khoulani, a member of the Party of Unity (PvdE), a fundamentalist Muslim political party based in The Hague, expressed support for ISIS on his Facebook page. He wrote: "Long Live ISIS. And insha'Allah [Allah willing] on to Baghdad to fight the riff-raff there."
Khoulani's message was spread on Twitter by Arnoud van Doorn, a former member of the Dutch Freedom Party who converted to Islam and is now a member of the PvdE. Van Doorn said Khoulani was—like John the Baptist quoting the words of Isaiah—a "voice of one crying out in the wilderness" [to prepare the way for the Messiah].
In response to the backlash, Khoulani said his words were simply a call to justice. He added that ISIS is not a terrorist group, but a resistance organization.
Meanwhile, a Dutch company selling halal sex products on June 4 announced an alliance with Europe's largest erotic retailer in an effort to tap into the lucrative Muslim market, potentially worth billions of euros.
The founder of Amsterdam-based El Asira, Abdelaziz Aouragh, said the deal with Frankfurt-listed Beate Uhse came four years after his company first launched a range of erotic products that do not contravene Sharia law.
El Asira, which means "Society" in Arabic, launched its range of products in 2010 to massive acclaim from the local Muslim community. Beate Uhse, based in Flensburg, Germany, approached El Asira in 2012 with a business proposal to sell products jointly in Muslim markets.
"We will take 18 of our Islamic branded products to the market through Beate Uhse," Aouragh told Agence France-Presse. "Considering we're targeting a global market of around 1.8 billion people, the potential is huge."
The two companies are also looking into the possibility of opening a store for halal sex products in the Saudi Arabian city of Mecca, the holiest place in Islam, Aouragh said.
In Norway, the country's first-ever Shia Muslim mosque was inaugurated in Oslo on June 1. One of the main purposes of the Tauheed Islamic Center is "to provide an opportunity to non-Muslims to learn about the universal teachings of Islam." The first official event held at the mosque was a ceremony marking the 25th anniversary of the death of the Ayatollah Ruhollah Khomeini, the leader of the Iranian revolution.
Separately, Nemat Ali Shah, the Pakistani imam of the Central Jamaat Ahle-Sunnat mosque, the main Sunni Muslim mosque in Oslo, was recuperating in the hospital after a masked assailant repeatedly hacked him with a small axe or knife in the center of the Norwegian capital on the evening of June 16. Muslims were quick to condemn the attack as an Islamophobic hate crime, but on June 30, Oslo police arrested a fellow Pakistani who allegedly attacked the imam due to a power struggle within the mosque, which has more than 5,000 members mainly of Pakistani origin.
In Slovenia, the local Islamic Community on June 4 announced that construction work on the first Slovenian mosque was about to begin in the capital of city of Ljubljana, nearly ten months after the symbolic ground-breaking ceremony took place in September 2013.
Mufti Nedžad Grabus confirmed that Qatar would cover 70% of the cost of the project. "Without Qatar, the Islamic community [of Slovenia] would not be able to continue with the project," Grabus said.
The mosque and Muslim cultural center, 44 years in the making, will be built north of the city center, on a plot of land that the Muslim community bought from the City of Ljubljana, at a projected cost of €21 million ($28.5 million).
In Spain, the Union of Islamic Communities in Spain (UCIE), a Madrid-based Muslim umbrella group, and the Islamic Educational, Scientific and Cultural Education (ISESCO), a Morocco-based arm of the Organization of Islamic Cooperation (OIC), held a four-day conference in Madrid aimed at promoting the development of Koran institutes in non-Muslim countries. The event, which was held from June 18-21, was attended by Muslim leaders from Europe and North Africa.
On June 17, the Halal Institute of the Junta Islámica de España, a competing Muslim umbrella group based in Córdoba, held a conference aimed at promoting the "normalization of halal" in European countries. The official conference title was: "Possible Similarities and Differences between European Standards Compared with Halal Standards Demanded by the Arab Countries."
Conference attendees called on the Spanish government to sponsor an official study aimed at finding ways to bring European food standards into compliance with Islamic Sharia law.
Meanwhile, municipal officials in Barcelona denied reports that Qatar had offered to pay €2.2 billion ($3 billion) to convert the city's La Monumental bullring into a forty thousand capacity mosque. The building would include a 300-meter (985-foot) minaret. The mosque would be the third largest in the world, after those in Mecca and Medina.
On June 16, Spanish police in Madrid arrested ten individuals (eight Moroccans, one Argentine and one Bulgarian) on allegations that they were members of an international network that recruited jihadists for ISIS.
The ringleader was a 47-year-old Moroccan national named Lahcen Ikassrien, who was arrested in Afghanistan in 2001 and released after three-and-a-half years in Guantánamo. In July 2005, the U.S. government handed him over to Spain, where he faced charges of cooperating with al-Qaeda. In October 2006, the Spanish High Court acquitted him on the grounds that no firm evidence existed of his ties to the terrorist group.
Ikassrien, who lives in Madrid, was part of a cell led by Abu Dahdah, a Syrian-born Spaniard who was sentenced to a 27-year prison term in Spain for his part in the September 11, 2001 attacks, and for being one of the founders of al-Qaeda in Spain. In February 2006, the Spanish Supreme Court reduced the Abu Dahdah's penalty to 12 years because it considered that his participation in the 9/11 conspiracy was not proven. He was released in May 2013.
In Sweden, government health inspectors said they found some 60 cases of female genital mutilation (FGM) in Norrköping in eastern Sweden since March, with all 30 girls in one school class found to have undergone the procedure.
FGM has been illegal in Sweden since 1982 and can be punished with up to ten years in prison. Since 1999 it is also a criminal offense under Swedish law if the procedure is performed in a different country.
Most girls who undergo the procedure are between the ages of 4-14 years, but the operation is also carried out on infants. There are no official statistics detailing the extent of FGM in Sweden, or of how many girls are taken to have the procedure conducted abroad.
Meanwhile, the Swedish Parliament on June 17 approved changes to the country's immigration law to "facilitate moving to and from Sweden." The changes reduce the requirements for obtaining permanent residence for students and workers. In addition, individuals whose application for asylum has been rejected now need to wait only four months to become eligible for a work permit. Moreover, immigrants who have already obtained permanent residence in Sweden can retain that status for up to two years after they leave the country.
The anti-immigration Sweden Democrats (SD) rejected the proposal. "We should have mobility, but these suggestions give evidence that the government has dropped all reason when it comes to immigration policy," David Lång (SD) wrote in the party's motion.
In Switzerland, the Islamic Cultural Center in Lausanne received a $140,000 donation from the Government of Kuwait to fund the construction of a center for raising awareness about Islam. On June 20, the Kuwaiti news agency KUNA reported that the Kuwaiti Ambassador to Switzerland, Bader Al-Tunaib, presented the donation to head of the Complex Culturel des Musulmans de Lausanne (CCML), Dr. Mohammad Karmous. A Tunisian with a French passport, Karmous has multiple ties to the Muslim Brotherhood.
The Vatican failed in an attempt to cover up the contents of a prayer by a Muslim cleric at an interfaith "Prayer for Peace" service held in the Vatican garden on June 8. Departing from a pre-approved script, the imam recited verses 284-286 of Sura 2 from the Koran, the latter part of which calls on Allah to grant Muslims victory over non-Muslims.
Most non-Muslims non-Arabic speakers did not understand what the imam had said, but that changed when a former Muslim who speaks Arabic translated the full prayer on the indispensable blog, Gates of Vienna. The Vatican initially denied that the imam had said what he said, but then it doctored the video to edit out last part of Verse 2:286.
Gates of Vienna posted a complete video of the imam's prayer, which does indeed (3m54s into the video) ask Allah to "make us victorious over the tribe of the unbelievers." In an interview with Radio Vatican, a German-speaking Jesuit priest named Felix Körner remained unbowed.
Körner defended the imam, saying Verse 2:286 fully accords with Roman Catholic doctrine and is wholly peaceful in intent. "If one hears something in a skewed manner, one is going to have a mistaken understanding of it," he said.
Meanwhile, the Vatican partnered with the Emir of Sharjah (one of the emirates of the United Arab Emirates) to present an "unprecedented" art exhibition entitled, "So That You Might Know Each Other," a verse from the Koran. The four month exhibit, which ended on June 14, was designed to serve as a "sign of openness and cooperation between religions."
The 70 exhibits on display at the Sharjah Museum of Islamic Civilization included textiles, musical instruments, jewelry, rudimentary weapons, books and manuscripts, many of which were on loan from the Ethnological Museum of the Vatican.
The German broadcaster Deutsche Welle summed it up this way: "The fact that Rome is lending its works for the first time is an act of diplomacy in line with Pope Francis's current policies. While Pope Benedict XVI had distanced himself from other religions, his successor is pursuing a different policy."
Soeren Kern is a Senior Fellow at the New York-based Gatestone Institute. He is also Senior Fellow for European Politics at the Madrid-based Grupo de Estudios Estratégicos / Strategic Studies Group. Follow him on Facebook and on Twitter.