SPECIAL EDITION: I Stand With Israel
In This Edition:
Netanyahu finally speaks his mind
Pro-Israel students 'assaulted' at Boston protest
New York Times op-ed: Wipe Israel off the map
Hamas rejected Egyptian proposal to hold fire
Egyptians Hoping Israel Will Destroy Hamas
Gaza Conflict Day 6: Did Hamas Deliberately Attack Ramallah?
5 Things Christians Need To Know About The Israel – Gaza Conflict
He wasn't saying that he doesn't support a two-state solution. He was saying that it's impossible
Netanyahu finally speaks his mind
At his Friday press conference, the prime minister ruled out full Palestinian sovereignty, derided the US approach to Israeli security, and set out his Middle East overview with unprecedented candor. His remarks were not widely reported; they should be
Reprinted from The Times of Israel
Does Prime Minister Benjamin Netanyahu really support a two-state solution, or is his rhetoric to this effect disingenuous? Did he genuinely seek an accommodation with the Palestinians during the nine months of US-brokered negotiations that collapsed in April, or was he just stringing the Americans and the Palestinians along, while his heart is truly with the settlement enterprise?
These are fundamental questions — questions you'd think Israelis and the watching world would long since have been able to answer, especially given that Netanyahu is Israel's second-longest serving prime minister ever. In fact, though, while many pundits claim to have definitive answers, most Israelis would acknowledge that they've never been entirely sure how Netanyahu sees a potential resolution of the Palestinian conflict, which concessions he's truly ready to make, what his long-term vision looks like.
But now we know.
The uncertainties were swept aside on Friday afternoon, when the prime minister, for the first time in ages, gave a press conference on Day Four of Operation Protective Edge.
He spoke only in Hebrew, and we are in the middle of a mini-war, so his non-directly war-related remarks didn't get widely reported. But those remarks should not be overlooked even in the midst of a bitter conflict with Gaza's Islamist rulers; especially in the midst of a bitter conflict with Gaza's Islamist rulers. The prime minister spoke his mind as rarely, if ever, before. He set out his worldview with the confidence of a leader who sees vindication in the chaos all around. He answered those fundamental questions.
Netanyahu began his appearance, typically, by reading some prepared remarks. But then, most atypically, he took a series of questions. And while he initially stuck to responses tied to the war against Hamas, its goals, and the terms under which it might be halted, he then moved — unasked — into territory he does not usually chart in public, and certainly not with such candor.
For some, his overall outlook will seem bleak and depressing; for others, savvy and pragmatic. One thing's for sure: Nobody will ever be able to claim in the future that he didn't tell us what he really thinks.
He made explicitly clear that he could never, ever, countenance a fully sovereign Palestinian state in the West Bank. He indicated that he sees Israel standing almost alone on the frontlines against vicious Islamic radicalism, while the rest of the as-yet free world does its best not to notice the march of extremism. And he more than intimated that he considers the current American, John Kerry-led diplomatic team to be, let's be polite, naïve.
Perhaps most reporters switched off after he'd delivered his headlines, making plain that "no international pressure will prevent us from acting with all force against a terrorist organization (Hamas) that seeks to destroy us," and that Operation Protective Edge would go on until guaranteed calm was restored to Israel. If they did, they shouldn't have.
Netanyahu has stressed often in the past that he doesn't want Israel to become a binational state — implying that he favors some kind of accommodation with and separation from the Palestinians. But on Friday he made explicit that this could not extend to full Palestinian sovereignty. Why? Because, given the march of Islamic extremism across the Middle East, he said, Israel simply cannot afford to give up control over the territory immediately to its east, including the eastern border — that is, the border between Israel and Jordan, and the West Bank and Jordan.
The priority right now, Netanyahu stressed, was to "take care of Hamas." But the wider lesson of the current escalation was that Israel had to ensure that "we don't get another Gaza in Judea and Samaria." Amid the current conflict, he elaborated, "I think the Israeli people understand now what I always say: that there cannot be a situation, under any agreement, in which we relinquish security control of the territory west of the River Jordan."
Not relinquishing security control west of the Jordan, it should be emphasized, means not giving a Palestinian entity full sovereignty there. It means not acceding to Mahmoud Abbas's demands, to Barack Obama's demands, to the international community's demands. This is not merely demanding a demilitarized Palestine; it is insisting upon ongoing Israeli security oversight inside and at the borders of the West Bank. That sentence, quite simply, spells the end to the notion of Netanyahu consenting to the establishment of a Palestinian state. A less-than-sovereign entity? Maybe, though this will never satisfy the Palestinians or the international community. A fully sovereign Palestine? Out of the question.
He wasn't saying that he doesn't support a two-state solution. He was saying that it's impossible. This was not a new, dramatic change of stance by the prime minister. It was a new, dramatic exposition of his long-held stance.
Naming both US Secretary of State John Kerry and his security adviser Gen. John Allen — who was charged by the secretary to draw up security proposals that the US argued could enable Israel to withdraw from most of the West Bank, including the Jordan Valley — Netanyahu hammered home the point: Never mind what the naive outsiders recommend, "I told John Kerry and General Allen, the Americans' expert, 'We live here, I live here, I know what we need to ensure the security of Israel's people.'"
Earlier this spring, Defense Minister Moshe Ya'alon sparked a storm in Israel-US ties when he told a private gathering that the US-Kerry-Allen security proposals weren't worth the paper they were written on. Netanyahu on Friday said the same, and more, in public.
Netanyahu didn't say he was ruling out all territorial compromise, but he did go to some lengths to highlight the danger of relinquishing what he called "adjacent territory." He scoffed at those many experts who have argued that holding onto territory for security purposes is less critical in the modern technological era, and argued by contrast that the closer your enemies are, physically, to your borders, the more they'll try to tunnel under those borders and fire rockets over them.
It had been a mistake for Israel to withdraw from Gaza, he added — reminding us that he'd opposed the 2005 disengagement — because Hamas had since established a terrorist bunker in the Strip. And what Hamas had been doing in Gaza — tunneling into and rocketing at the enemy — would be replicated in the West Bank were Israel so foolish as to give the Islamists the opportunity.
"If we were to pull out of Judea and Samaria, like they tell us to," he said bitterly — leaving it to us to fill in who the many and various foolish "theys" are — "there'd be a possibility of thousands of tunnels" being dug by terrorists to attack Israel, he said. There were 1,200 tunnels dug in the 14-kilometer border strip between Egypt and Gaza alone, he almost wailed, which Egypt had sealed. "At present we have a problem with the territory called Gaza," the prime minister said. But the West Bank is 20 times the size of Gaza. Israel, he said flatly, was not prepared "to create another 20 Gazas" in the West Bank.
Beyond Israel's direct current confrontation with Hamas, and the eternal Palestinian conflict, Netanyahu also addressed the rise of Islamic extremism across the Middle East — covering the incapacity of affected states to resist it, and Israel's unique determination and capacity to stand firm. He said Israel finds itself in a region "that is being seized by Islamic extremism. It is bringing down countries, many countries. It is knocking on our door, in the north and south."
But while other states were collapsing, said Netanyahu, Israel was not — because of the strength of its leadership, its army and its people. "We will defend ourselves on every front, defensively and offensively," he vowed.
And in a passage that was primarily directed at Israel's Islamist enemies, but might equally be internalized by those he plainly regards as Israel's muddle-headed self-styled friends, he added: "Nobody should mess with us."
Pro-Israel students 'assaulted' at Boston protest
Jewish students called 'Jesus killers' and swarmed by dozens of anti-Israel demonstrators at rally outside Israeli consulate
Reprinted from The Times of Israel

At an anti-Israel protest in Boston on Friday, pro-Palestinian activists surrounded several Israel supporters, hurling insults and allegedly physically assaulting pro-Israel students (photo credit: Elan Kawesch/The Times of Israel)
BOSTON – A protest outside Israel's consular offices in downtown Boston turned ugly Friday when 100 anti-Israel demonstrators "swarmed" some dozen Israel supporters.
Surrounded by pro-Palestinian activists chanting "Jesus killers" and "drop dead," several pro-Israel students claimed they were "physically assaulted" by the protesters at the rally's close.
Whereas the pro-Israel supporters were mainly university students, the anti-Israel crowd was largely female, and older, accompanied by a dozen children holding signs and helping chant about "Israeli apartheid" and "war crimes."
Post-rally, the pro-Israel students immediately took to social media, exposing what they say Israel activists around the US face – to varying degrees – when they decide to publicly support the Jewish state.
Organized by activist Adam Akkad and Jewish Voice for Peace's local chapter, the demonstrators protested the Israel Defense Force's current Operation Protective Edge, but made no reference to the hundreds of Hamas rockets targeting Israeli civilians, or the use of Gaza civilians as human shields for Hamas.
"There were eleven of us here, and that was not enough," said Aviva Malveira, a recent Boston University graduate who was among the Israel supporters swarmed by protesters.
Wrapped in a large Israeli flag and wearing dark sunglasses, Malveira stood in the middle of what she called a "tiny pro-Israel island," surrounded by screaming protesters. She and other supporters sang the Israeli national anthem "HaTikvah" and Hebrew song "Oseh Shalom" ("Make Peace"), which Malveira said further inflamed the protesters.
"Some phones were knocked out of our hands, Israeli flags were yanked, and a whole lot of disgusting things were shouted at us," said Malveira, who now works for StandWithUs, a pro-Israel PR outfit.
The incident took place as anti-Israel protesters ended their demonstration outside the consulate and headed to the Boston Common for another rally. As protesters crossed the street outside the consulate, they surrounded the Israel supporters standing between them and the adjacent Public Garden.
After several minutes of hurled insults and physical contact, police officers intervened to restore order.
"School may not be in session, but Israel-haters take no breaks," said Malveira. "I think the Boston [Jewish] community needs to do a lot more in terms of rallies and public support – actual mobilizing – instead of hiding online or limiting their support to synagogue vigils," she said.
One of the assaulted students – Chloe Valdary, a University of New Orleans senior – pressed charges on Saturday at the Boston Police Department against a woman related to the incident.
"There were several cops who literally did nothing," wrote Valdary on her Facebook page after the protest. She also posted videos and photos of the "disturbing" incident, the first of which she has faced in Boston.
"They surrounded us, they swarmed us," said Valdary, who is in Boston for the summer as a fellow with the Committee for Accuracy in Middle East Reporting (CAMERA).
"I looked each and every one of them in the eyes," she wrote. "And I could tell that they're confused by me because I'm black. But they are such cowards. While they were chanting at me, I was just smiling at them," Valdary wrote.
Though fewer than a dozen student activists were present, they ran the political spectrum of campus Israel activism from J-Street U to traditional Zionist groups.
"I thought it was important to talk to these anti-Semites and hypocrites, who say they care about the Palestinians," said Raphael Fils, a Boston University junior.
Last month, Fils founded JUMP, a campus Israel advocacy group willing to partner across the pro-Israel spectrum, said Fils.
"It was scary and I did not feel safe," said Fils of Friday's incident. "I don't understand how these people are pro-Palestinian when they defend Hamas using their own children as human shields. That's not pro-Palestinian," he said.
Among the Israel supporters, several young Jewish communal professionals encouraged students to stand their ground and come up with their own chants and banners.
"They said some nasty things, like calling us Jesus killers, asking how many babies we had each murdered, telling us we would burn," said Samantha Mandeles, a former student activist who now trains students in Israel advocacy for CAMERA.
"There was one woman — the one who assaulted Chloe [Valdary] — who was screeching to me that I should 'rape my ass with the flag,' but I ignored her, even as she slapped the end of my flag as it waved it the wind," Mandeles told the Times of Israel on Saturday.
Perched out of windows high above the protest, Israeli consulate staffers – unable to participate in the event by law – took video of the protest's jolting finale.
"We would like to thank the pro-Israel students in Boston, who stood there with an Israeli and American flag, supporting Israel's right to self-defense," said consul-general Yehuda Yaakov in a statement.
"We appreciate the ongoing support, courage and dedication throughout the year to the state of Israel," he added.
Following their protest outside the Israeli consulate, demonstrators held another anti-Israel gathering on the Boston Common. Protestors then picketed outside three companies they called "complicit in the genocide" by supporting Israel, including Macy's and TIAA-CREF, the retirement fund.
A third anti-Israel gathering was held that evening, in front of Copley Square's Boston Public Library. All three of Friday's downtown anti-Israel rallies, as well as the hour of picketing companies, included participation from faith and labor groups, some of which distributed fliers mixing local agendas with anti-Israel rhetoric.
"What I saw today was actually less ugly than [anti-Israel protests] we see in California," said Bea Lieberman, a veteran Israel supporter in town to help her daughter move.
"There were far fewer jihadi young men here covering their faces and holding flags of Nasrallah, chanting 'slaughter the Jews,'" said Lieberman. "Where I'm from, there would be bars and police physically separating the protesters, because there are jihadi men who literally want to kill you."
In Lieberman's assessment, Boston's pro-Israel community can do more for both rally turn-out and making public statements of support for the Jewish state.
"You also really need to have pro-Israel people of all ages," she added.
New York Times op-ed: Wipe Israel off the map
By Gilead Ini
Gilead Ini is a senior research analyst at CAMERA, where his writing on media coverage of the Arab-Israeli conflict highlights … [More] how one-sided and inaccurate reporting can distort understanding of the Middle East. You can also follow him on Twitter at @GileadIni.
Reprinted from The Times of Israel
Thomas R. Dew was a president of the College of William & Mary. He was also an eloquent defender of immorality. "Look to the slaveholding population of the country," he wrote in 1832 while a professor at the university, "and you every where find them characterized by noble and elevated sentiments, by humane and virtuous feelings."
Clearly, even a professorship and some rhetorical skill don't guarantee ideas that merit thoughtful debate. There is, after all, an entire website dedicated to "Scholars for 9/11 Truth," and yet The New York Times has not once published an op-ed by the Texas A&M professor emeritus who expresses doubt that Boeing 767s were flown into the Twin Towers, or by the University of Colorado mathematics professor who similarly sees a conspiracy in the events of September 11. Their ideas are simply beyond the pale.
Nor has The New York Times offered space in its coveted opinion pages for debate about whether the Islamic Republic of Pakistan, which is entangled in border disputes and burdened by extremism, should be annulled, folded back into India from which it was carved. Indeed, it's hard to imagine the newspaper promoting arguments in favor of the elimination of any recognized, democratic country. Such ideas, too, are beyond the pale. Except, of course, when it comes to Israel.
Not for the first time, The Times has published what amounts to a call for the destruction of the Jewish state. The latest piece, which appears on the cover of the Sept. 15 Sunday Review section and is written by University of Pennsylvania professor Ian Lustick, argues the current state of Israel should be replaced by a unitary country that includes its neighbors in the Gaza Strip and West Bank.
The column is not all that different than an op-ed the newspaper published a few years ago by Muammar Qaddafi. And while that New York Times contributor is now remembered as a ranting madman who butchered his own people, and although Lustick is most definitely neither of those, the only real difference between their pieces is that Qaddafi's op-ed calling for an end to Israel is less long-winded than Lustick's 2,431-word piece, is more coherent, and at least sounds more moderate.
But never mind the tone and the drone of Lustick's piece. And never mind the weakness of both the dictator and the professor's arguments. The more important issue is that The New York Times seems intent on putting the very idea of Israel's continued existence, the idea of real and functional Jewish national self-determination, up for debate. In effect, the newspaper has repeatedly raised the question of whether we should rewind history and return the Jewish people to the dark era in which being a Jew meant everywhere being an ethnic minority, subject to the decisions of often-hostile majorities. And it's not only Jews who stand to suffer. Hussein Ibish and Saliba Sarsar, both affiliated with the American Task Force on Palestine, say Lustick's views are "harmful" in that they encourage "an open-ended struggle in pursuit of impossible goals" and "reflect dangerous phantasms and fanaticism."
In short, Lustick wants to discourage peace negotiations that most  Jewish and Arab Israelis support, and instead have the world sit back, watch the bloodshed he says is inevitable, and hope for the disappearance of the Jewish state. This should be beyond the pale.
The central problem isn't that Lustick's argumentation is weak (though it certainly is). It is that his argument is immoral. It is time that editorial page editor Andrew Rosenthal use the discretion that his office practices every day in sorting through hundreds of op-ed submissions, and desist from promoting this unjust idea.
That being said, let's have a closer look at Lustick's arguments.
His bottom line is that the idea of separate Jewish and Palestinian states is an "illusion." Lustick seems to understand that the Jewish majority in Israel will not volunteer to become a minority, especially in a region where xenophobic Arab leaders have long encouraged anti-Jewish attitudes, warfare and terrorism. And he surely knows that most of the world recognizes Israel. (The German chancellor said this just a few days ago: "For those who share my view that the Jews as a people have a right to self-determination, Zionism as a national movement of the Jewish people is the embodiment of this very right which its opponents want to deny.")
This is why the professor, notwithstanding his own argument that a two-state solution should be opposed because it is not "plausible," devotes so much of his op-ed to arguing that sometimes in international affairs "the impossible suddenly becomes probable." He tells readers that "history offers many such lessons," citing the division of warring Britain and Ireland into two states, and the separation of the ethnically distinct France and Algeria into two sovereign countries, and the breakup of multi-ethnic Yugoslavia, and the end of the Soviet project that had tried and ultimately failed to encapsulate several diverse republics into one state.
Maybe Lustick doesn't realize how thoroughly the history lesson destroys his case for joining two distinct, adversarial nations into one state. So he continues.
Readers, he argues, should consider what they "see vividly" across the Middle East. What they see, we know, is horrific bloodshed in Syria, where the unified state has fractured and where Sunnis, Alawites and Christians live in fear of each other. They see a Lebanon, a country in which an internationally designated terrorist group holds veto power, and which barely manages to withstand the centrifugal forces that have separated Shiite, Sunni and Christian Lebanese into violent enemies. They see car bombs exploding seemingly every day in Iraq, where the two main branches of Islam fail to coexist.
And he continues to make his case: "Strong Islamist trends make a fundamentalist Palestine more likely than a small state under a secular government," he writes. But the Jews of Israel should intertwine their fates with, and put their futures in the hands of, these very fundamentalists? We've seen in Egypt and elsewhere what fundamentalist Islamism envisions for non-Muslims. Just one day after The New York Times gave Lustick his platform, the newspaper reported that an Islamist-dominated village in Egypt has "witnessed the most horrific sectarian violence in Egypt" since power changed hands a few months ago. A 1,650-year-old monastery, the village's churches and dozens of Christian homes have "been burned or ransacked." A Christian resident was recently murdered and dragged through the streets.
And still, Lustick's piece concludes by urging those with a stake in negotiations, the Israelis and the Palestinians, to "see and then adapt to the world as it is." Yes, he's referring to the same world in which Arab Sudan was separated from non‑Arab South Sudan to spare the sides continued bloodshed.
To be fair, the author is right about one thing. There are observers who question the likelihood of a negotiated two-state solution. But if he agrees with them (he does), and if he wants dazzling geopolitical change (he does), what would make more sense: Watching while "blood" and "conflict" and "magic," which Lustick envisions as a prerequisite to his one-state Utopia, does or does not fuse Israel and the Palestinian Authority into a single peaceful country, or joining the Gaza Strip and Egypt, two regions that overlap ethnically, religiously and culturally and which once coexisted with little dissent under the same rule? He doesn't consider this option. This isn't to recommend a Gaza-Egypt union, but merely to point out that even if one accepts Lustick's gloomy diagnosis, his prescription does not necessarily follow.
And things aren't actually all that gloomy. Realist professor Efraim Inbar recently made the case that the country looks to have a bright future:
Despite not everything being perfect in the Holy Land, long term prospects seem bright. Israel is a vibrant democracy that prospers and maintains strong social cohesion. Its international status has improved while support in the United States, its main ally and still the foremost international power, has remained very high. Moreover, the Jewish state is widely recognized as an entrenched reality, even by its Arab and Muslim rivals. It has built a mighty military machine that can parry all regional threats, and the IDF remains the most capable military in the region with the motivation, equipment, and training to overmatch the conventional capabilities of any regional challenger. Israel has managed to contain terrorist activities and has built an effective shield against missiles.
Inbar concluded that "While peace is desirable, it is not a necessary condition for survival."
Lustick's dire prognosis also depends on misinformation. Israel's version of two states, he insists, envisions "huge Jewish settlements, crisscrossed by Jewish-only access roads." But this is utter nonsense. The West Bank is not currently crisscrossed by Jewish-only roads, and no credible Israeli proponent of a two-state solution calls for creating such roads, either in Israel or in a future Palestinian state.  Lustick has seemingly dug up the old canard that describes roads on which Israeli Jews, Muslims and Christians can freely travel, but to which Palestinians have restricted access, as being Jewish only. Major media organizations that have made that mistake have subsequently published corrections.
But again, the key problem isn't Lustick's ridiculous argumentation or his dangerous vision, both of which he is entitled to, and both of which he has shared before. The real issue is with The New York Times decision-making. As Shmuel Rosner correctly pointed out, the foolish idea that the disenfranchisement of the Jewish people is up for debate is "based solely on the fact that a widely read and respectable publication has decided to print it." It is an extremist concept that the newspaper is trying to push into the mainstream.
Times opinion editors will surely protest that they publish diverse views, and that they don't necessarily agree with what is published. To some extent this is true. But this boilerplate defense does not justify the publication of anything and everything. No op-eds have made the case that the slaying of children at Sandy Hook Elementary School was actually a "false-flag" conspiracy. None have promoted female genital mutilation. None have revived the outrageous debate about the right to freedom for blacks in America. And none should revive the old debate about the right of the Jewish people to determine their own destiny in their ancestral homeland.
In other words — at least when it comes to issues that don't involve the world's one, small Jewish-majority country — free speech is not conflated with desirable speech. Arguments in The New York Times normally fall within the bounds of good taste and basic decency, and this guideline must be applied to the conversation about Israel, too.
Hamas rejected Egyptian proposal to hold fire
Israel was favorable toward Cairo's bid last week for a 40-hour truce, to be followed by negotiations for long-term agreement
Reprinted from The Times of Israel

Deputy head of the Hamas political bureau, Moussa Abu Marzouk
As part of Egypt's efforts to halt the fighting between Hamas and Israel, Cairo proposed to the Palestinian organization's leadership and to the Israeli government that they mutually stop the fire for 40 hours, after which a broader ceasefire agreement would be discussed — but Hamas rejected the offer, The Times of Israel learned from Israeli and Hamas sources.
The offer was presented to the deputy head of the Hamas political bureau, Moussa Abu Marzouk, by Egyptian intelligence officers last week. Abu Marzouk rejected it after a brief consultation with the terror group's military wing, the Izz al-Din al-Qassam brigades, the sources said.
Israeli officials said they were open to the possibility of stopping the fighting for an agreed-upon period before negotiating the terms of a longer-term truce.
Egypt does not intend to publicly blame Hamas for Cairo's failure in its efforts to reach a ceasefire, the sources said, but believes the Islamist organization will bear the responsibility for its refusal. The sources said the Egyptian proposal did not include an outline for a long-term truce, but did include various ideas that different officials – European, Egyptian, and others – were discussing with the goal of securing a ceasefire deal.
On Saturday, Hamas spokesman Sami Abu Zuhri said his organization had not been presented with any ceasefire offers: "They didn't present any plan or outline for a ceasefire," he said. According to Abu Zuhri, a temporary truce cannot be discussed so long as the "aggression continues."
Egyptian President Abdel-Fattah el-Sissi met Saturday with Tony Blair, a representative of the Middle East Quartet who also serves as the Egyptian leader's economic adviser. The Egyptian foreign ministry spokesman, Badr Abed al-Ati, said Blair's visit aimed to restore the 2012 ceasefire agreement that followed the Operation Pillar of Defense.
Egypt's wishes to lead the Arab world in calling for Hamas and Israel to return to the 2012 agreement. Israel has said it is willing to accept the terms of that agreement, but Hamas has refused.
Egypt has made it clear to Hamas it is willing to open the Rafah border crossing under close monitoring conditions, including the presence of PA forces not only at the border crossing but also alongside the Gaza-Sinai border, to prevent smuggling attempts.
Egyptians Hoping Israel Will Destroy Hamas
by Khaled Abu Toameh  •  July 13, 2014 – The Gatestone Institute
Over the past week there are voices coming out of Egypt and some Arab countries — voices that publicly support the Israeli military operation against Hamas in the Gaza Strip.

They see the atrocities and massacres committed by Islamists on a daily basis in Iraq and Syria and are beginning to ask themselves if these serve the interests of the Arabs and Muslims.

"Thank you Netanyahu and may God give us more [people] like you to destroy Hamas!" — Azza Sami of the Egyptian newspaper Al-Ahram.

Isolated and under attack, Hamas now realizes that it has lost the sympathy of many Egyptians and Arabs.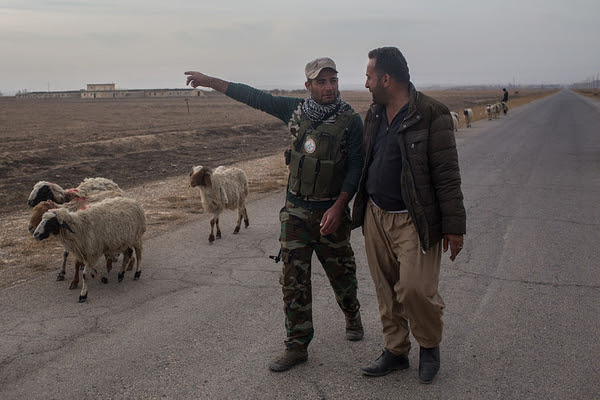 An uncomfortable moment during an April 2014 meeting between PA President Abbas and Egyptian President Sisi. (Image source: Video from President Abbas' Office)
Egyptian President Abdel Fattah Sisi has thus far turned down appeals from Palestinians and other Arabs to work toward achieving a new ceasefire between Israel and Hamas.
Palestinian Authority [PA] President Mahmoud Abbas telephoned Sisi and urged him to intervene to achieve an "immediate ceasefire" between Israel and Hamas. Abbas later admitted that his appeal to Sisi and (other Arab leaders) had fallen on deaf ears.
Sisi's decision not to intervene in the current crisis did not come as a surprise. In fact, Sisi and many Egyptians seem to be delighted that Hamas is being badly hurt.
Some Egyptians are even openly expressing hope that Israel will completely destroy Hamas, which they regard as the "armed branch of the Muslim Brotherhood terrorist organization."
Sisi's Egypt has not forgiven Hamas for its alliance with Muslim Brotherhood and its involvement in terrorist attacks against Egyptian civilians and soldiers over the past year.
The Egyptians today understand that Hamas and other radical Islamist groups pose a serious threat to their national security. That is why the Egyptian authorities have, over the past year, been taking tough security measures not only against Hamas, but also the entire population of the Gaza Strip.
These measures include the destruction of dozens of smuggling tunnels along the border between the Gaza Strip and Egypt and the designation of Hamas as a terrorist organization.
True, there are still many Egyptians and Arabs who sympathize with Hamas, mainly because it is being targeted by Israel. But over the past week, there are also different voices coming out of Egypt and some other Arab countries — voices that publicly support the Israeli military operation against the Islamist movement in the Gaza Strip.
This is perhaps because a growing number of Arabs and Muslims are fed up with the Islamist terrorists who are imposing a reign of terror and intimidation in the Arab world, particularly in Iraq and Syria. They see the atrocities and massacres committed by Islamists on a daily basis in Iraq and Syria and are beginning to ask themselves if these serve the interests of the Arabs and Muslims.
Sisi and other Arab leaders are now sitting on the fence and hoping that this time Israel will complete the job and get rid of Hamas once and for all. Palestinian Authority officials in Ramallah are certainly not going to shed a tear if Hamas is crushed and removed from power in the Gaza Strip.
The reaction of some Egyptians to the Israeli military operation has shocked Hamas and other Palestinians. As one Hamas spokesman noted: "It's disgraceful to see that some Egyptians are publicly supporting the Israeli aggression on the Gaza Strip while Westerners are expressing solidarity with the Palestinians and condemning Israel."
Addressing the Palestinians in the Gaza Strip, Egyptian actor Amr Mustafa said that they should not expect any help from the Egyptians. "You must get rid of Hamas and we will help you," he said. He also called on Hamas to stop meddling in the internal affairs of Arab countries. "Pull your men out of Egypt, Syria and Libya," Mustafa demanded. "In Egypt, we are today fighting poverty that was caused by wars. We have enough of our own problems. Don't expect the Egyptians to give more than what they have already given. We've had enough of what you did to our country."
In response to Egyptian Defense Minister Sedki Sobhi's decision to dispatch 500 tons of food and medical aid to the Palestinians in the Gaza Strip, the Egyptian newspaper El-Bashayer remarked: "The standard of living for a Gazan citizen is much higher than that of an Egyptian citizen. The poor in Egypt are more in need than the poor in the Gaza Strip. Let Qatar spend as much as it wants on the Gaza Strip. We should not send anything that Egyptians are in need of."
Famous Egyptian TV presenter and journalist Amr Adeeb has been told by many Egyptians to "shut up" after his criticism of Sisi's "silence" toward the war in the Gaza Strip.
One Egyptian reminded Adeeb that "Hamas is responsible for the killing of Egyptian soldiers."
Egyptian ex-general Hamdi Bakhit was quoted as expressing hope that Israel would re-occupy the Gaza Strip. "This would be better than the Hamas rule," he said.
Egyptian TV presenter Amany al-Khayat launched a scathing attack on Hamas.
She pointed out that Hamas agreed to the reconciliation pact with Fatah only in order to get salaries for its employees in the Gaza Strip.
Al-Khayat said that Hamas was seeking to depict itself as a victim of an Israeli attack only in order to get the Egyptian authorities to reopen the Rafah border crossing with the Gaza Strip. "They just want us to open the Rafah border crossing," she said on her show. "Hamas is prepared to make all the residents of the Gaza Strip pay a heavy price in order to rid itself of its crisis. We must not forget that Hamas is the armed branch of the Muslim Brotherhood terrorist movement."
Her colleague, Azza Sami of the newspaper Al-Ahram, went as far as thanking Prime Minister Binyamin Netanyahu for ordering the attack on Hamas. "Thank you Netanyahu and may God give us more [people] like you to destroy Hamas," she wrote.
What is also remarkable is Egyptian criticism of Hamas for launching rockets at the nuclear facility in Dimona in southern Israel. Ahmed Qandeel, head of the Energy Studies Program at the Al-Ahram Strategic Studies think-tank, denounced the targeting of Dimona as "idiotic." He warned that this would have a negative impact on the entire region and endanger the lives of many Egyptians and Arabs. "Egypt must take precautionary measures," he advised.
In response, an Egyptian wrote: "May God make the State of Israel victorious in its war against the terrorist movement Hamas during this holy month of Ramadan."
Echoing the widespread sentiment among Egyptians, journalist Mustafa Shardi said: "No Arab country has done for the Palestinians as Egypt did. Why doesn't Hamas go to (Turkish Prime Minister Recep Tayyip) Erdogan? Where is Erdogan when you need him? Why is he silent? If he opens his mouth they (Israel and the US) will hit him with a shoe. The Egyptian people are asking: Where are our people who were kidnapped and taken to the Gaza Strip? Hamas should apologize for the 1000 tunnels that were used to smuggle the resources of Egypt. They all have their own planes and accounts in Swiss banks."
Isolated and under attack, Hamas now realizes that it has lost the sympathy of many Egyptians and Arabs. Some Hamas leaders are now talking about the "betrayal" and "collusion" of their Arab brethren, especially Egypt.
When the Egyptian authorities reluctantly and briefly re-opened the Rafah border crossing a few days ago, Hamas spokesman Fawzi Barhoum rushed to declare: "The Egyptian authorities opened the Rafah border crossing only to receive bodies. Egypt is imposing a blockade on the Gaza Strip and has destroyed the tunnels."
Former Palestinian Authority security commander Mohamed Dahlan predicted that the Egyptians will not do anything to save Hamas. "Egypt won't intervene to stop the war on the Gaza Strip because Hamas was conspiring with the Muslim Brotherhood against Egypt," he said. "Hamas was working with Muslim Brotherhood against the Egyptian army."
Hamas is paying a heavy price for meddling in the internal affairs of Egypt and some other Arab countries. But the Palestinians living under Hamas in the Gaza Strip are paying a heavier price, largely due to their failure to rise up against the Islamist movement and demand the right to live better lives.
Related Topics:  Egypt, Israel, Palestinian Authority  |  Khaled Abu Toameh
Gaza Conflict Day 6: Did Hamas Deliberately Attack
Ramallah?