Mormonism Is The Fastest Growing Religion In Half Of U.S. States
According To 2012 Religious Congregations And Membership Study SALT LAKE CITY – APRIL 3: Mormon faithful line up outside the historic Salt Lake Temple before the second session at the 180th Annual General Conference of the church April 3, 2010 in Salt Lake City, Utah. Thousands of members of the Mormon Church gathered at the event to hear guidance from church leaders. (Photo by George Frey/Getty Images)
By Kevin Eckstrom
Religion News Service
CHICAGO (RNS) Mitt Romney may or may not become the first Mormon to move into the White House next year, but a new study shows that Mormonism is moving into more parts of the country than any other religious group, making it the fastest-growing faith in more than half of U.S. states.
The 2012 Religious Congregations and Membership Study, released here Tuesday (May 1), shows that the mainline Protestants and Catholics who dominated the 20th century are literally losing ground to the rapid rise of Mormons and, increasingly, Muslims.
The study is conducted once every 10 years and can track Americans' religious affiliation down to the county level, from the largest (Los Angeles County, where Mormons grew 55 percent while Catholics shrank by 7 percent) to the smallest (Loving County, Texas, which is home to 80 people and one nondenominational evangelical church).
Romney's Church of Jesus Christ of Latter-day Saints reported 2 million new adherents and new congregations in 295 counties where they didn't exist a decade ago, making them the fastest-growing group in the U.S.
Mormons were the fastest-growing group in 26 states, expanding beyond their historic home in Utah to the heart of the Bible Belt and as far away as Maine.
Muslims came in second, with growth of 1 million adherents in 197 new counties, to a total of about 2.6 million. Overall, non-Christian groups grew by 32 percent over the past decade.
While other studies tally total membership, beliefs or worship attendance, the RCMS study counts the actual number of people who are affiliated with U.S. congregations — or, as Jones put it, the people who are "involved enough to the point where they know to count you."
The study found that while upwards of 80 percent of Americans claim to be Christians, only about 49 percent are affiliated with a local congregation. And that, Jones said, should concern church leaders.
"In some ways, our chickens have come home to roost," Jones said. "Churches have talked about needing to have a personal relationship with Jesus Christ — what you hear is,'I need a relationship, I need to be born again,' but not,'I need to be involved in a congregation.' Guess what? That's where we are."
Overall, the survey identified nearly 350,000 religious congregations in the United States, from Albanian Orthodox to Zoroastrian. Those churches, temples and mosques are the spiritual home for 150.6 million Americans, and researchers say they were able to capture 90 percent of all U.S. congregations.
Like most surveys, the RCMS study relies mainly on self-reported data from churches and denominations. Some, including several historically black churches, failed to submit information on new numbers. Researchers were able to reach only one-third of U.S. mosques and had to estimate the rest.
The survey did not track growing numbers of secular or religiously unaffiliated Americans — estimated at about 16 percent of the country, according to other studies — because they do not belong to a local congregation.
Jan Shipps, a respected non-Mormon scholar of Mormonism who's now retired from Indiana University-Purdue University Indianapolis, said Mormons' "astonishing" spread into new counties is likely due to church leaders' decision to split large wards (congregations) into separate smaller wards on opposite sides of a county line.
"The way they organize themselves makes for more congregations," she said. "They don't have big huge congregations like the independent churches."
The study also tracked the growth of nondenominational and independent evangelical churches, which combined represent the nation's third-largest Christian group, at about 12.2 million adherents across 35,000 congregations.
Catholics, while losing about 5 percent of adherents in the past years, nonetheless remain the nation's largest religious group, at about 59 million. The Southern Baptist Convention came in second, at 19.8 million, but its 50,816 congregations made it the group with the most churches.
The rapid growth among American Muslims likely has several explanations, researchers said: growth in the suburbs, an increased willingness by U.S. Muslims to stand and be counted, and more mosques being built to serve more worshippers.
Imam Muhammad Musri, president of the Islamic Society of Central Florida, saw growth explode by a whopping 473 percent in and around Orlando's Orange County, according to the RCMS study, and he thinks the growth is actually double the 10,000 new Muslims reported by the study.
He said Muslim growth has been fueled by a wave of post-9/11 converts, American-born children of immigrants having kids of their own, and jobs in the booming medical industry. In central Florida, he said, Muslims are just following everyone else in search of "better weather, cheaper prices, cheaper homes."
"I doubt in the next decade we will grow as much," he said. "It's like a new product when it's first introduced, there's lots of interest. But now we're more of a known quantity and we're not going to be opening as many new mosques as we were in the last decade."
New Obama Executive Order Pushes Us Closer To A North American
Union And A One World Economic System
01 May 2012
 Reprinted from The American Dream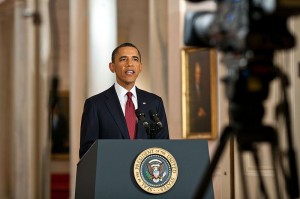 When it comes to Barack Obama, one of the most important things to understand is that he is a committed globalist.  He firmly believes that more "global governance" (the elite don't like to use the term "global government") will make the world a much better place.  Throughout his time in the White House, Obama has consistently sought to strengthen international institutions such as the UN, the IMF, the World Bank and the WTO.  At every turn, Obama has endeavored to more fully integrate America into the "global community".  Since he was elected, Obama has signed a whole host of new international economic agreements.  He regularly speaks of the need for "cooperation" among global religions and he has hosted a wide variety of different religious celebrations at the White House.  Obama once stated that "all nations must come together to build a stronger global regime".  If you do not want to live in a "global regime" that is just too bad.  To globalists such as Obama, it is inevitable that the United States of America will be merged into the emerging global system.  Just this week, Obama has issued a new executive order that seeks to "harmonize" U.S. economic regulations with the rest of the world.  This new executive order is yet another incremental step that is pushing us closer to a North American Union and a one world economic system.  Unfortunately, most Americans have absolutely no idea what is happening.
The American people need to understand that Barack Obama is constantly looking for ways to integrate the United States more deeply with the rest of the world.  The globalization of the world economy has accelerated under Obama, and this latest executive order represents a fundamental change in U.S. economic policy.  Now federal regulators will be required to "harmonize" their work with the international community.  The following is how this new executive order was assessed in a recent Businessweek article….
Obama's order provides a framework to organize scattered efforts to promote international regulatory cooperation, the chamber's top global regulatory official said today.

"Today's executive order marks a paradigm shift for U.S. regulators by directing them to take the international implications of their work into account in a consistent and comprehensive way," Sean Heather, vice president of the chamber's Center for Global Regulatory Cooperation, said in an e-mailed statement.
Members of the Obama administration are touting this as a way to "reduce regulation", but the truth is that this is much more about aligning ourselves with the rest of the world than anything else.
Obama's "Information Czar", Cass Sunstein, authored a piece in the Wall Street Journal on Monday in which he stressed the need to eliminate "unnecessary regulatory differences across nations" so that the United States can compete more effectively in our "interdependent global economy".  The end result of this process will be that we will now do things much more like how the rest of the world does things….
In an interdependent global economy, diverse regulations can cause trouble for companies doing business across national boundaries. Unnecessary differences in countries' regulatory requirements can cost money, compromising economic growth and job creation. Think of divergent requirements for car headlights, or the labeling of food, or standards for container sizes.

Recognizing this, President Obama's Jobs Council has called for U.S. agencies to better align U.S. regulations with those of our major trading partners. And today the president is issuing an executive order, "Promoting International Regulatory Cooperation," with a simple goal: to promote exports, growth, and job creation by eliminating unnecessary regulatory differences across nations.
But a one world economic system is not going to arrive overnight.  Initially, it is much more likely that there will be a very strong push toward North American integration first.  The goal will be to shape North America into an integrated regional economic unit similar to the EU.  Cass Sunstein discussed how this new executive order will affect North American integration on the White House website on Tuesday….
The new Executive Order will build on work that is already underway. We have started close to home, with President Obama launching Regulatory Cooperation Councils with Prime Minister Harper of Canada and President Calderon of Mexico. The Councils are implementing work plans to eliminate or prevent the creation of unnecessary regulatory differences that adversely affect cross-border trade; to streamline regulatory requirements; and to promote greater certainty for the general public and businesses, particularly small- and medium-sized enterprises, in the regulation of food, pharmaceuticals, nanotechnology, and other areas. The United States and Canada released the United States-Canada Regulatory Cooperation Council (RCC) Joint Action Plan last December. In February, we announced the United States-Mexico High-Level Regulatory Cooperation Council (HLRCC) Work Plan.
Most Americans have absolutely no idea how far plans to integrate the United States, Canada and Mexico have advanced.
Last year, Barack Obama signed an agreement to create a "North American security perimeter" and most Americans never even heard about it because the mainstream news networks almost entirely ignored it.
But this is exactly what the globalists want.  They don't want people to become alarmed by these moves toward North American integration.  In fact, a document uncovered by Wikileaks shows that those involved in the effort to integrate North America believe that an "incremental" approach is best.  Apparently they believe that small moves toward integration are less likely to alarm the general population.  The following is from an article that appeared in The National Post last year….
The integration of North America's economies would best be achieved through an "incremental" approach, according to a leaked U.S. diplomatic cable.

The cable, released through the WikiLeaks website and apparently written Jan. 28, 2005, discusses some of the obstacles surrounding the merger of the economies of Canada, the United States and Mexico in a fashion similar to the European Union.

"An incremental and pragmatic package of tasks for a new North American Initiative (NAI) will likely gain the most support among Canadian policymakers," the document said. "The economic payoff of the prospective North American initiative … is available, but its size and timing are unpredictable, so it should not be oversold."
If the people of Canada, the United States and Mexico were told that there was a plan to merge all three economies, there might be massive protests to stop it, and the globalists do not want that.
A few years ago, the "Security and Prosperity Partnership Of North America" (SPP) that was being promoted by President George W. Bush started to generate quite a bit of negative publicity.  That caused those seeking to integrate the economies of North America to back off for a little while.
But as an article by Jerome Corsi last year detailed, the eventual goal is to turn North America into another version of the eurozone.  That includes a common currency for North America called the "amero"….
The SPP in the administration of President George W. Bush appeared designed to replicate the steps taken in Europe over a 50-year period following the end of World War II to transform an economic agreement under the European Common Market into a full-fledged regional government, operating as the European Union, with its own currency, the euro, functioning as the sole legitimate currency in what has become known as "the eurozone."

The concern under the SPP has been that the North American Free Trade Agreement, or NAFTA, could be evolved into a regional government, the North American Union, with a regional currency, the amero, designed to replace the U.S. dollar, the Mexican peso and the Canadian dollar.
So will we ever see the "amero" replace the U.S. dollar?
Hopefully not.
If the globalists try to introduce the "amero", it would probably be after a horrible financial crisis in which the U.S. dollar falls apart.  The "amero" would be heralded as the "solution" to the problems that were plaguing the dollar.
If there ever is a move to get rid of the U.S. dollar for an international currency of some kind, the American people will need to resist it with all of their might.
The more integrated the world becomes, the more likely it becomes that we will see nightmarish global tyranny someday.  It is very frightening to think of what someone very evil might do if they had the chance to run the entire planet.
Once our national sovereignty is gone, it will be incredibly difficult to get back.  If the American people don't take a stand while they still can, their children may wake up someday as citizens of a very oppressive "global regime".
U.S. Building a Domestic Population-Control Grid Based on Military Ops
by Lee Bellinger
American Latern Press
April 19, 2012
The U.S. military has become expert at controlling urban populations in Iraq – but why is the Department of Homeland Security building similar capabilities here?
Unfortunately, the federal government's war on freedom is a subject still dominated mostly by conspiracy theorists, end-of-the-worlders, and yes, crackpots who hold highly marginal and dismissible views. Fortunately, some of that is changing with the rise of "smart preppers."
I think most people concerned about liberty would appreciate an honest, probative look at actual plans and initiatives that federal authorities are now developing in earnest. Not wild conclusions based on dark conspiracy theories that make most rational people roll their eyes. But a careful assessment of what Uncle Sam and his legions of high-tech crony capitalists are actually building and developing.
In this case, what's on the table for scrutiny is nothing less than the creation of a national population surveillance and control grid.
Mushrooming Government Capabilities to Control Society
This is sadly a subject that is so big, wide, and dynamic that in many cases, even members of Congress do not understand the extent of bureaucratic planning to control our lives. Or that the Department of Homeland Security's big-picture plans, tactics, and technology are based on population control tactics originally developed and used in Iraq.
For example, airport screening bureaucrats, whose authority Americans are being conditioned to accept without question, are no longer limited to airports. The Transportation Security Administration and many other agencies are expanding airport-screening technologies and systems to cover all forms of ground transportation. Complete with traveler checkpoints and individualized tracking of cars, trains, telephones, and computers.
Understanding what Big Brother has in mind for us all could well matter to you. After all, there are some quite extreme options being offered by rather expensive repatriation services. Their solutions range from renouncing your citizenship, to moving out of the country, to getting a second passport, to simply evacuating your wealth from the jurisdiction of an all-powerful central government that has slipped the leash of the Constitution.
Do We Really Want Population Control Tactics Forged in Iraq Used Here at Home?
Perhaps all these advances in population control learned in Iraq – establishing checkpoints, round-up intelligence collection, and the tracking of individuals' movements – are appropriate to a military occupation.
But one has to wonder why so many James Bond toys and tactics are being actively evaluated, tested, adapted, and funded for domestic use by the Department of Homeland Security. And distributed to all manner of government agencies, even on a local level, as more and more now have (or are seeking) arrest and detention powers.
Here's what I believe is driving the process: The Pentagon has nine years of bloody urban warfare under its belt in Iraq and Afghanistan, where they did battle not so much against an organized, uniformed, standing army as in prior conflicts, but against freelance warriors (including women and children) dressed as and living among civilians. In coping with that mess, the U.S. military has worked closely with high-tech private companies to develop advanced surveillance and tracking tactics designed to quell hostile urban and rural areas.
A New Breed of High-Tech Crony Capitalists Get Rich by Feeding Off Our Freedoms
With the wind-down of the Afghan and Iraq conflicts, these same legions of high-tech companies were at risk of not having a reason to exist, and worse, of losing their biggest source of taxpayer-guaranteed profit. Unfortunately, these are very well connected interests. And like all lobbies, they need a huge new mission to justify their existence and expand.
Enter the Department of Homeland Security – which has put numerous high-tech companies that helped the military set up population control systems in Iraq to work doing the same thing here at home.
Perhaps most disturbingly, DHS is creating an artificial domestic market for all this new technology – aggressively making grants to local law enforcement agencies designed to get them into the domestic intelligence collection business (Fusion Centers) as well as militarize local police departments with the latest shiny new crowd control equipment.
The end result is the birth of an iron triangle of powerful interests that are heavily vested in unprecedented levels of federally directed policing of the general public. Kinda like the ethanol scandal, except in this case we are being robbed of our freedoms, not just our tax dollars.
Crony Capitalist Trade Shows Sell Government Surveillance Technologies
A recent Wall Street Journal story, "High Tech Surveillance Comes to Small Towns," notes the proliferation of high-tech trade shows that cater to the urgent central planning agenda of the federal government, especially Homeland Security. These citizen-tracking technology expos are attracting numerous small town local police departments – many of which are flush with DHS grant money and a long shopping list for the most advanced and prestigious new military weapons being made available to them.
High-tech companies selling these intrusive surveillance and crowd control technologies do so at secretive conferences that are closed to the media. The Journal reports that small sheriffs' departments are particularly enthusiastic about the most popular training sessions offered by these trade show organizers, such as "Online Social Media and Internet Investigations" and "Exploiting Computer and Mobile Vulnerabilities for Electronic Surveillance."
You may have even noticed that many local law enforcement departments around the country are already engaged in major "mission creep" to justify their new surveillance capabilities. They are proactively looking for extremist or criminal activity on Internet trading forums, such as Craigslist.
Lessons from Iraq on Urban Conflict Being Misapplied Domestically
The re-focusing of the "War on Terror's" highest tech innovations against American citizens is the worst form of crony capitalism. And the most dangerous of all. Because the alliance of high-tech companies working in cahoots with the political class is helping to spawn an advanced national population control grid that Uncle Sam's armies of stodgy bureaucrats could never have created on their own.
For example, new FOIA documents show TSA is planning a national campaign to expand Mobile Body Scanners to train stations and all forms of ground transportation. Part of a broader TSA program to expand road and highway test checkpoints throughout the country.
The agency's so-called VIPR (Visible Intermodal Prevention and Response) system is part of a federal program known as "Checkpoint USA," where federal VIPR teams "screen" travelers.
Take a Look at Just Some of the New Toys in Big Brother's Tool Box
Here is a rundown of a few of the other James Bond toys and tactics being pushed by federal bureaucrats:
Car makers are being "encouraged" to install black-box tracking systems in all new cars.

Some $31 billion has been spent since 2003 to create "mini-CIA" domestic "Fusion Centers" – where local police monitor the political activities of private citizens, then send that data to Washington. Considering that "constitutionalist" and "patriots" are identified in federal documents as possible terror threats who should be watched, these fusion centers are a genuine cause for concern.

Major grants are going to local police departments for license plate readers to track autos (and by extension, their operators) automatically.

Thuggish tactics… FDA unleashes undercover operations to bring off-the-grid rural farming communities such as the Amish to heel – under the pretense of curbing raw milk sales across state lines.

New portable facial-analysis lie detectors – some units are based on thermal imaging technology – are being developed for wider use as in a national checkpoint system.

Feds are pushing so-called "smart meters" to replace traditional electric meters to monitor, analyze, and yes, control how families use power. Ideal for electricity rationing scenarios and monitoring power usage levels that exceed some bureaucrat's notion of how much we should be allowed to use.

A new suitcase-sized cellphone crashing device is being perfected for distribution to local law enforcement – the system can shut down protestors' phones and disable cell cameras.

Local police departments are now getting the Mobile Utility Surveillance Tower (MUST) – an armored surveillance command post designed to cope with hostile urban crowds.
Notably, the Homeland Security Department is rolling out freedom-threatening technologies and initiatives for deployment nationwide, including:
Grants to local governments for "FBI Mobile," a portable biometric data collection system first deployed by the military to create IDs for urban-war-zone residents.

Covert naked-body scanners for checking out the general public on U.S. streets, a product being developed by Rapiscan Systems.

A fleet of roving backscatter scanning vans for expansion to all forms of ground travel.

Military-developed, next-generation Taser systems capable of stunning and incapacitating large numbers of protesters.

Active Denial System (ADS) "Pain Ray" for use here at home.

Shockwave Area Denial System, which can taser citizens within 100-meter ranges.

Laser Blinding Dazzler system, which causes temporary blindness in protestors.

Mass-deployed sedatives to incapacitate crowds.

Screaming Microwave system and ear-splitting noise machines for crowd control throughout the U.S.
Of course, it makes perfect sense that Washington's central planners would look to one of the few remaining functional sectors of government that still has some credibility – the U.S. military. That said, why do U.S. civil authorities need draconian infrastructure here in the continental U.S.? After all, while our country is quite argumentative, it has traditionally been a model of domestic tranquility, save for such epic social upheaval during the Civil War and 1968.
Troubling New Controls the Government Is Developing
The now infamous Internet "off-switch, for example, is embodied in a popular piece of legislation that formalizes parallel regulatory efforts, the Protecting Cyberspace as a National Asset Act." Speaking for so many in the political class was Senator Joseph Lieberman, who longingly asked: "China can shut down the Internet, why can't we?"
Then we have the federal government's regulatory initiatives to create an "identity ecosystem" in which each Internet user would be assigned a central file number by the innocuous sounding Commerce Department. (Far less fuss from many civil libertarians when told government-issued Internet identities are only being established to enhance web commerce by making security more reliable.)
In effect, the government would be granted new power to certify anyone who uses the Internet. Or not certify them – as though they are on a no-fly list.
Backdoor Restrictions on Second Amendment Rights
Firearms sales have been booming as we all know. Federal attempts at direct gun control and confiscation have been defeated time and time again. So now the gun grabbers rationalize that the Second Amendment does nothing to protect your right to buy ammo.
Federal regulators have been very busy making ammunition harder to get and more expensive. The Ammunition Accountability Act, now under consideration in 18 states as part of a broader federally driven regulatory effort, would make all ammunition traceable – an attempt by the political class to limit what they see as the threat posed by private firearms.
Put another way, the government is angling to regulate the ammunition market, and you know what that means. So if you have a gun, you may want to buy an ammo reload kit while you still can. Off the grid ammo? That's what we have come to!
Two Curious Developments Which Should Concern Us All
I should add that there have been two recent key developments of great concern. The first is a recent FBI press conference. Agent Casey Carty, an FBI supervisory special agent, postulated in February that anti-government activists opposed to taxes and regulations pose a growing threat to local law enforcement officers in the United States.
Reuters quoted the FBI as saying that local police departments are inundating the agency for special tactics training on dealing with the so-called "sovereign citizen" movement.
Of course, Reuters also noted the miniscule number of actual attacks by "sovereign citizen" adherents. It's made many observers wonder why our government has suddenly chosen to define opponents of taxes and regulations as extremists. (Actually, there is a bit of a disturbing trend over the past few years in which high government officials and many agencies have issued documents essentially branding people who believe in limited government as dangerous extremists).
Yet Another Very Recent Power-Grab!
Then we have passage of the 2012 National Defense Authorization Act, which has a sneaky provision. It subjects U.S. citizens directly to military arrest and detention. Elements are systematically being put into place to create a national population surveillance and control grid with the potential for instant activation. It could go into full effect in any national emergency.
The still incomplete national grid system is far more complicated than the few points I brought out in this story. But, suffice it to say, we are reaching a point soon where we will be only one emergency, one "triggering event" away from seeing what happens when the whole apparatus is activated for the first time.
Lee Bellinger Publisher, Independent Living Chairman of American Lantern Press email: leebellinger@hotmail.com website: americanlanternpress.com
For Israel, Egypt Seen as More Dangerous than Iran
By Ryan Jones
Following the recent disqualification of Egypt's first batch of presidential hopefuls, the Muslim Brotherhood on Sunday announced its new candidate, while Israel's foreign minister warned that Egypt is quickly becoming a bigger threat to Israel than even Iran.
Last week, Egypt's Presidential Elections Commission barred on technicalities the three frontrunners for presidency, including the Muslim Brotherhood's Khairat al-Shater. Both Jerusalem and Washington were concerned that al-Shater would become Egypt's president, considering his hardline politics. But his replacement might not be any better.
The Muslim Brotherhood's new presidential candidate is Mohammed Mursi, who told a press conference on Saturday that if elected his government's top priority will be strong-arming Israel into accepting Palestinian land demands. When asked if he would honor Egypt's peace treaty with Israel, Mursi vaguely responded that he would abide by all international agreements, but would not be coerced by "externally-dictated policies."
While the Muslim Brotherhood already controls Egypt's parliament, Mursi faces a stiff challenge from former Arab League Secretary-General Amr Moussa for the presidency. But Moussa, too, is likely to be openly hostile toward Israel.
While touring southern Egypt on Saturday, Moussa told reporters that if elected, he will work to make the Middle East a nuclear weapons-free zone, starting with Israel. He had previously stated that Egypt's peace treaty with Israel needs to be revised.
Before being disqualified from the presidential race, former intelligence chief Omar Suleiman reportedly told an Egyptian newspaper that Muslim Brotherhood control of the presidency would lead to war with Israel.
"I fear that incorrect judgments will push us into confrontations with Israel. The Sinai may become an area from which rockets are fired into Israel and the parties may be drawn into war," Suleiman was quoted as saying by Israel's Army Radio.
Earlier this month, the director of Policy and Political-Military Affairs at Israel's Defense Ministry, Maj.-Gen. Amos Gilad, said that while the Palestinian, Iranian and Syrian threats are subdued at the moment, Israel's military remains wary of the direction in which Egypt is heading.
"The leaders of the Muslim Brotherhood keep declaring, 'We are committed to this peace.' I am not so sure," Gilad told a gathering at the Jerusalem Center for Public Affairs. He estimates that the Muslim Brotherhood is still engaged in an international charm offensive, but that after coming to power, the group's true Islamist agenda will take over.
Gilad noted that as Islamists, the Muslim Brotherhood ultimately sees the Israel as an Islamic "Waqf," a "holy trust" that must be returned one way or another to Muslim control.
While Gilad tried to maintain a diplomatic tone, Israel's outspoken Foreign Minister, Avigdor Lieberman, was pulling no punches in a recent discussion with Prime Minister Benjamin Netanyahu, during which Lieberman labeled Egypt a greater threat than even Iran's defiant nuclear program.
"The Egyptian situation is much more disturbing," Lieberman was quoted as saying by the Israeli newspaper Maariv.
According to the report, Lieberman has advised significantly bolstering Israel's southern defenses ahead of the Egyptian presidential election.
Influential Anglican Leaders Call for Gay Marriage Against Church
Teachings
Group Suggests Christians in UK Should Rejoice That Same-Sex Couples Want to Marry
April 25, 2012
A group of Anglican Church leaders, including some from the General Synod, the Church of England's governing body, has stated in a public letter opposition to the traditional definition of marriage as between one man and one woman, and a desire for it to include same-sex couples.
Homosexual marriage has been a controversial issue in Britain and especially in the Anglican Church. British Prime Minister David Cameron and several other political groups and leaders in the country want the government to allow same-sex couples, who already can partake in civil unions that allow them many of the same benefits as heterosexual couples, to make vows and marry.
The Church of England stands firm in its support of traditional marriage and says:
"Opening marriage to same-sex couples would confer few if any new legal rights on the part of those already in a civil partnership, yet would require multiple changes to law, with the definition of marriage having to change for everyone."
Its leader, the Most Rev. and Rt. Hon. Rowan Williams, Archbishop of Canterbury, who is set to retire before the end of the year, also called proposals to change the definition of marriage through law as "very dangerous."
The Anglican group pushing for homosexual marriage, however, has explained that not everyone in the Anglican community agrees with the church's official stance on the matter, and argued that homosexual couples who want to marry and be in committed long-term relationships "should be a cause for rejoicing in the Christian Church."
"Recent statements by church leaders past and present may have given the mistaken impression that the church is universally opposed to the extension of civil marriage to same-sex couples. We believe that does not adequately reflect the range of opinion which exists within the Church of England," the letter reads.
"The Church calls marriage holy or sacramental because the covenant relationship of committed, faithful love between the couple reflects the covenanted love and commitment between God and his Church. Growing in this kind of love means we are growing in the image of God," the letter from the group of dissenting bishops and priests reads.
The full letter was made available on the Thinking Anglicans website, and is signed by some high-ranking Anglican officials, including Canon Giles Goddard, General Synod, Southwark, the Very Rev. Jeffrey John, Dean of St. Albans and the Rt. Rev. Alan Wilson, Bishop of Buckingham.
Still, plans to legalize same-sex marriage are largely unpopular among Church of England and Roman Catholic Church officials in the country – as well as many church-goers.
More than 400,000 people signed a petition in support of the traditional definition of marriage, the Telegraph reported.
"The proposals are not only unnecessary and unfair, they are also undemocratic. Redefining marriage was not mentioned in the party manifestos. As such, they lack a democratic mandate for introduction. They will give to a few what they want but take from very many what they deeply value. Marriage has served society well and will do in the future. At a time of huge social challenges, marriage needs to protected and promoted, not redefined and rebranded," an official statement by the U.K. Evangelical Alliance concluded.
The man expected to succeed Rowan Williams as Head of the Anglican Church, the Most Rev. Dr. John Sentamu, the Archbishop of York, has also made it clear that under his leadership, the Church of England will continue standing firm to protect the traditional institution of marriage.
"I happen to believe that to change the law in the end would be forcing an unjustified change," Dr Sentamu said earlier last month.
United Methodists to debate allowing gay clergy and same-sex marriage
by Daniel Burke
(RNS) As nearly 1,000 delegates from across the world gather in Tampa, Fla., for the United Methodist Church's General Conference, gay and lesbian activists have printed pamphlets promoting their cause in five languages, including Portuguese and Swahili.
The UMC's global reach, stretching from the Philippines to Philadelphia, compels the multilingual lobbying. Nearly 40 percent of the delegates, who meet through May 4, live outside the United States, according to church leaders.
"We see it as a challenge to deal with the cultural differences," said Bishop Rosemarie Wenner of Germany, who will be installed in Tampa as president of the UMC's Council of Bishops. "But we also see it as a gift."
Convened every four years, General Conference legislates decisions on everything from pensions to prayer books. But few debates garner as much attention and acrimony as the role of gays and lesbians in the UMC.
The homosexuality debate dates to 1972, when a phrase calling homosexual activity "incompatible with Christian teaching" was added to the Book of Discipline, which contains the denomination's laws and doctrines. The UMC also bans noncelibate gay clergy and same-sex marriage.
The UMC's long and painful membership decline in the U.S. looms over the debate, as church leaders search for ways to reverse the decades-long drop.
Gay rights activists argue that the UMC must become more inclusive to attract young Americans who view the sexuality prohibitions as hypocritical. Conservatives counter that only churches that hold fast to traditional doctrines are growing.
United Methodists who support gay rights have proposed about 100 resolutions this year that would lift the bans and excise the "incompatible" phrase from the Book of Discipline. Leading up to General Conference, they argued that momentum is on their side.
For example, last year a UMC court barely punished a Wisconsin minister who sanctioned a same-sex marriage; more than 1,200 retired and active UMC clergy have pledged to perform gay marriages; surveys show young Christians generally support gay rights; and other mainline Protestants — including Episcopalians, Lutherans and Presbyterians — have adopted gay-friendly policies in recent years.
Conservatives counter that all of those churches have subsequently split, with traditionalist congregations packing up and starting new denominations.
Gay and lesbian Methodists acknowledge that their church's complexity presents unique challenges. For example, their General Conference includes delegates from states where gay marriage is legal, but also from countries like Liberia, where "voluntary sodomy" is a crime.
"Our structure is different, so that has impacted how we move on these concerns," said Ann Craig, a United Methodist and gay activist who witnessed votes by the Evangelical Lutheran Church in America and Presbyterian Church (USA) to allow partnered gay clergy.
"We're going to move together when we move," Craig said of her own UMC.
But others argue that trends favor traditionalists.
For example, the UMC's membership in the United States has fallen to 7.8 million, while it has grown to 4.4 million abroad, mainly in Africa and the Philippines, where homosexuality is denounced. As those numbers shift, so does the balance of power, since delegates to General Conference — the only church body that can change the homosexuality bans — are apportioned based on membership.
Compared to the 2008 General Conference, this year there are 100 fewer delegates from the U.S. and 100 more from abroad, according to Mark Tooley, a United Methodist and president of the conservative Institute on Religion & Democracy. "With that lineup, a major shift would be unlikely," said Tooley.
In addition, UMC growth is stronger in the Bible Belt than in the relatively liberal West and Northeast, said Russell Richey, co-author of a two-volume history of Methodism in the United States and former dean of the Candler School of Theology at Emory University in Atlanta.
Some United Methodists argue that policy should be set by regional conferences and reflect local mores.
For example, pastors who live where gay marriage is legal should be permitted to wed same-sex couples in their congregations, said the Rev. Dean Snyder, senior pastor of Washington's Foundry United Methodist Church.
Foundry proposed a resolution that would allow churches in six states and the District of Columbia to celebrate same-sex marriage, and sent 50 volunteers to Tampa to lobby for it.
Snyder said his church has celebrated about 10 same-sex weddings since 2010, when D.C. legalized gay marriage. That admission could place the longtime pastor's career in jeopardy if UMC policy is not changed at General Conference.
"We are really praying that General Conference makes some movement," Snyder said. "It's going to be very disappointing if there is no movement at all."
College Group Told to Eliminate 'Personal Commitment to Jesus' in
Bylaws
April 22, 2012
Clarification Appended
A Christian student group at Vanderbilt University has been told by the school's administration that it will lose its recognized status on campus unless the group removes its requirement that its leaders have a "personal commitment to Jesus Christ," says a Christian legal association.
Despite a discussion with school officials at the beginning of the year that led members of the group to believe their bylaws were approved, the group was told last week that the university's new policy barring religious groups from selecting members and leaders based on faith requirements will disqualify the group next school year.
The Christian Legal Society told The Christian Post on Friday that the small Christian student group, which wants to stay anonymous, received an email from the administration last Tuesday that stated that the group's application to keep its recognition was deficient because the group's constitution states the following:
"Criteria for officer selection will include level and quality of past involvement, personal commitment to Jesus Christ, commitment to the organization, and demonstrated leadership ability."
CLS said that the student group was told that in order to retain recognition, it must eliminate the requirement that leaders have a "personal commitment to Jesus Christ." The private university, located in Nashville, Tenn., dictated that the following sentence be substituted instead:
"Criteria for officer selection will include level and quality of past involvement, commitment to the organization, and demonstrated leadership ability."
Although they do not want to bring attention to themselves, the issue with Christian organizations at Vanderbilt has become enough of a problem on campus that the group does want to let others know about the situation, said CLS spokesperson Kim Colby.
"When they went over their constitution on Jan. 31 they had been told that their constitution is fine. This past Tuesday, they were told it's not fine unless you take out these five words: 'a personal commitment to Jesus Christ,' requirement for your leaders," Colby told CP. "They were told they would not be recognized next year which means they cannot reserve space, or attend the student fair, or be a part of email blasts from the college."
Recently, Christian students at Vanderbilt University organized a video campaign highlighting their concern for the university's new policy that they say discriminates against Christians.
The nearly seven-minute video features several university students, alumni, and sponsors speaking on their rights to freely express their religious association, and the importance of electing religious leaders to the university's student run organizations.
The video also claims that there is a disparity in university requirements for Greek organizations and religious organizations, as the university allows Greek organization to "discriminate" for leadership and membership positions.
Students protesting the "all-comers" policy have formed the group Vanderbilt Solidarity, consisting of 11 Christian groups and supported by the Alliance Defense Fund.
The 11 Christian groups that have formed the alliance include Asian American Christian Fellowship, Fellowship of Christian Athletes, Cru, Medical Christian Fellowship, Navigators, Graduate Christian Fellowship, Bridges International, Lutheran Student Fellowship, Every Nation Ministries, Beta Upsilon Chi, and Christian Legal Society, according to Inside Vandy, Vanderbilt University's student newspaper.
Colby said that the Catholic groups decided not to submit a constitution but to instead go ahead and leave campus. The eleven groups in the alliance, however, decided that they would try one more time to be recognized with faith requirements for their leaders and submitted their constitutions with faith requirements on April 9. But if the University denies recognition, they will leave campus rather than remove their faith requirements for officers."
"By mandating the elimination of a Christian group's standard of 'personal commitment to Jesus Christ,' Vanderbilt requires students to abandon their religious integrity and undermines their religious freedoms," states CLS. "Leadership is crucial to the direction of any organization.
"Eliminating the requirement of a commitment to Jesus Christ in leaders takes away the group's ability to effectively fulfill its purpose and continue its ministry," CLS officials insisted. "By forcing religious groups to choose between remaining on campus and upholding their religious convictions, the university inhibits the development of a community based on freedom and inclusivity."
University officials continue to stand by the "all-comers" policy, arguing that the policy was initiated to prevent discrimination, and is not an issue of religious freedom.
"This debate is about nondiscrimination, not religious freedom, and we stand behind our policy," Beth Fortune, vice chancellor for public affairs at the university, previously told The Washington Post.
A comment from university officials about the administration's recent action could not be obtained at press time.
Clarification:  Monday, April 23, 2012:
The earlier version of this article did not include details of how some of the Christian student groups plan to proceed with their status at Vanderbilt University.  The updated version includes details of the process, including how some of the organizations will apply to be recognized with their faith requirement despite the school's new policy.
Sweden's Gender Neutrality Push: Boys and Girls Now Called 'Hen'
April 18, 2012
Sweden, which in 2010 was recognized by the World Economic Forum as the most gender-equal country in the world, has stepped up its gender neutrality initiative by introducing a new word that refers to both boys and girls with the pronoun "hen."
The idea, according to Slate.com, is that Swedish society at large has decided it will not tolerate any distinction between sexes. "What many gender-neutral activists are after is a society that entirely erases traditional gender roles and stereotypes at even the most mundane levels," the report highlights.
Earlier this month, the gender-neutral pronoun "hen" was proposed by lobbyists to be used in public schools instead of "he" (han in Swedish) and "she" (hon). The decision came shortly after the publication of Sweden's first ever gender-neutral children's book, Kivi och Monsterhund (Kivi and Monsterdog). It tells the story of Kivi, a child who wants a dog for "hen's" birthday. Jesper Lundqvist, the author, also introduces several gender-neutral words in the book.
Furthermore, the Swedish Bowling Association is planning on merging male and female bowling tournaments so that competitions are more gender-neutral.
Other recent examples of Swedish businesses pushing this idea of genderless children include a clothing company that removed the "boys" and "girls" sections from its store, while a toy catalog published an ad in which a boy in a Spiderman costume pushes a pink pram, while a girl in jeans rides a yellow tractor.
"Gender roles are an outdated thing," said Kaj Wiberg, CEO of Leklust, the toy company behind the catalog, in an interviewwith Swedish newspaper Metro. "I'm 71 years old, and those of us who have worked in this industry for a while know that boys play with doll houses. We know that boys can play with Barbie dolls."
Not everyone in Sweden approves of the new gender neutrality standard, however. Jan Guillou, one of the country's well-known authors, shared that the introduction of the pronoun "hen" is "silly because it doesn't change anything."
"And I don't think that my gender has anything to do with my equality because that is a political matter," she said in an interview, and referred to gender-neutral lobbyists as "feminist activists who want to destroy our language."
Others have suggested this new initiative could be both psychologically and socially damaging for Sweden's children.
Elise Claeson, a columnist and a former equality expert at the Swedish Confederation of Professions, expressed that school-aged children can become confused by talks of a third gender, the one referred to as "hen," at a time when they are developing both physically and mentally.
"Adults should not interrupt children's discovery of their gender and sexuality," Claeson insists.
Media Matters' Anti-Christian Agenda Exposed
WASHINGTON — An influential organization with ties to the White House came under fire recently for attacking Christian news outlets.
Now, CBN News has obtained a document showing that the very foundation of the group known as Media Matters for America is built on anti-Christian bias.
Faith Groups in Crosshairs Media Matters is a non-profit liberal watchdog group that has the ear of not only the mainstream media, but also the Obama administration. As part of its strategy, Media Matters frequently targets Christian organizations in an effort to counter what it views as pro-Christian "bias in news reporting and analysis by the American media." "It is common for news and commentary by the press to present viewpoints that tend to overly promote…a conservative, Christian-influenced ideology," the group said in its application for non-profit status with the IRS. Vince Coglianese, a reporter with The Dailer Caller, has investigated the Media Matters' attacks on Christian organizations. "Media Matters, in its application to the IRS–outright, in the very first paragraph–declares it's going to be an anti-Christian organization," he said. "Interestingly, though, in their public mission statement Media Matters makes no mention of the fact that it intends to target the Christian ideology," Coglianese noted. Media Matters did not respond to CBN News' requests for comment on this story or the document. David Brog, executive director of Christians United for Israel, believes the Media Matters' targeting of Christians is connected to its anti-Israel views. "They want to take on what they see as a Christian-influenced media and Christian-influenced policy, and no better place to start than with the issue of Israel and with attacking U.S. support of Israel," Brog told CBN News. 'Israel Firsters' Until recently, the man at the center of Media Matters' anti-Israel campaigns was M.J. Rosenberg. Rosenberg served as the group's senior foreign policy fellow before stepping aside amid controversy over his anti-Israel writings, including heated criticism from well-known Democrats like attorney Alan Dershowitz.
Rosenberg routinely uses the label, "Israel Firsters," implying that American supporters put the interests of Israel above the United States. It's a charge commonly made by Neo-Nazis and anti-Semitic groups. "We don't see any condemnation of his hate language coming from Media Matters, and we've yet to notice any shift in editorial policies," Brog said. "For all we know, they've said goodbye to the man but not the message." "I call upon all my friends on the left who love Israel, who hate anti-Semitism, to speak up," he admonished. "Your silence is deafening. You're letting your compatriots get away with the vilest of accusations."
Meanwhile, Media Matters' new Middle East expert, Walid Zafar, appears to be following in Rosenberg's footsteps.
He recently blasted DNC chairwoman Debbie Wasserman-Schultz for pulling out of a fundraiser hosted by an American Muslim whose name is on the federal terrorist watch list
Proposed Law Would Force Churches to Host Gay Weddings
Apr 23, 2012
Muslim Persecution of Christians: March, 2012 "It is necessary to destroy
all the churches of the region." Saudi Grand Mufti
April 25, 2012
GateStoneInstitute
The Grand Mufti of Saudi Arabia, one of the Islamic world's highest religious authorities, declared that it is "necessary to destroy all the churches of the region."
The war on Christianity and its adherents in the Muslim world rages on. In March alone, Saudi Arabia's highest Islamic legal authority decreed that churches in the region must be destroyed; jihadis [holy warriors] in Nigeria said they "are going to put into action new efforts to strike fear into the Christians of the power of Islam by kidnapping their women"; American teachers in the Middle East were murdered for being Christian or talking about Christianity; churches were banned or bombed, and nuns terrorized by knife-wielding Muslim mobs. Christians continue to be attacked, arrested, imprisoned, and killed for allegedly "blaspheming" Islam's prophet Muhammad; former Muslims continue to be attacked, arrested, imprisoned, and killed for converting to Christianity.
The extent of this persecution is virtually unknown in the West, due to the mainstream media's well-documented biases: the mainstream media knows that if they do not ignore or at best whitewash the nonstop persecution of Christians under Islam, their narrative of Islam as the "religion of peace" would be quickly undermined. Last month alone, the New York Times ran an anti-Catholic ad, but refused to publish a nearly identical ad directed at Islam; the BBC admitted it mocks Jesus but will never mock Muhammad; and U.S. sitcoms have been exposed as bashing Christianity, but never Islam.
Categorized by theme, March's batch of Muslim persecution of Christians around the world includes, but is not limited to, the following accounts, listed in alphabetical order by country, not severity:
Apostasy, Blasphemy, and Proselytism: Death and Prison
Egypt: A Christian man accused of insulting Islam's prophet Muhammad was sentenced to six years in prison. Although under Egyptian law "defamation of religion" is a misdemeanor, punishable by a prison sentence of one month to three years, the judge doubled the sentence to appease Muslims, including an angry 2,500-strong mob that terrorized the courtroom, and demanding death for the Christian. Similarly, an "anti-Christianization course" was initiated by an organization "specializing in the resistance to Christianity," so that Muslims will not be "throw[n] under the feet of the Cross." According to an instructor, "Recurring attempts at the university in Aswan to convert Muslims to Christianity or provoke them with misleading information was the impetus behind the course."
India: A young woman was attacked and thrown out of her home "for daring to give thanks for healing in Christ's name" in a predominantly Muslim village; "her parents helped Islamic extremists to beat her nearly unconscious": In a village where "hard-line Muslims have threatened to kill the 25 families who initially showed interest in Christ, leaving only five frightened Christian families," the woman was attacked when returning from church, and called "pagan, among other verbal abuses." The mob also harassed and threatened the Christian woman who had allegedly "lured" her to convert to Christianity.
Iran: In a rare crackdown on a concentrated area, in what is seen as a tactic to discourage Muslims from attending official churches, authorities have arrested 12 more converts to Christianity living in the country's third largest city of Isfahan, Among the latest known Christian converts detained in the Isfahan area is a man who was reportedly taken into custody on March 2 while returning home from his work: "Security authorities raided his home and seized him without explanation."
Iraq: An American teacher was shot to death by an 18-year-old student at a private Christian academy. He "was a devout Christian who frequently praised Christianity and prayed in the classroom, and his friends in Washington said his evangelism is what motivated him to teach in Iraq." According to students, "Mr. Jeremiah's hands were still folded in prayer when he fell;" others say a day before the shooting [there was] "a heated discussion…during which the pupil threatened to kill the teacher because of conflicting religious views." In an interview, the father of the pupil condemned Christian evangelists, portraying them as "more dangerous than al-Qaeda."
Malaysia: After religious police raided an event at a Methodist church over "fears that Muslims were being converted," Muslim officials created a seminar called "Strengthening the faith, the dangers of liberalism and pluralism and the threat of Christianity towards Muslims." After the title of the conference was criticized, a lawmaker said the reference to Christianity would be removed, but the seminar's content would remain unchanged: "The seminar is part of the right of Muslims to defend the faith of its practitioners from any action which may lead to apostasy. It is our responsibility," he said.
Pakistan: A Muslim mob attacked a 60-year-old Christian woman who converted to Islam, only to reconvert back to Christianity six months later: she "was tortured—her head shaved—and paraded through the streets, garlanded with shoes." Soon after, she received more threats of "dire consequences" from Islamic clerics, fleeing region with her family. Likewise, a 26-year-old Christian woman, mother to a five-month-old girl, was falsely accused of "blaspheming" Muhammad and arrested. A few days prior, some of her relatives who had converted to Islam pressed her to do the same: "She refused, telling them that she was 'satisfied with Christianity and did not want to convert,' and was arrested of blasphemy soon thereafter."
Yemen: Al-Qaeda gunmen fatally shot an American teacher. The terror network's affiliate in Yemen issued a message saying, "This operation comes as a response to the campaign of Christian proselytizing that the West has launched against Muslims," calling the teacher "one of the biggest American proselytizers." He was shot eight times on a Sunday.
Church Attacks
Bethlehem: One week after the prime minister of the Palestinian Authority [PA] told an audience of Evangelical Protestants that his government respected the rights of its Christian minorities, the PA declared a Baptist Church illegal, adding that birth, wedding, and death certificates from the church were no longer valid. A pastor noted that "animosity towards the Christian minority in areas controlled by the PA continues to get increasingly worse. People are always telling [Christians], 'Convert to Islam. Convert to Islam. It's the true and right religion.'"
Egypt: Some 1,500 Muslims—several armed with swords and knives and shouting Islamic slogans—terrorized the Notre Dame Language School in Upper Egypt, in response to false claims from local mosques that the private school was building a church: "Two nuns were besieged in the school's guesthouse for some eight hours by a murderous mob threatening to burn them alive;" one nun suffered a "major nervous breakdown requiring hospitalization… The entire property was ransacked and looted. The next day the Muslims returned and terrorized the children. Consequently, school attendance has dropped by at least one third."
Iran: The Armenian Evangelical Church in Tehran is the latest church to be ordered to cease holding Persian services on Fridays. The officers serving the notice threatened church officials, saying that "if the order is ignored, the church building will be bombed 'as happens in Iraq every day.'" As another report summarizes, "Christians and Churches in the Islamic Republic of Iran are now banned from preaching the Gospel to non-Christians, holding Persian language services, teaching and distributing the Bible, or holding Christian classes."
Iraq: Even though Kirkuk's church was recently restored after an earlier bomb attack that killed a 13-year-old Christian boy, the "reopening celebration was but a brief respite in the ongoing suffering of Iraq's Christian community, signaled by two further attacks": Another church in Baghdad was bombed, killing two guards and wounding five, and the body of a Christian was "found riddled with bullets in Mosul. He had been shot nine times at close range. The freelance photographer had been kidnapped four days earlier. Iraqi Christians are often targeted by kidnappers for ransom."
Kenya: A band of Muslims launched a grenade attack on a crowd of 150 Christians attending an outdoor church meeting, killing two and wounding more than 30. "Human-rights groups say that the Muslim attackers were hyped into action by a militant Muslim preacher holding an alternate rally only 900 feet from the Christian gathering. Further reports say that the Muslim preachers were slandering Christianity and that members of the Christian group could hear the Muslim speakers."
Nigeria: A Boko Haram suicide car bomber from the Islamist group Boko Haram [Arabic translation: "Western Education is a Sin"] attacked a Catholic church, killing at least 10 people. The bomb detonated as worshippers attended Mass at St. Finbar's Catholic Church in Jos, a city in which thousands of Christians have died in the last decade as a result of Boko Haram's jihad, and
where, less than two weeks before, another church was attacked, killing three.
Saudi Arabia: The Grand Mufti of Saudi Arabia, one of the Islamic world's highest religious authorities, declared that it is "necessary to destroy all the churches of the region." He made his assertion in response to a question posed by a delegation from Kuwait, where a parliament member recently called for the "removal" of churches: the delegation wanted to confirm Sharia's position on churches with the Grand Mufti, who "stressed that Kuwait was a part of the Arabian Peninsula, and therefore it is necessary to destroy all churches in it," basing his verdict on a saying (or hadith), of Muhammad.
Sudan: Sudanese aerial strikes were aimed at church buildings in some regions. Churches in the Nuba Mountains are holding worship services very early in the morning and late in the evening to avoid aerial bombardments intentionally targeting their churches. The Khartoum regime is "doing everything possible to make sure they get rid of Christianity from the Nuba Mountains—churches and church schools are the targets of both the Sudanese Armed Forces and its militias," said an aid worker.
Dhimmitude
[General Abuse, Debasement, and Suppression of non-Muslims as "Tolerated" Citizens]
Denmark: In a Muslim ghetto in Copenhagen, a refugee from Africa had his door kicked in several times and was threatened by a group of "youths" who accused him of being "both black and Christian," and who then tried to extort money from him. Police said they could not guarantee his safety; he was eventually found in tears living in the streets.
Egypt: Christian families in the Minya province are "living in terror:" Salafis threatened to kidnap any Christian girl not wearing the hijab. Parents are keeping their daughters indoors, and missing school. Similarly, a Christian boy was abducted; his kidnappers were demanding a large ransom from his family. Further, a court in Edfu sentenced the pastor of a church that was torched by Muslims to six months in prison for violating the height of the church — which had received a license and was still under construction when it was torched by a Muslim mob in September – and he was ordered to remove the allegedly excess height.
Iran: After complaints about the display of Christmas trees and Santa Clauses in the streets of Tehran during the Christmas season, an official warned that the municipality will begin to seize such symbols: "Building facades in Tehran should be controlled by the municipality and the display of such symbols should not be allowed."
Iraq: Christians are running out of havens as rising security concerns and economic hardship cause them to leave the places of refuge they had found in the country's Kurdish north. The sort of attacks that initiated a mass exodus of Christians from Baghdad and Mosul are increasingly occurring in the autonomous region of Kurdistan, "which welcomed Christians and was relatively safe." A Christian who fled there from Mosul seven years ago after retrieving his son from kidnappers said it is like history "repeating itself."
Nigeria: The Islamist organization Boko Haram declared "war" on Christians, saying it aims to "annihilate the entire Christian community living in the northern parts of the country." According to a spokesman, "We will create so much effort to end the Christian presence in our push to have a proper Islamic state that the Christians won't be able to stay." Along with constant church bombings—most recently on Easter, killing nearly 50—one of the groups new strategies is "to strike fear into the Christians of the power of Islam by kidnapping their women."
Pakistan: Two Christian hospital employees were abducted by "Islamic extremists": "Such cases are on the rise, as banned Islamist groups and other criminal gangs are turning to kidnapping for ransom in order to survive and procure weapons and ammunition," said a senior investigator, adding that most Islamist groups believe that Christian NGOs are involved in evangelizing "under the guise of charity," a belief that provides Muslims with an even greater incentive to be abusive.
Sudan: Over half a million people, mostly Christian and originally from South Sudan, have been stripped of citizenship in response to the South's secession, and forced to relocate: "Sudanese Christians, who have barely a month to leave the north or risk being treated as foreigners. are starting to move, but Christian leaders are concerned that the 8 April deadline set by the Islamic-majority Sudan is unrealistic. 'We are very concerned. Moving is not easy … people have children in school. They have homes … It is almost impossible,' said a Catholic bishop."
Syria: The nation to which many Iraqi Christians fled as a haven is slowly becoming like Iraq, as thousands of Syrian Christians continue to flee to nearby Lebanon. "Al-Faruq Battalion, which is affiliated with the opposition Free Syrian Army (FSA), is imposing jizya (an extra tax imposed on non-Muslims living under Muslim rule) on Christians in the Homs Governorate" and "armed men … threaten to kidnap or kill them or members of their families if they refuse to "pay Islamic taxes"—precisely the same form of extortion that has been taking place in next door Iraq.
Turkey: Formerly hailed for its freedoms, the U.S. Commission on International Religious Freedom named Turkey as "one of the world's worst violators of religious freedom," based on Turkey's treatment of Christians and other minority groups. The report stated that restrictions on non-Muslim communities, such as limiting their right to train clergy and own places of worship, "have led to their decline, and in some cases, their virtual disappearance," further noting "an increased number of attacks, ranging from harassment and vandalism to death threats, against Protestant churches and individuals in 2011 compared to 2010."
About this Series
Because the persecution of Christians in the Islamic world is on its way to reaching epidemic proportions, "Muslim Persecution of Christians" was developed to collate some—by no means all—of the instances of persecution that surface each month. It serves two purposes:
To document that which the mainstream media does not: the habitual, if not chronic, Muslim persecution of Christians.
To show that such persecution is not "random," but systematic and interrelated—that it is rooted in a worldview inspired by Sharia.
Accordingly, whatever the anecdote of persecution, it typically fits under a specific theme, including hatred for churches and other Christian symbols; sexual abuse of Christian women; forced conversions to Islam; apostasy and blasphemy laws that criminalize and punish with death to those who "offend" Islam; theft and plunder in lieu of jizya (financial tribute expected from non-Muslims); overall expectations for Christians to behave like cowed dhimmis, or second-class, "tolerated" citizens; and simple violence and murder. Sometimes it is a combination.
Because these accounts of persecution span different ethnicities, languages, and locales—from Morocco in the West, to India in the East, and throughout the West wherever there are Muslims—it should be clear that one thing alone binds them: Islam—whether the strict application of Islamic Sharia law, or the supremacist culture born of it.
Raymond Ibrahim is a Shillman Fellow at the David Horowitz Freedom Center and an Associate Fellow at the Middle East Forum.