Senate Bill to OK Indefinite Detention of U.S. Citizens
Without Charge; Trial

Written by Jack Kenny
Monday, 28 November 2011 15:30

In what may be a tale too bizarre to be believed by millions of Americans, the U.S. Senate appears ready to pass a bill that will designate the entire earth, including the United States and its territories, one all-encompassing "battlefield" in the global "war on terror" and authorize the detention of Americans suspected of terrorist ties indefinitely and without trial or even charges being filed that would necessitate a trial.
The bill could come to a vote as early as today, according to a bulletin issued by the American Civil Liberties Union. The legislation "goes to the very heart of who we are as Americans," the ACLU statement said, describing the bill as having moved toward passage while most Americans were celebrating Thanksgiving and a long holiday weekend for millions of U.S. workers. "The Senate will be voting on a bill that will direct American military resources not at an enemy shooting at our military in a war zone, but at American citizens and other civilians far from any battlefield — even people in the United States itself," the ACLU warned.
Labeled the National Defense Authorization Act, S. 1867 was drafted in secret by Senators Carl Levin (D-Mich.) and John McCain (R-Ariz.) and approved in a closed-door committee meeting, according to the ACLU statement.
"I know it sounds incredible," wrote Chris Anders of the ACLU's Washington legislative office. "New powers to use the military worldwide, even within the United States? Hasn't anyone told the Senate that Osama bin Laden is dead, that the president is pulling all of the combat troops out of Iraq and trying to figure out how to get combat troops out of Afghanistan too? And American citizens and people picked up on American or Canadian or British streets being sent to military prisons indefinitely without even being charged with a crime. Really? Does anyone think this is a good idea? And why now?"
If passed in its present form, the bill would give the President the power to order the military to pick up and imprison without charge or trial civilians anywhere in the world. "The power is so broad that even U.S. citizens could be swept up by the military and the military could be used far from any battlefield, even within the United States itself," Anders warned. Anders also noted that presidential candidate Rep. Ron Paul (R-Texas) voiced his concerns about the detention provisions in the legislation in a Republican candidates' debate. Ironically, President Obama, who has frequently been criticized by libertarians of both the left and right for exceeding his powers as Commander-in-Chief, is opposed to the legislation and has threatened to veto it if it passes both houses of Congress. Both the Secretary of Defense and the Attorney General of the United States have called the indefinite detention provisions of the bill harmful and counterproductive. But Senator Lindsey Graham has praised those same provisions for saying "for the first time that the homeland is part of the battlefield" and that people can be arrested without charge or trial, "American citizen or not." Freshman Senator Kelly Ayotte, a New Hampshire Republican, declared that the provisions are necessary because "America is part of the battlefield."
Sen. Mark Udall (D-Colo.) has offered an amendment to delete the indefinite detention provisions and "[set] up an orderly review of detention power," Anders said. "It tries to take the politics out and put American values back in." The provisions raise a great many political, sociological, and constitutional questions, including whether all of the "homeland," formerly known as "the land of the free," should be designated a battlefield and whether people arrested anywhere in the world, including here in the United States, should be considered "enemy combatants" even if they were captured nowhere near a scene of actual battle.
The ACLU is pressing Americans to contact their Senators and urge them to support the Udall amendment. "Senators need to hear from you, on whether you think your front yard is part of a 'battlefield' and if any president can send the military anywhere in the world to imprison civilians without charge or trial," Anders wrote.
November 28, 2011
Barney Frank retiring from Congress
Thomas  Lifson
American Thinker
Multiple news sites are reporting that Barney Frank will announce today that he is not  running for re-election. This comes as no surprise, because Massachusetts is  losing one Congressional seat, and redistricting is adding conservative voters  in New Bedford and other working class towns to Frank's chi-chi Back  Bay/Brookline true blue affluent constituency. Long the beneficiary of district  boundaries drawn to favor a left winger, the ungracefully aging Frank has  decided that the possibility of losing is so unpleasant that he would rather  give up the fight.
Frank whose boyfriend was a senior executive at Fannie Mae when the morthgage bubble was created,  served on the Finance committee, responsible for  oversight of his boyfriend's employer. He also bears joint responsibility for  the disastrous Dodd-Frank Financial "reform" bill that left Fannie and Freddie  untouched.
Frank used to be somewhat amusing in his younger  days, when he was ready with a quip, sometimes even directed at fellow  Democrats, as when he greeted the election of Michael Dukakis as governor of the  Commonwealth with the memorable sentence: "Superman has been elected governor;  unfortunately, the legislature (Democrat-dominated – TL) is made of  Kryptonite."
But in recent years, Frank has turned bitter. Perhaps  it was the experience of having a different boyfriend running a gay prostitution  ring out fo the apartemnet he shared. Or perhaps it was seeing that his  financial "reforms" have brought ruin. Or perhaps he is just a bitter old man,  disappointed in love, fat, and subject to the sort of ridicule he used to dish  out.
It  would not surprise me if MSNBC offers him a commentator job. He has quite a few  IQ points on the rest of the on-air talent there.
Read more: http://www.americanthinker.com/blog/2011/11/barney_frank_retiring_from_congress.html#ixzz1f5H4tRzH
November 28, 2011
The Fed Can Rescue Europe. Really?
J. Robert  Smith
American Thinker
Not madness — no.  Folly, plain and  simple.
Ambrose Evans-Pritchard speculates in the Sunday edition of London's The  Telegraph about the U.S. Federal Reserve riding to Europe's rescue. Europe  is facing a breathtaking debt disaster, and Evans-Pritchard floats the idea that  Ben Bernanke and the gang at Fed have what it takes save Europe from  itself.
Curiously, it wasn't but an eye-blink ago that  pundits were writing about the imperative for Germany to man-up and rescue it's  financially distressed neighbors (southern European countries, mainly) from a  debt implosion. Given that the Germans  aren't too hep on the idea of bailing out their profligate compatriots — and  may well be incapable of doing so — attention is turning to the U.S. as the  white hat.
But, pray tell, given America's huge debt ($15  trillion and climbing), where does Evans-Prichard think that the U.S.  would get the money to rescue Europe? Ah, by printing more greenbacks in an  attempt to inflate away European debt? Adding debt on top of debt in the U.S. in  the vain attempt to stabilize Europe?
The trouble in Europe isn't just debt. The trouble in  Europe — like the trouble in the United States — are models of governance that  lead to out-of-control spending, borrowing, and debt. Then put the E.U. in to  the mix. The E.U. is highly centralized, political and bureaucratic-dominated  "government" that has sought to impose one-size-fits-all policies on diverse nations, peoples, cultures, and economies. The E.U. was unworkable in concept, and it's  unworkable in practice — as it's proving abundantly. Not to mention  undemocratic.
There's about to be a stupendous collapse in the  attempt at European government and socialist-corporate models extant in most  European countries. And a similar disaster awaits the U.S.
Statism is failing, and the elites are doing their  desperate best in Europe to stave off collapse, hoping they can buy time to  figure out how to preserve the existing systems and order of things. So why not  try to offload the problem on the U.S.? The reasoning goes that U.S. will  experience the blowback if Europe fails, so the U.S. needs to "save" Europe for  its own sake.
Good luck. If pigs had wings, they'd fly, as the old  saw goes. Europe's beleaguered nations need reforms toward dramatically less  government and free markets. Ditto the U.S.
Statists and their fellow travelers in Europe and  America are at the end of the line. But they don't want to face the harsh  realities they've created and persist in worsening. Denial isn't a river in  Egypt; it's a river that runs through Europe and right into the  U.S.
Read more: http://www.americanthinker.com/blog/2011/11/the_fed_can_rescue_europe_really.html#ixzz1f5HW4LjI
More Blacks Supported Tea Party Movement Than Support #Occupy
Movement
They must be racist.
by Jim Hoft
11/26/2011
Today the Washington Post reported that African Americans, who are 12.6 percent of the U.S. population, make up only 1.6 percent of Occupy Wall Street.
It's too bad the Occupy Movement couldn't be like the tea party.
An April 2010 Gallup poll found that 6% of tea party support came from  non-hispanic.blacks.
Up twinkles for the tea party. 
Where's the NAACP?
List of Announced Supporters &
Sympathizers
Communist Party USA

American Nazi Party

Ayatollah Khamenei, Supreme Leader of Iran

Lisa Fithian (Left-wing anarchist – "What do I do? I create crisis.")


President Barack Obama ("We are on their side.")


Government of North Korea

Debbie Wasserman-Schultz Member of Congress/Chairwoman of the Democratic National Committee

Louis Farrakhan Jew-hating leader of Nation of Islam

Revolutionary Communist Party

Bill Ayers Marxist/former domestic terrorist who said to Occupy Chicago, "Every revolution seems impossible in the beginning."

David Duke Jew-hating former Grand Wizard the Ku Klux Klan

Hugo Chavez Communist ruler of Venezuela

Black Panthers Organization of radical black nationalists

Socialist Party USA

Nancy Pelosi Democratic House minority leader who said of the Occupy Wall Street protestors, "God bless them."

Communist Party of China

Hezbollah  Anti-Jewish terrorist organization

Stephen Lerner Militant labor activist/leading mastermind behind Occupy Wall
Street – "How do we take down the stock market?"

International Bolshevik Tendency

Van Jones Avowed communist/former senior advisor to Obama White House – "I'll drop the radical pose to achieve the radical ends."

Harry Reid  Senate Majority Leader (D-NV)

International Socialist Organization

Frances Fox Piven Marxist professor/honored elder stateswoman of the Democratic party – "It's okay to use violence."

Marxist Student Union
Last updated:November 21, 2011 6:12 pm
Gold drops amid rise in risk aversion
By Emiko Terazono
Financial Times
Continuing  Eurozone worries
and
US  budget talks
weighed on commodity prices with gold falling below the $1,700  level for the first time since the start of November.
The rise in risk aversion spread to the yellow metal, which had been  fluctuating in a band of $1,700 and $1,800 band for most of the month, having  lost some its haven appeal of late.
More
On this story
IN Commodities
Bullion retreated along with other commodities to $1,682.80 a troy ounce in  midday trading in New York, down 2.5 per cent from its last price on Friday.
"The market is very volatile at the moment," said Anne-Laure Tremblay,  analyst at BNP Paribas.
She noted that the Vix index – which measures volatility in US equities and  is often dubbed Wall Street's "fear gauge" – was up 8.8 per cent on Monday.
Rising volatility in stock markets was crossing over to commodities,  affecting sentiment among gold investors. Other commodities shrugged off tight  demand and supply fundamentals, losing ground on macroeconomic worries.
In the crude oil markets, ICE January Brent fell $1.14 a barrel to $106.40  and Nymex January West Texas Intermediary declined $1.90 a barrel to $96.77.
Copper for three-month delivery on the London Metal Exchange lost 3.4 per  cent to $7,296.25 a tonne, in spite of news of a strong  outlook for Chinese demand.
Morgan Stanley said Chile's Codelco was looking to settle 2012 copper  premiums – the price paid over the LME price – with Chinese consumers at $110 a  tonne.
The level is a 4 per cent fall from 2011 but higher than the $90 a tonne  premium settled in October with European buyers.
As the world's largest copper producer, Codelco's price agreements are  regarded in the industry as a benchmark.
Analysts at Morgan Stanley said the outcome demonstrated tight market  conditions and lack of supply growth in 2012 as well as suggesting that the  producers and consumers of the metal had a more positive view on fundamentals  than the market prices implied.
Also on the supply side, the strike at Freeport McMoran's Grasberg mine in Indonesia, now in its  third month, is expected to last until mid-December.
Aluminium fell 2.7 per cent to $2,072.50 a tonne and nickel declined 0.4 per  cent to $17,675 a tonne. Tin for three-month delivery on the LME declined 3.7  per cent to $20,700 a tonne.
November 28, 2011  10:20 am
OECD highlights eurozone contagion risk
By Norma Cohen, Economics Correspondent
Financial Times
European leaders need to provide "credible and large enough firepower" to  halt the sell-off in the eurozone sovereign debt market or they will risk a  severe recession, according to the chief economist of the Organisation for  Economic Co-operation and Development.
The warning came as the organisation slashed its half-yearly forecasts for  growth within the world's richest countries, and said activity in Europe would  grind to a near-halt.
More
On this story
On this topic
IN EU Economy
Pier Carlo Padoan said that Europe's leaders had so far failed to put in  place firm plans to address concerns about sovereign debt sustainability, which  threaten to destabilise the region's banking sector and tip it into a severe  recession.
"The scenario so far is that Europe's leaders have been behind the curve", Mr  Padoan said. "We believe this could be very serious." He said that leaders need  to put in place firm plans for fiscal integration.
"Everyone should be clear that the euro is at stake and everyone should do  what is needed to avoid the worst," Mr Padoan said. While declining to single  out any member state, Mr Padoan noted that Germany has had very clear benefits  in the form of productivity improvements and a large surplus because of its  participation in the common currency.
In its economic outlook, the OECD slashed its 2012 forecast for economic  growth to 1.6 per cent for its 34 member states from 2.3 per cent six months ago  and for Europe alone from 2.0 per cent to 0.2 per cent.
In the report's introduction, the OECD notes that the global economy has  deteriorated significantly since its previous report in May and that the euro  area "appears to be in a mild recession". However, "recent contagion to  countries thought to have relatively solid public finances could massively  escalate economic disruption if not addressed," the report notes.
While there is some uncertainty about just how an unspecified "major negative  event" might play out, what the OECD characterises as "a large negative event" – perhaps the break-up of the eurozone – "would likely send the OECD area as a  whole into a recession, with marked declines in the US and Japan."
In particular, the eurozone's rescue fund, the European Financial Stability  Facility, will need to be given the financial resources to make it a credible  institution with sufficient firepower to stop the contagion from spreading.
"In view of the great uncertainty policymakers now confront, they must be  prepared to face the worst," the OECD said.
However, there is a potentially positive outcome if eurozone leaders do take  the necessary steps for stability. This would come in the form of a pick-up in  confidence among households and businesses that is likely to translate into a  rise in demand and economic activity.
In the UK, growth is expected to contract slightly in the fourth quarter of  2011 and the first quarter of 2012 and is not expected to pick up much until the  fourth quarter of 2012.
For the year as a whole, growth is expected to be 0.5 per cent, down from 1.8  per cent forecast in May and for 2013 is expected to be 1.8 per cent.  Unemployment is likely to rise to 9 per cent next year and stay there until at  least the end of 2013.
November 29, 2011  5:22 am
Fannie and Freddie watchdog under fire
By Shahien Nasiripour in New York
Financial Times
The US regulator overseeing
Fannie Mae
and
Freddie Mac
has displayed "undue deference" to the mortgage  groups' decision-making, a federal auditor has said.
The Federal Housing Finance Agency "too often" accepts assertions made by the mortgage  financiers, which have been operating under a federal conservator since  September 2008, the FHFA Office of Inspector-General said in a report to be  released on Tuesday.
More
On this story
On this topic
In one case, the FHFA's failure to properly examine Freddie's procedures for  determining how lenders repurchase soured loans probably saddled US taxpayers  with billions of dollars in losses, the report said. In another, it said, the  housing regulator readily accepted Fannie and Freddie's justification for paying  their top six officers more than $35m in compensation for 2009 and 2010,  declining to consider other factors that may have led to lower pay-outs.
Those two cases are among a handful identified by the inspector-general as "sufficiently important to warrant greater involvement and scrutiny by the  agency", the auditor wrote in its report.
The FHFA "basically relies on the corporate governance process to resolve  business decisions" at Fannie and Freddie, said Steve Linick, inspector-general.  The agency relies heavily on the mortgage groups' board of directors and tries  to stay out of daily business decisions, preferring to only review the most  important matters, Mr Linick said.
"The question is whether they are doing enough," he said of the FHFA.
The US government has committed about $169bn to Fannie and Freddie to keep  them solvent.
The FHFA did not respond to a request for comment.
In depth
The role of the state-backed US mortgage originators has come under the  microscope
In previous audits, Mr Linick's investigators have accused the FHFA of  providing lax oversight and failing to detect costly foreclosure  irregularities despite ample warning.
The unit at the FHFA that oversees the conservatorship – and therefore is  responsible for big decisions at the housing groups – is staffed by just a  handful of employees, Mr Linick said.
"They have a shoestring staff," he said, adding that they oversee two  taxpayer-owned companies that employ about 12,000 people and own about $5,000bn  in mortgage-related assets.
The inspector-general said it had 48 investigations under way, ranging from  alleged fraud by Fannie and Freddie employees to cases in which other  institutions were potentially defrauding the mortgage financiers.
Mr Linick added that his agency was evaluating mortgage servicers – companies  that collect mortgage payments and process foreclosures. Servicers have been  accused of mistreating borrowers and wrongfully seizing  homes.
Last updated:November 28, 2011 11:30 pm
Fitch warns of US downgrade over deficit
By James Politi in Washington and Michael Mackenzie in  New York
Financial Times
Fitch warned it could downgrade the US credit score if no "credible" agreement was reached over the next two years to curb the country's mounting  debt, as it placed a "negative" outlook on America's triple-A rating.
The move aligns Fitch with other rating agencies that have already punished  the US for the political gridlock that has prevented any long-term fiscal deal  from emerging following months of negotiations in Washington.
More
On this story
On this topic
Standard & Poor's downgraded the US in August to a double A plus rating with a  negative outlook, while Moody's Investors Service has preserved America's triple  A score but also imposed on it a negative outlook.
The latest blow to hopes of a long-term deficit reduction agreement in the US  came last week when a special bipartisan panel of lawmakers – known as the  supercommittee – failed  to reach a deal to save at least $1,200bn from US deficits over the next 10  years.
"The failure of the [supercommittee] underlines the challenge of securing  broad-based consensus on how to reduce the outsized federal budget deficit," Fitch said in its note. "The negative outlook reflects Fitch's declining  confidence that timely fiscal measures necessary to place US public finances on  a sustainable path and secure the US triple A sovereign rating will be  forthcoming," it said.
Fitch also warned that it would likely downgrade the US by the end of 2013 in  the event of a "worsening of the economic and fiscal outlook" and the failure to  reach a "credible deficit reduction plan".
The reaction across markets was muted as the news came after equity markets  had closed with solid gains. The yield on 10-year Treasuries was relatively  steady at 1.97 per cent. So far this year, fears that the US might experience a  debt crisis have been misplaced, with investors rushing into Treasury bonds as a  safe haven compared with the turmoil  in the eurozone. Nevertheless, there are concerns that at some point the US  government debt markets could be in for a rude awakening.
Fitch said the negative outlook indicated a slightly greater than 50 per cent  chance of a downgrade over a two-year horizon.
Calling the failure of the supercommittee a "missed opportunity", David  Riley, the primary analyst at Fitch, said: "After the election, we are looking  to see what hard decisions are made to restore confidence in the long-run  sustainability of US public finances."
"If they are unable to do so, the rating will be downgraded," he added.
Fitch has said the credibility of fiscal reform depends on tackling tax  reform and changes to popular government programmes such as Medicare – which  have so far been left untouched.
"Fitch's action is a reminder of the need for Congress to reduce the  country's long-term deficit in a balanced manner and to avoid efforts that would  undo the $1.2 trillion in automatic cuts negotiated last summer," a US Treasury  official said.
November 28, 2011  7:00 pm
Financial system creaks as loan lubricant dries up
By Tracy Alloway
Financial Times
Whoosh! That's the sound of up to $5,000bn worth of collateral  draining from the financial system. And it is not a reassuring one.
"Collateral is the grease that oils the lending system," says Richard Comotto  of the International Capital Market Association. "If the grease starts to freeze  or run out, the loan cogs won't run as well."
More
On this story
On this topic
Click  to enlarge
Large banks typically reuse securities handed over to them by big investors  such as hedge funds, insurers or pension funds. They do so by pledging the  assets out through the so-called repo or securities lending markets, generating  a return for themselves and their clients but, in the process, also helping to  lubricate the global financial system.
Since the financial crisis, though, these "chains of collateral" have become  much shorter, meaning securities including government or mortgage bonds are not  being recycled through the system as much as they used to be.
While that might help reduce overall risk, by limiting leverage, it has  important implications for the way the system works and the global economy.
Some analysts believe that this fall in collateral use could actually serve  to increase "hidden" risk in the financial system as the market devises new ways  of tackling the shortage.
Manmohan Singh, an IMF economist, says in a new working  paper that there has been "a significant decline in the source of  collateral".
"Since collateral can be reused, the overall effect may have been a  $4,000bn-$5,000bn reduction in collateral," he says. That takes the estimated  amount of collateral flowing through the system to about $5,800bn at the end of  2010, far below its 2007 peak of $10,000bn.
According to Mr Singh, the number of times a security is passed around the  system has fallen from an average of three times before Lehman's 2008 collapse  to 2.4 times at the end of 2010.
"Intuitively, this means that collateral from a primary source takes 'fewer  steps' to reach the ultimate client," he writes in the paper.
One reason collateral use has fallen is that market participants are more  vigilant about the creditworthiness of counterparties and how business partners  might use collateral sent to them.
"Everybody is less trusting about the use of collateral," says Fred Ponzo,  founder of GreySpark Partners, a capital markets advisory business.
Financial institutions are also increasingly trying to manage risk by taking "haircuts" – clipping some of the value on assets being traded to add a bigger  safety cushion.
That, in turn, limits the extent to which securities can be recycled just as  the pool of available collateral is shrinking.
"There's less and less high quality collateral and more and more demand [for  collateral]," says Mr Commotto, who adds that even government bonds are being  questioned as collateral as a result of the sovereign debt crisis in Europe.
More collateral  is also being tied up at the world's central banks, and especially at the  European Central Bank, as commercial lenders turn to them for financing.
The ECB's balance sheet has ballooned to more than €2,000bn as the region's  banks exchange their assets, such as bank bonds or bundled loans, in return for  central bank funding.
The lack of financial lubricant has important consequences.
It may, for example, be one reason why businesses and households have not  felt the full effect of monetary easing by central banks, analysts say.  Financial lubricant is needed to transmit rate cuts and boost the economy.
"You've got a massive disruption of liquidity," says Marc Ostwald, government  bond specialist at Monument Securities. "The transmission mechanism for monetary  policy breaks down if trust perceptions" disintegrate, he says.
Regulatory reforms, including new capital rule for banks and moves towards  central clearing of derivatives trading, are expected to intensify the chase for "decent" securities, potentially clogging the system further by locking up more  collateral.
One result of all this has been a boom in specialist collateral management  services. So-called "collateral  transformation" is being marketed to derivatives users as a way for them to  obtain the cash or government bonds they will need for central clearing.
Liquidity  swaps, where banks exchange illiquid assets for more liquid ones, are also  being used by banks to help meet the new requirements on capital.
These kinds of services may help to keep the world's financial plumbing in  good running order. However, many market participants still expect demand for  collateral to exceed supply.
Moreover, some argue that such services place a question mark over whether  risk is being reduced or simply shifted around the system, potentially flowing  into less regulated areas as it did before the 2008-09 crisis.
The concern over such flows is that the effect, should there be another bout  of severe market turmoil, could be similar to the rise of the "shadow banking  system", which thrived on leverage in the run-up to the financial crisis and  helped cause the huge losses at Lehman and others.
The decline in collateral "may entail some difficult choices for the markets  and regulators", says Mr Singh.
With McCain's help the Senate will vote on stealing our rights to trial,
 conviction before prison
As early as today the Senate could vote to strip us of our 6th Amendment rights!
In a move that would make Joseph Stalin proud, Arizona Senator John McCain has joined Michigan's Carl Levin in crafting a section of a bill designed to take away our rights to face an accuser and have a fair trial before being placed in prison. A section of S. 1867 The National Defense Authorization Act bill, written by McCain and Levin would in effect give the President arrest powers. It would authorize the Chief Executive to order our military personnel to forcibly- if necessary- take any one, regardless of guilt or innocence, into custody without charges or a trial.
These "McCain – Levin" detainees could be held indefinitely with no due process or speedy trial.
As if this sneaky piece of garbage was not bad enough the cowardly McCain and Levin pushed this bill through a Senate Committee in total secrecy with no public hearings or "leaks" to the press. Not a single Republican Senator brought this gross violation of our 6th Amendment rights to light. All of these feckless quislings turned their back on the guarantees Americans have fought and died for over the past 236 years.
The heart of the 6th Amendment reads as follows:
"In all criminal prosecutions, the accused shall enjoy the right to a speedy and public trial, by an impartial jury of the State and district wherein the crime shall have been committed, which district shall have been previously ascertained by law, and to be informed of the nature and cause of the accusation; to be confronted with the witnesses against him; to have compulsory process for obtaining witnesses in his favor, and to have the Assistance of Counsel for his defense."
What part of this wonderful document don't these jerks understand?
The saddest thing is that we have to rely on a Democrat, Mark Udall of Colorado to kill this monster. He has announced he will offer an amendment to S.1867 that would delete it.
Outrageous treatment by our own government is why we fought our revolution against England. We have to contact our Senators and demand this section is deleted and never see daylight again. Use this link to reach your senator: http://www.senate.gov/general/contact_information/senators_cfm.cfm
To read more use these links:
http://www.addictinginfo.org/2011/11/26/us-senate-to-vote-on-bill-that-will-allow-the-military-to-arrest-americans-on-american-soil-and-hold-them-indefinitely/
http://en.wikipedia.org/wiki/Sixth_Amendment_to_the_United_States_Constitution
'Iran prepping al-Qaida for large-scale attacks'
JERUSALEM – In response to any future Israeli military strike on its nuclear sites, Iran has been training al-Qaida elements in the Egyptian Sinai desert on how to coordinate retaliatory attacks, a senior Egyptian security official told WND.
The al-Qaida attacks are meant to target both Israeli and Egyptian installations, the security official said, as part of an Iranian plot to widen any Israeli-Iranian conflict to involve other countries.
The Egyptian official said there is also information Iran has been working with Islamic Salafist groups in Jordan that are allied with al-Qaida.
The Iranian Revolutionary Guards helped to train al-Qaida elements in the Sinai and Gaza Strip to carry out large-scale attacks, including missile attacks, cross-border incursions, suicide bombings and explosions targeting infrastructure, such as oil and gas pipelines, the official said.
Any Iranian cooperation with al-Qaida would underscore the dangers of Tehran obtaining nuclear weapons. The country has a history of using terrorist proxies, most notably Hezbollah in Lebanon, to carry out its bidding.
Secret Fed Loans Helped Banks Net $13 Billion
The Federal Reserve and the big banks fought for more than two years to keep details of the largest bailout in U.S. history a secret. Now, the rest of the world can see what it was missing.
The Fed didn't tell anyone which banks were in trouble so deep they required a combined $1.2 trillion on Dec. 5, 2008, their single neediest day. Bankers didn't mention that they took tens of billions of dollars in emergency loans at the same time they were assuring investors their firms were healthy. And no one calculated until now that banks reaped an estimated $13 billion of income by taking advantage of the Fed's below-market rates, Bloomberg Markets magazine reports in its January issue.Saved by the bailout, bankers lobbied against government regulations, a job made easier by the Fed, which never disclosed the details of the rescue to lawmakers even as Congress doled out more money and debated new rules aimed at preventing the next collapse.
A fresh narrative of the financial crisis of 2007 to 2009 emerges from 29,000 pages of Fed documents obtained under the Freedom of Information Act and central bank records of more than 21,000 transactions. While Fed officials say that almost all of the loans were repaid and there have been no losses, details suggest taxpayers paid a price beyond dollars as the secret funding helped preserve a broken status quo and enabled the biggest banks to grow even bigger.
'Change Their Votes'
"When you see the dollars the banks got, it's hard to make the case these were successful institutions," says Sherrod Brown, a Democratic Senator from Ohio who in 2010 introduced an unsuccessful bill to limit bank size. "This is an issue that can unite the Tea Party and Occupy Wall Street. There are lawmakers in both parties who would change their votes now."
Read More at bloomberg.com By Bob Ivry, Bradley Keoun, and Phil Kuntz, blooomberg.com
Katyusha Missiles Fired from Lebanon at Northern Israel

by Elad Benari
At least four Katyusha missiles were fired from Lebanon into northern Israel overnight Monday.
Kol Yisrael Radio reported that the missiles exploded in two communities nearthe border with Lebanon. There were no reports of physical injuries but damage was caused to a chicken coop in one of the communities.
The IDF Spokesman said that IDF forces returned fire and said in a statement,"The IDF is treating this as a serious incident and wishes to emphasize that it sees the Lebanese government and the Lebanese army as responsible for theprevention of fire at Israel."
The statement said that the IDF's Northern Command is conducting an ongoing assessment in light of the events.
Channel 2 News reported that residents from the communities of Ma'alot and KfarV'radim reported hearing explosions in the area.
According to the report, a preliminary investigation indicated that the explosions came from the Lebanese side of the border.
Though the border with Lebanon has generally been quiet in recent years, inJanuary of 2009 three missiles were fired from Lebanon and exploded near Kiryat Shmona. No injuries were reported.
In October of 2009, terrorists in southern Lebanon fired a Katyusha on the Upper Galilee. No one was wounded and no damage was reported. The IDF retaliated with half a dozen rounds ofartillery fire.
In August, a Lebanese army soldier opened fire on Israeli soldiers manning the northern border. It was the first incident at the border in a year.
Four Katyusha rockets from Lebanon hit northern Israel, gas tank struck
IDF responds to attack with artillery rounds; Israeli security services do not believe Hezbollah to be responsible for overnight attack, but rather a smaller faction.
By Jack Khoury,     Eli Ashkenazi,     Gili Cohen and     ReutersTags:                                        IDFHassan NasrallahHezbollah
Four Katyusha rockets were fired from Lebanon at northern Israel on Monday night, causing damage to buildings and igniting a blaze that firefighters fought for hours. One of the 122-millimeter rockets struck a gas tank. No casualties were reported.
The Israel Defense Forces responded to the rockets by firing artillery rounds. Police and IDF forces scanned the area in search of more rockets and were able to confirm that four rockets had struck.
The Northern District Police raised its level of alert, but did not issue instructions for northern Israel's residents to enter bomb shelters, and no alarm was sounded.
The IDF called the incident serious and said it holds the Lebanese government responsible for stopping rocket fire.
Israel's security services do not believe Hezbollah is responsible for the overnight attack, but blame a smaller faction instead, likely to be linked to the global jihad movement. Those operating with the global jihad in southern Lebanon are known to be Palestinians.
This is the first disturbance of its type in almost two years and the eighth since the cease fire ended the Second Lebanon War. So far, one Israeli has been wounded in those incidents.
The Israel Defense Forces responded to the fire with artillery directed at the source of the attack.
Hezbollah leader Hassan Nasrallah hinted earlier this month that an Israeli attack on Iran or Western military involvement in Syria would lead to confrontation between Hezbollah and Israel. "I'm not issuing threats, but it's plain to see that an Israel-American attack on Iran or military involvement in Syria will lead to a regional war," Nasrallah said.
No organization has yet to take responsibility the rocket fire.
The Israeli-Lebanese border has been largely quiet in recent years, though some have worried about a possible spillover of tensions from a months-old revolt in Syria against President Bashar Assad and from a stiffening of Western sanctions against Iran over its nuclear program.
Muslim Brotherhood Raising Jordan to Boiling Point
Swarms of refugees from Iraq and Syria, along with the rising Muslim Brotherhood, may bring the Arab Spring to Jordan.
By Tzvi Ben Gedalyahu
First Publish: 11/29/2011, 1:43 PM
Club-wielding Jordanian police
Israel news photo: Sufisticate.com
A growing reality of the nightmare of refugees from Iraq, from the Palestinian Authority (PA) and from Syria swarming across the borders to Jordan, along with the growingly influential Muslim Brotherhood, threaten the kingdom's stability, researchers report.
"Within the Kingdom and across three of its borders, unfolding developments carry far reaching implications for the region in general and Jordan's stability in particular," according to Oded Eran of the Institute for National Securities Studies (INSS).
King Abdullah faced minor but unusual protests earlier this year, particularly from Bedouin and other Arabs who previously fled Judea and Samaria and the Jordan Valley during Arab-Israeli wars as well as under the PA regime.
Another ingredient in the boiling Jordanian pot is Iraq. "The U.S. final withdrawal from Iraq may cause anarchy there, which in turn will increase the flow of Iraqi refugees to Jordan," Eran wrote.
"More than half a million people fled to Jordan in the wake of the 2003 U.S. invasion of Iraq, exacerbating economic demands and inflationary pressures," he added. "Ongoing Sunni-Shiite tension may draw Jordan against its will into the conflict, as occurred in 2005 when a Jordanian suicide bomber killed 127 Iraqis in Hillah, mostly Shiites, approximately 100 km south of Baghdad."
The violence in Syria already has spread across the Jordanian border. Syrian soldiers shot at a girl fleeing to Jordan earlier this week, and Jordanian forces rescued her and shot in the air. Last week, Jordanian soldiers arrested a youth for allegedly for helping Syrians to buy arms, and he died in jail, prompting street protests.
Thousands of Syrian protesters have flooded Jordan, and the success of the protest movement may fan flames in the kingdom. The Muslim Brotherhood stands ready to help this happen.
Although Jordan would be pleased with Assad's demise if it weakens ties with Iran, "the fact that the Muslim Brotherhood in Jordan has sided with the Syrian anti-government forces…puts King Abdullah in an awkward situation. The specter of Jordanian and Syrian Muslim Brotherhood cooperation no doubt raises concerns in the Jordanian palace."
The monarch went so far as to say that "If I were in his [Assad's] shoes, I would step down," but after media reported that he was outrightly urging Assad to quit, the king backtracked.
Another huge threat to King Abdullah is the prospect of a Palestinian Authority unity government that would restore Hamas's status in Judea and Samaria and the Jordan Valley.
Although Jordanian palace officials said that on the king's recent visit to Ramallah, he discussed the proposal from a positive point of view, Eran noted, "A Fatah-Hamas joint platform of action, which may put an end to any prospect of Israeli-Palestinian negotiations, would be viewed with great concern in Amman. The absence of any negotiations may drift into violent friction between Israel and the Palestinians with dire consequences for all concerned, Jordan included.
"The fear in Jordan of another wave of Palestinians fleeing a third intifada, in addition to fears from Syrian and Iraqi refugees, must surely cause sleepless nights in Amman."
Campaign Life Coalition to Canadians: act now to stop euthanasia before it's too late
From LifeSiteNews
TORONTO, November 28, 2011 (LifeSiteNews.com) – Campaign Life Coalition president Jim Hughes has issued an urgent appeal for citizens to contact the Attorney General,
Mr. Rob Nicholson, asking him to safeguard Canadian law against assisted suicide and euthanasia, which is under attack from a court case in British Columbia.
On November 14th, the Supreme Court of British Columbia began hearing the Carter vs. Attorney General of Canada case. The suit was launched by the BC Civil Liberties Association on behalf of the family of Kay Carter, who died by assisted suicide at the Swiss Dignitas suicide center in January 2010, claiming that Canada's provisions against euthanasia and assisted suicide are unconstitutional since they violate the "right" to die.
"Let me be clear. When we say 'euthanasia' and 'assisted suicide' we are not talking about pulling the plug on someone who is being kept alive artificially, with no hope of recovery," Hughes explained.
"When you hear the terms 'euthanasia' and 'assisted suicide', we are talking about lethally injecting people. Legalizing euthanasia will empower doctors to kill their patients. That is, to murder them."
"If the Court sides with the plaintiff," Hughes observed, "the culture of death will further envelop and suffocate our nation in ways that are hard to believe, but predictable."
A video accompanies Hughes' appeal that shows how the legalization of euthanasia & assisted suicide in some European countries has led to killing the elderly without consent and to the euthanasia of children. "A slippery slope exists and has already played out as a nightmare in countries that chose to legalize," Hughes said.
"We anticipate that the BC court decision will arrive in mid-January, and then it will go to the Appeals Court. Concerned citizens can't wait for this case to wind its way through the appeals process! Your voice must be heard now!"
"Flood the office of Stephen Harper's Justice Minister and Attorney General, Mr. Rob Nicholson, with your concerns. Say you want him to appeal this case all the way to the Supreme Court of Canada, if necessary."
Hughes noted that legislators have the right to push back against unelected, activist judges who attempt to circumvent legislation by declaring exciting laws against euthanasia and assisted suicide unconstitutional, or declaring that euthanasia is a form of medical treatment.
"Please email the Attorney General at rob.nicholson@parl.gc.ca, and ask him to safeguard the law which protects us against assisted suicide and euthanasia," Hughes exhorted. (NOTE: the video text given to Hughes included the incorrect email address. The correct address is instead shown on the screen.) "Not only that, but ask him to send a strong message to our judges by making a public pledge to fight against any court ruling that would legalize this form of homicide, including invocation of the Notwithstanding Clause as a last resort."
Concerned citizens can add their names to a petition launched by the Euthanasia Prevention Coalition of Canada urging the Attorney General of Canada to make the strongest
possible opposition to the legalization of euthanasia and/or assisted suicide in Canada.
The EPC's petition is available here in two formats, a downloadable PDF format and an online petition. Both formats will be sent to the AG.
The printed petition is available in French and English and can be downloaded from the EPC website here.
The online petition is available here.
The paper petitions need to be returned to EPC at the address on the petition by December 31, 2011.
Contact the Attorney General of Canada, Mr. Rob Nicholson, directly by email here (rob.nicholson@parl.gc.ca) or by phone at 613-995-1547.
Other contact information for reaching Rob Nicholson can be found here and here:
Watch the video of CLC President Jim Hughes' appeal here.
NDP candidate wants to force 'sensitivity training' on Sun News over pro-family ad
From LifeSiteNews
TORONTO, Ontario, November 28, 2011 (LifeSiteNews.com) – The parent company of Canada's Sun News chain has been targeted by a homosexual activist and former NDP candidate after it aired ads that were critical of teaching young children about "transgenderism" in school.
Toronto teacher Michael Erickson, who ran for the federal NDP in the May election, has launched a Change.org petition slamming Quebecor for running "transphobic" ads
by Charles McVety's Institute for Canadian Values in October on its Sun News Network and in the Toronto Sun paper.
The ads, sparked by a Toronto District School Board policy forbidding parents to withdraw their children from pro-homosexual classes, featured images of young children pleading "Please! Don't confuse me."
"I'm a girl. Don't teach me to question if I'm a boy, transsexual, transgendered, intersexed or two spirited," the ad read.

According to Erickson's petition, the ad "encourages viewers to gather together and fight for a world filled with hate, hurt and permanent labels – a world where some people are more human than others."
"And Quebecor provided a grand public stage for this hurt and hate," it adds.
Erickson is calling on Quebecor C.E.O. and president Pierre Karl Peladeau to correct the "hurt and hate" promoted by the ad, and urges the Canadian Broadcast Standards
Council and Advertising Standards Canada to take action against the company if Peladeau fails to do so by December 5th.
Measures proposed by Erickson include three hours of "sensitivity training" for employees earning more than $90,000, and a full-scale "equitable portrayal" audit to judge
the air time given to "trans, transsexual, transgender, two-spirited, intersex, bisexual, lesbian and gay people," and to establish targets to improve their representation.
Erickson also wants Quebecor to direct the funds from the ad to a gay activist group, to give such a group two hours of free air-time, and to institute a one-year moratorium on circulating any ads by McVety's organizations.
The petition had garnered less than 400 signatures as of press time.
McVety's ad stirred controversy after it first ran in the National Post on Sept. 24th.  The paper subsequently apologized, and pledged to donate the funds to a homosexual activist group.
Brian Lilley, host of the Sun News Network's Byline, accused Erickson of "lawfare," of aiming "to harass us into accepting his point of view and not allow any others."
He said on his show Nov. 25th that Erickson is trying to "shut up" an opposing view "rather than fight back using his own words, asking to come on the show, [or] buying his own ad to counter the ad."
"He wants money, free ads, control of our human resources and a ban on a potential client buying any ads from us for any reason or on any issue," he continued.  "It's starting to sound like Michael Erickson, the NDP candidate and high school teacher wants to run this company."
November 29, 2011
Hamas is No Peace Partner for Israel
Neil  Snyder
American Thinker
In an article for Hudson New York titled "Hamas  and Fatah: The Unity Government That Isn't – and Won't Be," Khaled Abu  Toameh explained that Palestinian President Mahmoud Abbas and Palestinian Prime  Minister Salam Fayyad are in the enviable position of living in the West Bank out of harm's way as it were from Gaza where  Hamas is in control.
Under Hamas' despotic rule, Gaza has become a powder  keg that is waiting to explode.  Hamas' government is corrupt; the people of Gaza suffer daily under Hamas' brutal  tactics that are reminiscent of the Dark Ages; and Hamas continues to lob  missiles into Israel while its leaders try to regain complete  control of the Palestinian government in the West Bank and  Gaza.
As recent talks leading up to the hoped for unity  government between Hamas and Fatah collapsed, Hamas chief Khaled Meshaal told AFT that "Hamas is looking to focus its  energies on popular resistance without giving up its right to wage armed  struggle against Israel."  That says it all.  Hamas was, is, and hopes  to remain Israel's avowed enemy.  Hamas and its sponsors in the Muslim  Brotherhood are totally committed to Israel's annihilation.  That should  surprise no one since the Hamas Charter calls for armed struggle against Israel and  for Israel's elimination.
While the Hamas-Fatah unity government talks  evaporate into thin air, Egypt is in the throes of a so called "democratic  election" that the Muslim Brothers are expected to win handily.  Ordinary Gazans anxiously  await Egypt's election results fearing that under even stricter Islamist rule living  conditions in Gaza will become unbearable as Hamas and its Egyptian Muslim  Brothers join hands in their quest to rid  the Middle East of all vestiges of Israel's presence.  They believe that  they will end up being the big losers and that the winners will be the corrupt  warlords in Hamas who dominate their lives.
Since Israel's unilateral withdrawal from Gaza in  2005, weapons of all sorts have been pouring into Gaza through tunnels under the border crossing  with Egypt.  Following the collapse of Muammar Kaddafi's regime in Libya,  high-tech weapons including "advanced Russian surface-to-air missiles  plundered from Libyan arsenals" have made their way into Hamas' hands thus  forcing Israel to speed up implementation of an airliner anti-missile defense  system that's designed to protect planes flying into an out of nearby Ben Gurion  International Airport in Tel Aviv.  When Egypt's Muslim Brothers and Hamas  unite, the world will finally realize what the Arab Spring has become.  It  may have started out as a popular uprising in Tunisia, but radical Islamists  understood the movement correctly and quickly seized control of it in every Arab  Muslim country where brutalized citizens dared to raise their  heads.
Ironically, as Khaled Abu Toameh points out in his article,  the West Bank is the safest place for Palestinians to be as Islamists take  control of countries bordering Israel.  They are safe there because the IDF  (Israel Defense Forces) patrols the region, and they "know that the day Israel  withdraws from the West Bank, Hamas will become so strong that it will seize  control of the area in a matter of days or weeks."  That's the story that  the mainstream media refuses to tell, and it's the story that useful idiots  around the world refuse to recognize as they pour resources into Gaza —  resources that are used primarily to acquire weapons and line the pockets of  Hamas strongmen.
Neil Snyder is a chaired professor emeritus at the  University of Virginia.  His blog, SnyderTalk.com, is posted daily.  His  latest book is titled If You Voted for Obama in 2008 to Prove You're Not a Racist,  You Need to Vote for Someone Else in 2012 to Prove You're Not an  Idiot.
Read more: http://www.americanthinker.com/blog/2011/11/hamas_is_no_peace_partner_for_israel.html#ixzz1f7KQuGZe
November 28, 2011
Race: The Ultimate Weapon of the Left
American Thinker
"If only Herman Cain were elected president — it  would put paid to the issue of racism and excise it from our polity for  good."
I  couldn't believe my ears hearing this wistful nonsense from a good friend of  mine.  How could an otherwise intelligent and clear-eyed person be so  naïve?  How could he be so willfully blind to the obvious: that no matter  what happens, until the progressive  movement gives up its ghost (and I am not holding my breath that it will happen  any time soon), race will be an ever-present hobgoblin of the American body  politic?  Here is why, as the aforementioned Herman Cain likes to  say.
No  sooner had Richard Nixon abolished the draft than the antiwar movement suddenly  lost its steam and collapsed, exposing the true motivation of its  participants.  It became immediately apparent that the "revolutionaries"  actually cared very little about the Vietnamese.  The radical verbiage and  Ho Chi Minh's portraits brandished by the antiwar protesters served merely to  disguise their reluctance to get in harm's way for the sake of "a far-away  people of whom we know nothing," as Neville Chamberlain would have put  it.
The revolutionary leaders, who had hoped to ride the  antiwar movement to power by converting "the imperialist war into a civil war"  (in the footsteps of the Russian Bolsheviks), had to go  back to the drawing board and rethink strategy.  The solution they  hit upon had been suggested as far back as the 1930s by a noted Italian  communist theoretician named Antonio Gramsci.  Finding himself with a lot  of time on his hands as he languished in Mussolini's prison, Gramsci pondered  deeply the precepts of Marxist theory and came to the conclusion that St. Karl  was wrong: the working class was actually a bourgeoisie in the making and could  be considered at best a tool of the revolution, but not its agent.  Its lack of revolutionary zeal is particularly glaring in  America, with its extraordinary economic dynamism and social mobility, where the  popular saying "my son will own the factory where I work" reflects the genuine  aspirations of the blue-collar segment of society.
According to the Italian communist, cultural hegemony  was the only necessary and sufficient prerequisite of drastic social  transformations.  It followed that the intelligentsia, the sole truly  revolutionary class, had to seize control of the leading cultural institutions  — above all schools, academia, and the media.  If the left succeeded in  indoctrinating the populace and bending it to its will — if it subverted  society from within until it rotted to the core and dropped in their lap like an  overripe fruit, the revolutionaries would achieve their goal and seize power  without firing a shot.  And so the American left embarked upon what it  called a Long March through the Institutions.
But if not the proletariat, who was to be the  "grave-digger of capitalism"?  If not class warfare, what was to be the  animating principle of the revolutionary movement?  The answer readily  suggested itself.  Slavery was the Cardinal American Sin, the indelible  blot on the national conscience.  Hence racial guilt, America's Achilles'  heel, was chosen as the stalking horse of the coming revolution, the battering  ram of the forces of progress storming the ramparts.
The formidable propaganda machinery of the left  geared up for the gigantic task ahead.  Racism was proclaimed to be the  ultimate of vices and the greatest imaginable crime against humanity, expiation  of the sin of racial inequality the only worthy goal of any conscientious human  being.  All social and economic issues were to be viewed through the racial  prism; all societal ills were to be boiled down to the racial ingredient.   Black nationalists were recruited as the left's natural allies to keep the  racial pot boiling and the racial wounds raw and suppurating.
Over the ensuing decades, the American people were  gradually conditioned to view race as the end-all and be-all of the body  politic.  The tactic was highly successful.  Ultimately, it carried an  American of partial African descent, Barack Obama, to the White  House.
So  what happens in the (admittedly unlikely) event that Herman Cain wins the  Republican nomination and then goes on to beat Obama in the general  election?  Would it quench the flames of racial antagonism frantically  fanned by the progressives?  Forget  about it!  How can the left be expected to give up its most effective  weapon just because a black man of a conservative bent has supplanted their idol  in the White House?  Surrendering the race issue would mean a crushing  defeat for the progressive agenda, centered as it has been on race all these  past decades.  It would be tantamount to unilateral ideological disarmament  — and liberals are notoriously militant when it comes to their own power, even  as they fervently advocate appeasement in foreign policy.
Too many interests are tied up in the politics of  race.  Would the progressive left meekly walk away from an issue that has  been its most potent weapon lo, these many years?  Would black politicians  who have made a career out of racial grievances suddenly acknowledge that  America has achieved spectacular progress in the area of race relations?   Would they get down off their high horse to face the wrath of their constituents  trained to blame all their misfortunes on racial discrimination and castigate  guilt-ridden Whitey?  Would race-hustlers like Jesse Jacksons and Al  Sharpton, whose livelihoods depend on constantly stirring the racial pot,  voluntarily step down from their soapbox and go looking for a more honest way of  making a living?  Would the race pimps, and above all the vast affirmative  action bureaucracy, close shop and go off into the sunset?  Yeah, right —  when hell freezes over!  They will fight tooth and nail to defend their  turf and stop at nothing to preserve the richly rewarding status  quo.
The assault on a conservative black president,  naturally enough, would be led by the black auxiliary of the progressive  army.  They would proclaim that far from being a victory for the cause of  racial equality, Herman Cain's triumph is actually a setback for race relations;  that Cain is not an "authentic" black; that he is a disgrace and a traitor to  his race, an "Oreo" (black outside, white inside); that he is a "lawn jockey," a  stooge of the reactionaries; that he is "the racist Tea Party" in blackface, a  minstrel.
But maybe black voters, entranced by the sight of  another one of their own in the White House, will not listen to the voices of  their "leaders."  If history is any guide, like hell they won't.  In  2004, running for the Senate in Illinois against Barack Obama, black Republican  Alan Keyes got all of 8 percent of the African-American vote.  To be sure,  the Marylander Keys was successfully smeared as a carpetbagger (even though a  similar accusation had done nothing to dim the prospects of Hillary Clinton  running for the Senate in New York four years previously).
But did black Republican Lynn Swan, who has lived in  his adopted state of Pennsylvania a lot longer than Barack Obama has in  Illinois, do any better in the gubernatorial election in 2006?  Running  against the Democratic incumbent, Ed "Fast Eddie" Rendell, the highly  accomplished Lynn Swan, a genuine Pittsburgh Steelers legend in football-crazy  Pennsylvania to boot, managed to garner a paltry 13 percent of the black  vote.  The most successful African-American Republican politicians in terms  of support in the black community, Ken Blackwell from Ohio and Michael Steele  from Maryland, got just 20 percent of the black vote in their respective runs  for statewide offices.  In all cases, ideology handily trumped racial  solidarity.
So  it's a safe bet that the black community would readily follow the lead of its  self-appointed mouthpieces vilifying Herman Cain.  The mainstream media  would eagerly serve as the echo chamber of the critics, strenuously warning the  public that the election of a conservative African-American in no way means that  the end of racism is nigh.  The evil has not been vanquished, the MSM will  scream — the war goes on; the insidious enemy has merely changed his color,  chameleon-like, the better to deceive the gullible.  The situation is too  dire to let our guard down; we must stay vigilant and redouble our  efforts.  Onward, progressive soldiers!
Like its feminist, green, and gay-rights  counterparts, today's civil rights movement is basically a willing tool of the  far left.  Once a genuine popular movement pursuing the honorable goal of  equality, it has degenerated into an ideological/commercial enterprise designed  to keep society in a state of perpetual penitence while paying lip-service to  the plight of the black needy as a way of advancing the radical cause and  securing enough handouts for the self-anointed "civil rights leaders" to support  their opulent lifestyles.
In  short, if Herman Cain were elected president of the United States, racial  politics, far from waning, would, if anything, gain in intensity — and so would  be the case if any other Republican wins the presidency, or even if Obama is  reelected, for that matter.  Whatever happens, the hardy perennial of race  politics will survive and thrive.  It is utterly unreasonable to expect the  left to lay down its tools and walk away from a claim it has been mining with  such spectacular success for so many years.
Read more: http://www.americanthinker.com/2011/11/race_the_ultimate_weapon_of_the_left.html#ixzz1f7LGudsi
November 28, 2011
FATCA: A Ticking Time Bomb for the Economy
American Thinker
See also: Federal  Reserve Shennanigans
Buried in an ostensible jobs bill signed by President  Obama last year is a little-noticed job-destroying government regulation that  threatens to trigger a massive outflow of capital from the American  economy.
The U.S. economy is in bad shape.  Many want the  federal government to fix it — to end the deficits, create jobs, and get  America back onto the track of growth and stability.  President Obama came  to Washington with great promises: to restore international respect for the  United States and to bring back the jobs.  When signing the HIRE Act of  2010 on March 18, 2010, President Obama said:
A  consensus is forming that, partly because of the necessary — and often  unpopular — measures we took over the past year, our economy is now growing  again and we may soon be adding jobs instead of losing them. The jobs bill I'm  signing today is intended to help accelerate that  process.
Now the HIRE Act of 2010 contains a time bomb called  FATCA (Foreign Account Tax Compliance Act), which has indeed accelerated a  process.  Unfortunately that process is not job-generation, but  job-destruction caused by an exodus of capital from the United States.   Investment means jobs; a departure of investment capital means job losses.   Thus, the HIRE Act is really the "FIRE Act."
FATCA (Foreign Account Tax Compliance Act) is the  brood of FBAR (Foreign Bank Account Report).  FBAR requires that U.S.  persons divulge foreign accounts to the Treasury Department, but few knew about  or ever complied with it (see "When Government turns Predator").  To stanch the bleeding of U.S. capital into  secret bank jurisdictions like the Cayman Islands and Switzerland, Congress  introduced FATCA into law as part of the HIRE Act.  FATCA requires that  foreign financial institutions (FFIs) reveal the  accounts of U.S. persons to the IRS.  The FFIs will then have to  collect tax withholdings for the IRS from these clients.  If by January 1, 2014 the FFI is unwilling to reveal its U.S. clients'  accounts, the IRS will impose a punitive 30% withholding on all payments to the  FFIs, on dividends, interest, and gross sales of stocks, bonds, and financial  derivatives.
Let's suppose that a foreign investor trades stocks  on a U.S. exchange, but his broker is FATCA non-compliant.  One day he buys  10,000 shares of XYZ at $25 per share, and the next day, he takes advantage of a  nice uptick of $1.00 in XYZ and sells at $26 per share.  He makes a tidy  profit of $10,000.  But because his broker is non-compliant, the IRS now  withholds 30% — not of the profit, but of the gross proceeds of the sale!   So the client now receives the sum of $260,000 minus 30%.  The foreign  investor is unhappy because his $250,000 investment has become $182,000.   If he wants his money back, he must file a U.S. tax return.
No  investor would accept such conditions.  Hence, an FFI must either comply  with the invasive regulations of FATCA or simply abandon the U.S.  markets.
After some study, FFIs have warned that the costs of  FATCA compliance will be in the hundreds of millions and likely in excess of whatever taxes that the IRS could gather through  its enforcement  (not that the IRS cares about that!).  It is likely that many FFIs will  simply choose to leave the United States, taking their clients' money with  them.  In an open letter, "Farewell America," Wegelin & Co., a private Swiss bank, cited  their reasons for leaving the United States: excessive regulations, tax issues,  and above all, the insolvency of U.S. government.  Now add the expense of  FATCA, and many other FFIs are going to follow Wegelin's lead.  American Citizens Abroad has  cited Japanese and European FFIs as indicating a strong  likelihood that they would pull out of the United States.
FFIs could also face privacy lawsuits from affected  customers.  Canada's privacy laws, for example, may not permit banks to  divulge clients' account information, for compliance is voluntary.  Thus, Canada and several other countries  would probably require a change in their privacy laws before their FFIs could  lawfully comply with FATCA.
FATCA's enforcement of U.S. tax globally has resulted  in serious alarm and backlash.  FATCA is a clear violation of President  Obama's campaign promise on July 2007:
To  renew American leadership in the world, I intend to rebuild the alliances,  partnerships, and institutions necessary to confront common threats and enhance  common security. Needed reform of these alliances and institutions will not come  by bullying other countries to ratify changes we hatch in isolation. It will  come when we convince other governments and peoples that they, too, have a stake  in effective partnerships.
FATCA is an attempt to impose unilaterally the collection of U.S. taxes without consideration  of the laws and the rights of sovereign nations, and that makes it bullying of  the worst kind.  In response, some FFIs are already turning away U.S.  citizens and closing their existing accounts; their business is not worth the  hassle anymore.
U.S. citizens abroad, numbering about six million,  would normally be America's goodwill ambassadors.  But they have become  angry because of the threat of excessive FBAR penalties.  Those who thought  they could ignore FBAR now dread FATCA, which will force their FFIs to tattle on  them.  An increasing number of Americans are renouncing their U.S.  citizenship.  The U.S. consulates have had so many requests for  renunciation that they have started arranging group sessions, like the one at the U.S. Consulate in Toronto in October.  Moreover, some Americans abroad have pulled  all of their investments out of the United States and are also planning their  vacations to non-U.S. destinations — not from anger alone, but also from fear  that border guards will arrest them and that a computer system will soon link the IRS to border enforcement.
Richard W. Rahn writes in the Washington  Post that FATCA has already sent foreign capital  fleeing.  He claims that the people running Washington are "mental midgets"  unaware of how their policies affect the economy.  He estimates that FATCA  will cause the departure of an estimated $14 trillion of private foreign  investment, destroying as many as 10,000,000 jobs in the United  States.
By  signing the HIRE Act with its FATCA provisions, President Obama has bullied our  allies, penalized FFIs, alienated many American citizens, and seriously  jeopardized any possibility of an economic recovery.  Apparently, Mr.  Obama's ideological predisposition in favor of taxes and against wealth blinds  him to a balanced approach to the economy and its problems.  FATCA's  imposition on FFIs is hegemony of the worst kind.  Foreign investors are  interpreting FATCA as a sign of the desperation that often precedes the  imposition of capital and currency controls.  In an investment climate now  dominated by fear, capital flight is inevitable.  FATCA only ensures its  arrival, and it will exaggerate its effects.
American Citizens Abroad  reaches the following conclusions regarding the legislation:
FATCA legislation is predicated on the faulty  assumption that foreigners throughout the world with no predisposition to favor  the U.S. will react positively to its attempts to convert them into unpaid IRS  agents. Faced with similar investment and personnel options without the legal  jeopardy and financial risks, reasonable people will choose non-U.S.  alternatives. FATCA implementation will constitute a major disruption of the  entire international financial world as we know it today. Reasonable persons and  entities will develop effective antibodies to this perceived infection, in ways  too numerous and manifold to predict. What can be predicted is that the  cumulative effect of this legislation will be a major blow to U.S. economic  interests and prestige. At stake for the United States is the potential loss of  trillions of dollars of investment, the opportunity for American companies and  financial institutions to compete in a competitive global environment and the  possibility for American citizens residing overseas to survive and thrive. In  brief, the economic future of the United States.
In  a time when government has caused what may be irreparable economic problems, we  don't need "help" like this.  Mr. Obama, please stop helping  us.
Peter W. Dunn blogs at the Righteous  Investor.
Read more: http://www.americanthinker.com/2011/11/fatca_a_ticking_time_bomb_for_the_economy.html#ixzz1f7MFfhYM
Barack Obama is the most lawless, most extremely leftist president we've ever had.
How Radical is Obama? This Radical…
| | |
| --- | --- |
| | – Warner Todd Huston  Monday, November 28, 2011 |
Barack Obama is very successful at one thing: the bait and switch. He stands before America presenting a picture of a hard-working moderate and claims that he wants to work with the Republicans to get things done. In reality he won't even meet with them. He talks about compromise, but never offers any. He mouths kind words abut the business sector but uses his powers to make new regulations to destroy its profitability. In short, he's a radical even though he doesn't play one on TV. His modus operandi is to assume most voters are too stupid, lazy, or disinterested to compare his hope-n-change rhetoric with his actions.
Obama's
penchant for bypassing Congress and making radical changes to regulations in order to push his far-left agenda is a case in point. Obama's push to radicalize the National Labor Relations Board (NLRB) and turn it from a non-partisan watchdog agency into a tool for Big Labor is a perfect example of how the President uses regulations to achieve what he and the far left cannot do with legislation. It is also an example of how he is trying to radically change America under the radar of most voter's notice.
This month Obama's far left, Big Labor controlled appointees to the NLRB are trying to push in a new rule on the fast track. That rule would take away much of the time that businesses currently have to prepare for the employees of their businesses to vote
on whether or not they want to become unionized but would not take away any of the time that unions have to cajole employees to vote yes. This puts employers at a severe disadvantage.
The Wall Street Journal's one paragraph explanation works well to inform of the crux of the matter.
Originally floated in June as a proposed rule-making, the plan would shorten to as little as 10 to 14 days the period between the time a union seeks an election to organize a work site and the election date. Under current rules, companies typically have five to six weeks to make their case to employees before the union holds a secret-ballot election. The Becker-Pearce putsch would give labor organizers months to quietly pitch workers, then give targeted companies less than two weeks to react and make their own case before a quickie election.
Those that stand against Obama's constant favors to Big Labor — all for millions in campaign donations, of course — do have one short term weapon to stop this fast tracked attack on the business sector. The last remaining Republican appointee to the NLRB can resign.
If NLRB Commissioner Brian Hayes does this the board will not have enough members for a quorum and no further regulatory changes can be made until next year when Obama can begin to fill the board out anew.
But there is a further reason why Hayes might — and should — resign. Contrary to standing three-vote rule that has been an NLRB practice for several presidents, the two Democrats have said that they will push the rule through with only their two votes quite regardless what Hayes has to say about it. It is this lawless arrogance that has characterized every single appointee that Obama has installed throughout every board and agency in Washington over which he has power.
Even more arrogantly, the President's extremists on the NLRB has even announced that they are going to deny Hayes the traditional 90-day period to review their rule and write a dissent. Obama's power-mad extremists intend to simply pass the rule regardless of all the rules and practices of the very board upon which they serve. They just don't care about the process.
Naturally, even as the President's appointees are breaking rules right and left, Big Labor is saying that it is Hayes' fault. The only guy on the board that is trying to keep the agency on track to obeying its own rules and history, the only guy trying to be fair is the one Big Labor is attacking.
It all goes to show that President Barack Obama
is the most lawless, most extremely leftist president we've ever had.
November 26, 2011
Conservatism 101 for those not paying attention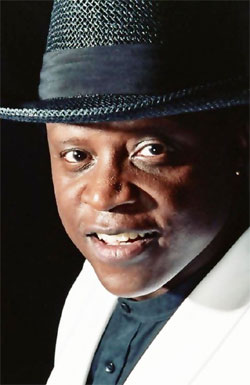 You and I are politically well informed. But there are many Americans like my family who do not follow politics as closely as we do. Their political views are shaped by liberal media bias hit pieces, spin, and sound bites.
99.9 % of my family are Democrats because Marcus family traditional taught us the Democrats are "for the little guy." Republicans are "rich white racists." Liberal media and the Democratic Party jointly support and promote this silly, simple lie, which still wins the Democrats 95% of the black vote.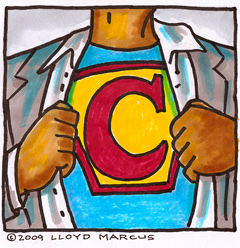 Despite me — the eldest of his five children being a black conservative tea party Republican — my 84-year-old dad's negative view of Republicans remains steadfast. Dad tolerates my baffling political views because he loves me.However, I would not be surprised if my family scheduled an intervention. A black van pulls up, a hood is thrown over my head, and I'm carted off to an undisclosed location. I am denied food, water, and bathroom privileges and subjected to video of Obama speeches 24/7 until I break.It occurred to me that my family, like many Americans, are probably clueless regarding the truth of what it means to be a liberal and a conservative. Ironically, the majority of my family live extremely responsible "conservative" lives. They go to work every day, serve their communities, attend church, and raise their kids. And yet, the liberal media has led them to believe the term "conservative" equals evil white racist.So, I would like to offer my family and others a little "Conservatism 101." For fun, let's call it "Conservatism for Dummies."
Let us begin with a parable.
Tale of Two Dads — School is Difficult and Little Johnny Wishes to Stay Home.
Little Johnny says, "Dad I don't want to go to school. The kids are mean and the work is too hard!"
Liberal Dad replies, "I know just how you feel son. School was no picnic for me either. Stay home today."
Conservative Dad replies, "Boy, you had better get your butt out of that bed and get ready for school. I'll talk to the principal and your teachers to work out any problems. An education is vital to your future success and happiness. I'm forcing you to go to school because I love you!"
I am not suggesting Liberal Dad does not love his child. But Liberal Dad's attempt to be his child's friend rather than a responsible parent is a spineless choice all about making himself feel good.
Patently liberal. Most liberal thinking and choices are about making themselves feel good as opposed to truly helping the people they claim to feel great compassion towards.
Conservative Dad's reply was that not of a friend, but a responsible loving parent.
Liberalism is a religion. Despite failing whenever implemented, disciples of Liberalism faithfully believe if they can spend a little more of "other people's money," they can bring forth their godless utopia where man is the ultimate authority. Atheists tend to embrace Liberalism.
Conservatism equals true/real compassion — rooted in common sense and honoring the human spirit. Conservatism celebrates achievement and a desire to be all one can be.
Liberalism is harmful and idiotic, while shrouded in so-called compassion. For example, teachers at an LA school wanted Ebonics to be acceptable speech for black students. They argued that speaking Ebonics was cultural and learning English was too difficult. They ignored the fact that black kids are not too stupid to learn to speak English correctly, and also the fact that an inability to speak English is economically stifling.
And yet, whenever compassionate conservatives suggest learning English be required, they are branded racist by liberals.
You would think a "Liberal" is someone who is easy going, embracing a live-and-let-live attitude. In reality, liberals tend to be HUGE control freaks — arrogantly thinking themselves compassionately and intellectually superior to us common folks. This makes them best qualified to dictate how we should live our lives. Liberalism birthed Political Correctness, which seeks to control what we are permitted to think, say, and do.
Unquestionably, America was founded on Godly principles. Liberals want all reference to God banned from government and the public square, while demanding we display great tolerance for every other religion. Am I saying liberals tend to be anti-Christian? Yes!
Liberals are notorious for setting rules for the rest of us while exempting themselves. They want the government to demand we drive little more than lawnmowers covered
with an auto body to "save the planet." Meanwhile, they travel in limos and private jets.
In a nutshell, Liberals believe they know best. They use government to constantly invade our lives with new restrictions and controls. Government control hidden in Obamacare is the epitome of Liberalism.
I hope I have educated my family and others a little to the virtues of Conservatism and why it is best for all people.
© Lloyd Marcus
UN BACKS HAMAS,DENOUNCES ISRAEL
NEW BUILDING PROPOSAL ATTACKED
UPDATE: Israeli Prime Minister Benjamin Netanyahu is struggling to balance reactions of blame and rage over his government's "humanitarian" prisoner swap with Hamas of 1,027 convicted Palestinian terrorists in exchange for release of solitary IDF hostage soldier Gilad Shalit – yet at the same time, he is taking furious new abuse from Secretary General Ban Ki-moon and the UN for Israel's alleged "UNACCEPTABLE and PROVOCATIVE ACTIONS" against Hamas and the Palestinians!
SEND CONGRESS YOUR SURVEY – and STAND WITH ISRAEL!
The UN "peace process" and Barack Obama pretends his policies in the Middle East seek freedom leading to peace. Yet his actions advance the power of murderous terrorists and violent factions spewing hate speech and incitement to genocide against Israel. And the UN is the #1 enabler and facilitator for this Jew-hatred in the world! Why are our tax dollars funding $7.7 BILLION to the UN?
It is incomprehensible. The UN is an anti-Semitic, anti-Israel, anti-American fever swamp of tyrannical and totalitarian states demonstrably inimical to justice, and overtly hostile to the survival of Israel as a Jewish state. The pro-Palestinian UN majority is now rabidly denouncing Israel's continued planning for Jewish "settlements" in East Jerusalem, asserting that any new settlements run contrary to the call by the Middle East Quartet – the diplomatic group comprising the European Union, Russia, the United
Nations and the United States – on all parties to refrain from "provocative actions."
Secretary-General Ban Ki-moon reiterated what he claimed to be the UN's position that settlement activity in East Jerusalem and the rest of the West Bank is "contrary to international law and to Israel's obligations under the Roadmap to a peaceful settlement of the conflict, and must cease."
STAND WITH ISRAEL! DEFUND THE UN! – FAX CONGRESS TODAY
A several-year old settlement plan, Givat Hamatos with 2,600 new living units would be the first major new Jewish settlement since Netanyahu approved the construction of nearby Har Homar in 1997, during his first term as prime minister.
The proposal was taken off hold, and building plans were revived and submitted for a 60-day public comment period, a last step before a final vote on approval. The decision will be made by the Jerusalem municipal council where there is broad support for settlements.
After the extreme provocation by Hamas and the PLO of unilateral application to the UN for Palestinian statehood – in violation of Resolution 242 and the Oslo Accords – it should be no surprise whatever that Israel continues to maintain with settlements her demographic interests in her capital city, Jerusalem. The Palestinians and the UN seek to divide the Holy City and hand over large sections to the Muslims – who whenever they have had "stewardship" of Jerusalem precincts, grossly desecrated Christian and Jewish holy places.
SEND
CONGRESS YOUR SURVEY: WE WILL NOT STAND BY AS OBAMA DELIVERS ISRAEL TO HER
ENEMIES!
In this entire recent UN-Palestinian "statehood" debacle, U.S. Secretary of State Hillary Clinton is covering for the Obama Administration's failure to protect Israel – by blaming the Jews. Two weeks ago, she attacked Jewish "settlement" building developments in the small town of Gilo, Israel outside Jerusalem:
"We believe that this morning's announcement by the government of Israel approving the construction of (1,100) housing units in east Jerusalem is counter-productive to our efforts to resume direct negotiations between the parties," Clinton told the Jerusalem Post at a news conference. "As you know, we have long urged both sides to avoid any kind of action which could undermine trust, including, and perhaps most particularly, in Jerusalem, any action that could be viewed as provocative by either side," she added.
But the 1,100 Gilo settlements are not in east Jerusalem, which the Palestinians falsely claim as theirs. Gilo in fact is southwest of Jerusalem, nowhere close to east Jerusalem.
Palestinian Authority spokesman Nabil Abu Radina falsely claimed that Gilo was a unilateral effort on the part of the Israeli government to undermine legitimate efforts for a Palestinian state with east Jerusalem as its capital.
SEND CONGRESS YOUR SURVEY – OVERRIDE OBAMA & STAND WITH ISRAEL!
Israeli Prime Minister Benjamin Netanyahu rightly repeated his call for an "indivisible, eternal" Jerusalem as the Jewish capital. He called the Gilo project "nothing new" and said, "We plan in Jerusalem. We build in Jerusalem. Period. The same way Israeli governments have been doing for 44 years, since the end of the 1967 war."
The Netanyahu government also noted in a statement at the UN that "Jerusalem is the capital of the Jewish people; this is our heart. Jerusalem was the capital of the Jewish people when London was still a swamp…"
Tell Congress to DEFUND the UN, and let them know they will BE VOTED OUT OF OFFICE if they do not protect the indivisible, eternal Jerusalem as the capitol for Eretz Israel.
I implore you – STAND FOR ISRAEL and DEMAND CONGRESS DO THE SAME!
SEND CONGRESS YOUR SURVEY: WE WILL NOT STAND BY ASOBAMA DELIVERS ISRAEL TO HER ENEMIES!
With denunciations like these, the United Nations aids and abets Obama and his pro-Muslim strategy, granting undeserved legitimacy to HAMAS, the
terrorist Islamic group, and to the Palestinian Authority headed by Mahmoud Abbas. And ultimately, any vote to add to the United Nations a new
member state that relentlessly calls for the elimination of the Jewish state, the death of all Jews, and that glorifies terrorism obviously makes all but the peace of the grave harder – not easier – to achieve.
While Hamas's open calls for the genocidal slaughter of the Jews is politely condemned in some quarters (when this appalling but persistent fact is occasionally reported), it doesn't seem to matter. Obama and the UN have accepted Hamas, in the position Abbas has taken on Hamas' legitimacy as co-governing with the PLO within the Palestinian Authority. This should be utterly condemned and the Palestinian Authority isolated, shunned and DEFUNDED from all multi-lateral and diplomatic participation until they sever ties with known, self-avowed terrorist fronts like Hamas. Yet power-sharing with Hamas is fine with Obama and the UN, as witnessed when Abbas submitted to the
United Nations an application for "statehood." This should be caution enough to the decent world that Israel stands in mortal peril from Obama.
Do I exaggerate? Take it from Abbas himself. Any responsible monitoring of Palestinian media reveals the duplicity and deception of the Palestinian Authority, even during moments of peace talks. For example, while portraying himself to the West as a man of compromise, Abbas said flatly last October that "we refuse to recognize a Jewish state."
To cite a more classic example, the speaker of the Hamas parliament, Ahmad Bahr, called in April 2007 for the murder of Jews, "down to the very last one."
STAND WITH ISRAEL! DEFUND THE UN! – FAX CONGRESS TODAY
This Palestinian "statehood" ploy is an outrageous betrayal and diplomatic assault against Israel that should never have advanced! It is a diplomatic failure by Obama unequaled in 63 years of the U.S. successfully repelling UN orchestrated anti-Israel abuse and attacks! What a travesty!
Abbas has relentlessly pressed his demands for a United Nations vote recognizing "statehood" for Palestine and although he has prevailed in insisting the UN Security Council expedite their decision to move forward his gambit to the credentials committee, AMERICAN PUBLIC OUTCRY AND FUNDING SANCTIONS THREATENED BY THE U.S. CONGRESS ARE HAVING AN EFFECT ON SLOWING DOWN THE PALESTINIAN BANDWAGON!
Any application for UN membership is considered by the Council, which decides whether or not to recommend admission to the 193-member General Assembly, which then has to adopt a resolution for the admission of a Member State.
SEND CONGRESS YOUR SURVEY – and STAND WITH ISRAEL!
Palestine, which currently has special, limited observer status at the UN, submitted the application for full membership allegedly "based on the Palestinian people's natural, legal and historic rights" invoking UN Resolution 181 as adopted by the General Assembly in November 1947, authorizing the partition of Palestine.
However, the problem for the Palestinians with invoking Resolution 181 is that the UN General Assembly ALREADY partitioned Palestine into Jewish and Arab States, and these states have existed for decades – Israel, the Jewish state, and Trans-Jordan now known as Jordan, the Arab state.
Now the Palestinian Authority is acting to circumvent UN Resolution 242 and the Oslo Accords, which mandate bilateral negotiations between Israel and the Palestinians to resolve border and territorial disputes.
The future of Jerusalem, and indeed Israel's very survival, may well still depend upon a United States veto in the Security Council – will pro-Muslim Barack Hussein Obama continue to refuse to uphold America's moral, diplomatic, and strategic interests, or will he finally have AMERICA STAND WITH ISRAEL?
AND IF OBAMA CONTINUES TO PLAY A DOUBLE GAME, PANDERING TO THE ARAB WORLD, WILL CONGRESS INTERVENE?
SEND CONGRESS YOUR SURVEY: WE WILL NOT STAND BY ASOBAMA DELIVERS ISRAEL TO HER ENEMIES!
407 Congressmen voted for House Resolution 268 which clearly reminds us WHAT U.S. LAW CURRENTLY SAYS:
"Resolved: That the House of Representatives … reaffirms the United States statutory requirement precluding assistance to a Palestinian Authority that includes Hamas unless that Authority and all its ministers publicly accept Israel's right to exist and all prior agreements and understandings with the United States and Israel."
This is to say that U.S. federal law already prohibits our taxpayer funding of the Palestinian Authority should they violate Res. 242 and/or the 1993 Oslo Accords, and join the Hamas terrorists to illicitly seek a rogue "state." This is precisely what they have now done at the UN. American law requires defunding the Palestinians, and now that they have acted in violation of prior agreements, CONGRESS MUST DEMAND THAT U.S. LAW BE ENFORCED!
I implore you – STAND FOR ISRAEL and DEMAND CONGRESS DO THE SAME!
TELL CONGRESS: OVERRIDE OBAMA & STAND WITH ISRAEL!
SEND YOUR ISRAEL SURVEY TODAY!
Keep Faith,


Alan
Keyes
www.DeclarationAlliance.org
If you prefer to send a check, please mail to:
Declaration Alliance
PAC
National Processing Center
PO Box 131728
Houston, TX 77219-1728
Declaration Alliance PAC is the official political campaign and ballot initiative arm of the tax-exempt Declaration Alliance.DA PAC is our federal political action committee advocating for the candidates and causes of concern to Declaration Alliance supporters. DA PAC is non-partisan, and has no affiliation with any political party.