WARNING: The last article contained in today's collected news items of Last Days News is one of the gravest abominations and blasphemies I've come upon. It is a disgusting article and should show all the perversity and lies within our society, within today's church, and just how close we are to The Last Day.
Ken
Atheism Taught to Four-Year-Olds in Revised School Syllabus
By
Eryn Sun
|Christian Post Correspondent
A new syllabus is being launched "to make children aware of non-beliefs" in schools across Lancashire, U.K.
Students as young as four, according to Lancashire Telegraph, will be taught about atheismin Blackburn with Darwen schools for the first time.
The six major faiths – Christianity, Buddhism, Hinduism, Islam, Judaism and Sikhism – will continue to be a part of the RE (Religious Education) curriculum, with humanism added to the list, education chiefs stressed.
"We really must recognize that some people do not believe in God and do not have a religious background," said Fiona Moss, a primary specialist and RE Curriculum Adviser, to LT.
Hoping to support children towards becoming good citizens not only in Blackburn but in the world as well, Moss noted, "The aim is for them to be confident wherever they settle."
The syllabus was created based on the RE syllabus in Leicester (one of the first places to teach about atheism) and 2001 census results, which revealed that more than 10,000 people did not follow a religion.
"This is the first time we have given respect for non-religious life stances," remarked Dot Thomson, a school improvement officer, as reported by LT. "I would not describe [the syllabus] as radical but it is disassociated from what went before in Blackburn with Darwen."
Thomson expects that this year's census will show the diverse faiths and beliefs in the area.
"We don't want the future to be blind," Chris Thayne, the chair of Blackburn with Darwen Standing Advisory Councils on Religious Education, told the local publication. "We want it to be illuminated. We need understanding without prejudice."
While many were enthusiastic about the new syllabus, some, including Muslims, found it to be dangerous.
Salim Mulla, chair of Lancashire Council of Mosques told LT it could confuse children.
The Lancashire borough yields the third highest Muslim population in the U.K. and is the highest outside of London.
But the Rev. Kevin Logan, a regular Lancashire Telegraph columnist and religious community leader, stated that he wasn't worried about Christianity. "It can stand against any belief and come out in a good light," he said.
"It is quite a change but it is completely right to recognize atheism and humanism. They are religions like any others," Logan added. "It is just that people worship man instead of a god."
Set to launch in September, 28 primary and secondary community schools will witness the curriculum change. Faith schools can also teach the syllabus.
Growing Sharia Finance in India a Boon or Bane?
With hundreds of listed Sharia-compliant companies in India's stock exchanges, Islamic investments from Asia, the Gulf and Europe may soon begin to flood the Indian market. This will boost India's economy, but also intensify security concerns.
Sharia or Islamic law prohibits Muslims from investing in companies that earn profits from interest or the sale of goods or services deemed unlawful in the Islamic faith, such as alcohol and pork. Sharia-compliant companies, screened by Islamic finance monitors, comply with Islamic canonical law to allow devout Muslims to invest.
Though known as "ethical investing," Sharia finance raises eyebrows among security agencies.
"Zaqat (donations for Islamic charity) money is exploited by charities connected with the Jihadis. The Sharia system will boost this process," a former chief of India's Intelligence Bureau, Maloy Krishna Dhar, told The Christian Post in an email.
Dhar's fear is not unfounded. Estimated to be worth over $2.7 trillion globally, Sharia-compliant investment is seen as a security threat also by the United States.
According to diplomatic cables recently released by WikiLeaks, Britain's support for Sharia banking raised concerns in Washington that London could become a center of terrorist funding, reported Press Trust of India (PTI) on March 16.
"The State Department was so concerned that it ordered US diplomats in London to compile a report on the activities of Sharia banks in Britain. A cable, sent from the office of Condoleezza Rice, the then Secretary of State in June 2006, requested information on Islamic financial institutions' vulnerability to exploitation for illicit or terrorist purposes, such as structuring accounts to mask illicit activity or money laundering'," PTI reported.
"The US had particular suspicions that 'charitable donations', which Islamic banks are obliged to make to comply with Sharia, could be funnelled to al-Qaeda sympathizers," it added.
Unorganized Sharia investments arrived in India especially after 9/11 as many rich Muslim investors began to pull out of Europe and North America while Islamic nations saw an increase in financial wealth due to rising oil prices.
Formally starting with Sharia tolerant mutual and venture capital funds in 2009, Islamic investments showed constant growth in India. The National Stock Exchange (NSE) and the Bombay Stock Exchange (BSE) – among the five largest exchanges in the world – now have around 800 listed Sharia-compliant companies, and the number is expected to grow.
Dr. Asghar Ali Engineer, a Mumbai-based renowned Muslim scholar who promotes secularism and democracy, thinks there is nothing to worry about the growth of Sharia investments in India. "This may increase orthodoxy, but not extremist or terrorism," he told The Christian Post in a phone interview.
Members of India's Sharia Board, the final authority in the Sharia certification process, include scholars from conservative Islamic institutions such as the Islamic Fiqh Academy (of India) and the Darul Uloom Deoband seminary.
India, home to over 140 million Muslims, is a promising destination for Muslim investors given the country's fast growing economy and its prospects of becoming one of the two largest economies of the world in the next few decades.
Last month, the high court of the southern state of Kerala dismissed petitions challenging the government sanction for starting a nonbanking finance company based on the Sharia, paving the way for establishment of even Islamic banks in India. The petitioners had challenged that the government was acting against the policy of secularism, but the court did not agree. Now, the Reserve Bank of India (RBI) is seeking government approval to allow Turkey's Bank Asya to offer Sharia-compliant lending in the country, Economic Times daily reported on Tuesday.
In recent years, certain Muslim groups in Kerala have come under the scanner of security agencies. In July 2010, alleged members of an Islamist party, the Popular Front of India (PFI), sliced off a Christian professor's hand for supposedly insulting Muhammad. The local media also reported that at least 14 "Taliban-styled" Sharia courts were operating in the state, one of which had issued a decree against the professor. India's anti-terror National Investigation Agency (NIA) is probing terrorism charges on the PFI.
Dhar, former joint director of the Intelligence Bureau, has another concern.
"India is a constitutionally secular country. India's Reserve Bank of India controls the banking system which is run on the basis of internationally accepted fiscal policies. In India there is no need for Sharia banking system or banking systems for Hindu, Buddhist, Sikh and Jain [communities]," he said.
Dhar added that by permitting Sharia banking system, "Indian ruling cliques are encouraging communal divide of society."
"We, in India, are already living together separately. This step will widen the gap leading to communal polarisation," he warned.
While the inflow of Islamic money will continue to rise and invoke mixed responses from the Indian society, it will increase the burden of intelligence agencies which will need to gear up to ensure that profits are not siphoned off to fund Islamist groups in India or abroad.
Obama Calls on UN to Support Gay Rights
The Obama administration on Tuesday called on the United Nations Human Rights Council to fight discrimination against gays and lesbians around the world.
(Photo: AP/Susan Walsh)
President Barack Obama speaks at the Centro Cultural La Moneda Palace in Santiago, Chile, Monday, March 21, 2011.
The declaration, supported by 84 other countries, marks the first time the United States has pushed for U.N. action on gay rights.
"Human rights are the inalienable right of every person, no matter who they are or who they love. The U.S. government is firmly committed to supporting the right of lesbian, gay, bisexual, and transgender individuals to lead productive and dignified lives, free from fear and violence," said Eileen Chamberlain Donahoe, U.S. Ambassador to the Human Rights Council in Geneva, in a statement.
The move by Obama on Tuesday was seen as a clear departure from George W. Bush's administration, which never pressed for gay and lesbian rights. Unlike his predecessor, Obama has aggressively advocated gay rights during his presidency.
The president in February instructed the Justice Department not to defend the constitutionality of DOMA (the Defense of Marriage Act), the federal law defining marriageas between a man and a woman, and has encouraged Congress to repeal the military's Don't Ask, Don't Tell policy.
Last week, Obama announced in a joint statement with the Brazilian president the creation of a special investigator position to monitor respect for lesbians, gays, bisexuals and transgender individuals in the Western Hemisphere.
The representative of Colombia on Tuesday delivered the full text of the declaration entitled, "Ending Acts of Violence and Related Human Rights Violations Based on Sexual Orientation and Gender Identity," before the Human Rights Council in Geneva.
The document calls on governments to "take steps to end acts of violence, criminal sanctions and related human rights violations committed against individuals because of their sexual orientation or gender identity."
Signers also affirmed a 2008 joint statement by a group of states representing all five U.N. regions that called for an end to discrimination based on sexual orientation and gender identity. In the statement to the U.N., they also commend attention paid to human rights violations based on sexual orientation and gender identity by international human rights mechanisms and within the context of the Universal Periodic Review.
Acknowledging that "these may be sensitive issues for many," the document encouraged the search for "common ground" and asked the Council to "be guided by the principles of universality and non-discrimination" in dealing with these sensitive issues.
Meanwhile, the Vatican contended before the Human Rights Council Tuesday that people who speak against same-sex relationships based on religious or moral beliefs are being attacked and vilified.
"People are being attacked for taking positions that do not support sexual behavior between people of the same sex," Roman Catholic Archbishop Silvano Tomasi told the HRC session, according to Reuters.
"When they express their moral beliefs or beliefs about human nature … they are stigmatized, and worse – they are vilified, and prosecuted.
"These attacks are violations of fundamental human rights and cannot be justified under any circumstances," Tomasi said.
Tim Flannery: 'We will form a global community with a set of shared beliefs' – video
Australian scientist Tim Flannery argues that humankind is evolving into a 'super-organism' where interdependence has profound consequences for the individual
http://www.guardian.co.uk/commentisfree/video/2011/apr/04/tim-flannery-global-shared-beliefs-video
Jesus as an openly gay man
What if the newly found codices provided evidence of Jesus's same-sex activity? Michael Ruse imagines the implications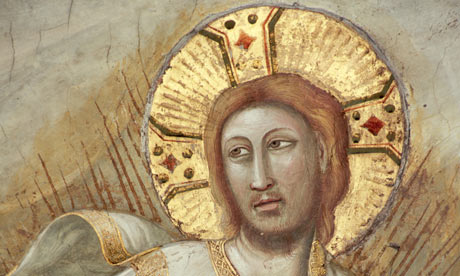 Jesus Christ as unambiguously and openly gay? Photograph: Corbis
The most astounding finding from the newly discovered lead codices is that Jesus Christ was unambiguously and openly gay. He and his disciples formed a same-sex coterie, bound by feelings of love and mutual support. There are recorded instances of same-sex activity – the "beloved disciple" plays a significant role – and there is affirmation of the joys of friendship and of living and loving together.
A whole new complexion is given to that rather puzzling passage where Jesus exhorts his followers to break family ties: "If any man come to me, and hate not his father, and mother, and wife, and children, and brethren, and sisters, yea, and his own life also, he cannot be my disciple." (Luke 14, 26). It seems clear now that this is less a negative repudiation of family and more a positive exhortation to join in affirmation of a gay lifestyle and love.
There is at least one new parable, that of the two young men. There are clear echoes of the relationship between David and Jonathan, for Jesus speaks of one young man having his soul "knit with the soul" of the other, and loving him "as his own soul". Intriguing is evidence that the Catholics might be closer to the truth about the status of Mary, the mother of Jesus, than are the Protestants. She has a much bigger role in the life of Jesus than many hitherto expected, with Jesus frequently returning home and making much of her.
Conversely, there is at least one incident when Jesus quarrels violently with Joseph, who shows great hostility and makes wild claims about "manliness". Before, one might have thought that, given Mary's virginity, Joseph's attitude was reflecting the ambiguities of his status in the family; but now it seems more probable that we have here a classic example of the Freudian triangle: over-possessive mother, hostile father, gay son.
Why have we known so little about all of this before? A newly discovered Pauline epistle, appropriately to the Athenians, suggests a major Platonic influence, particularly of the Republic. The classically educated Paul, who was himself gay, saw that same-sex activity was inimical to the success of Christianity in the highly homophobic societies in which he lived. Hence, same-sex affections and activity were concealed, to be known to and practised by only the leaders in secret – the guardians of Christianity as one might say. Obviously, this is a tradition that has flourished and lasted. It is not by chance that John Henry Newman is being made a saint.
Finally, the most important news is that nothing in the newly discovered codices challenges in any way the essential message of Christianity. Jesus was the messiah; he died on the cross for our sins; and through his death and resurrection made possible our eternal salvation. Our overriding obligation is to love God and we do this by loving our neighbours as ourselves. Christianity will never be the same again. Christianity will go on completely unchanged.